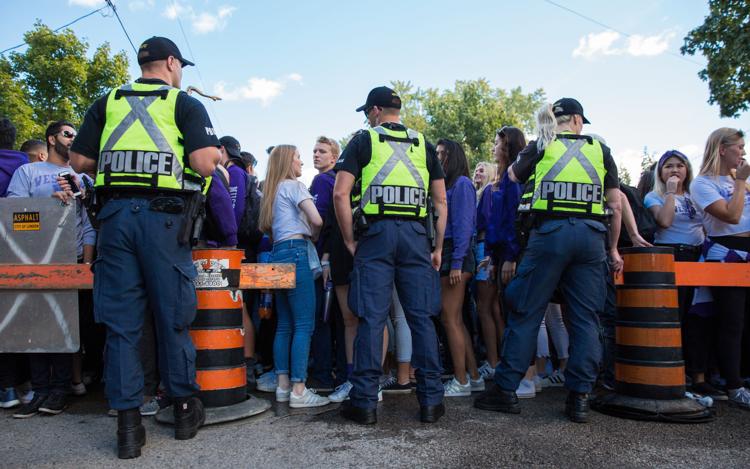 Western students gathered for their third Fake-Homecoming on Broughdale on Saturday in an ever-evolving set of contests with their school and the law.
The data that characterizes FOCO is to be released early this week by the London Police Service: the estimated attendance on Broughdale and nearby; the numbers of arrests, charges and warnings; and the number of hospitalizations across the weekend.
Last year's FOCO saw 11,000 people and myriad injuries and arrests; Middlesex-London EMS reported more difficulty reaching people who needed help than previous years. This Saturday, they reported 26 people had been hospitalized by 1 p.m. — last year, 37 were hospitalized due to FOCO activities.
Around 11 a.m., one officer said he knew of eight people who had also fallen from roofs. CTV has reported one man was critically injured after jumping from a roof.
Sandasha Bough, media relations officer for the LPS, said the partying spread across neighbouring streets like Huron, which is one street south of Broughdale.
To address EMS' concerns, LPS established a blockade of officers at Broughdale's junction with Audrey Avenue at around 10 a.m., according to a nearby police officer. Bough said this was to allow emergency vehicles to access Broughdale via Audrey.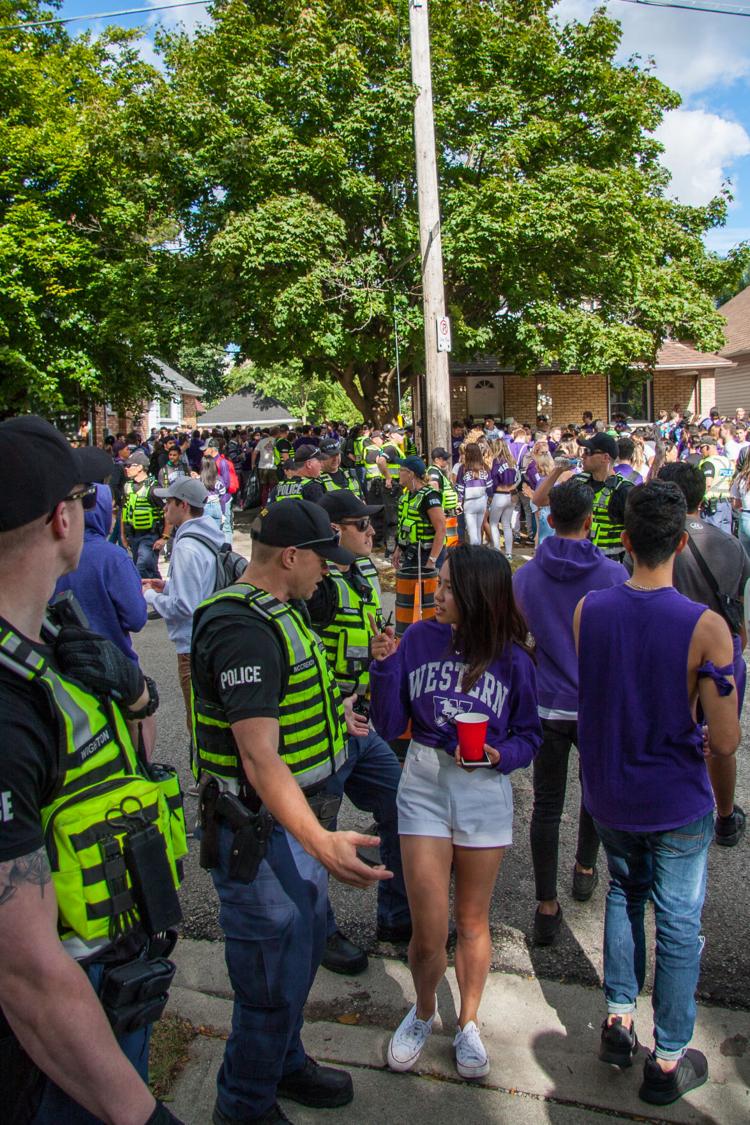 Took me 5 mins to walk that distance for this video. Utter gridlock. No one is allowed through. Apparent residents on that side are being asked for proof of address. #foco pic.twitter.com/SpuwrP8xPe

— Martin Allen (@mtrallen) September 29, 2018
A line of officers prohibited people from crossing Audrey from the east side but allowed pedestrians to move from the cul-de-sac end back toward Richmond Street. This resulted in a throng of partiers jamming into police officers as they tried to cross the street.
Atomsphere is extremely tense. Police constantly pushing and yelling at people. #foco pic.twitter.com/cHXHrF5Aol

— Martin Allen (@mtrallen) September 29, 2018
While the blockade stood, multiple people tried to jump a nearby fence and were all forcefully apprehended and shoved back toward Richmond by a police officer guarding the area. Around noon, the blockade was lifted and the density of partiers on either side of Audrey evened out.
Donna Yancy and her husband John own a house on the corner of the two avenues. She was standing in her driveway with multiple police officers to ensure people were careful on her property. She said they've owned the home for nearly 20 years and have always had trouble with Homecomings and Fake-Homecomings on Broughdale.
"For the most part, the kids are good. It's when they get destructive; that's when it gets brutal," she said.
Her husband had worked with police to put barriers around the building's lawn after the blockade caused a buildup of students that overflowed from the street onto their property.
Many Broughdale homes were also decorated with oftentimes obscene banners. More were hung in the morning, but some police officers began to warn residents that they could be in violation of public nuisance by-laws. After this, many were taken down or moved.
FOCO banner gallery
Broughdale avenue featured multiple white banners with sometimes obscene language on its third FOCO.
One which was removed around 10 a.m. read: "19 to have a drink, 18 to get your bean flicked." But not all of them were vulgar. Many stoked the Western-Queen's University rivalry that often flares during Homecoming festivities.
Man is now wearing the "ANAL?" sign. #foco (they got to keep it) pic.twitter.com/kVH72RMrKM

— Martin Allen (@mtrallen) September 29, 2018
An officer said police wrote down the addresses of houses bearing vulgar signs and there was the potential for follow-up on either Saturday or today.