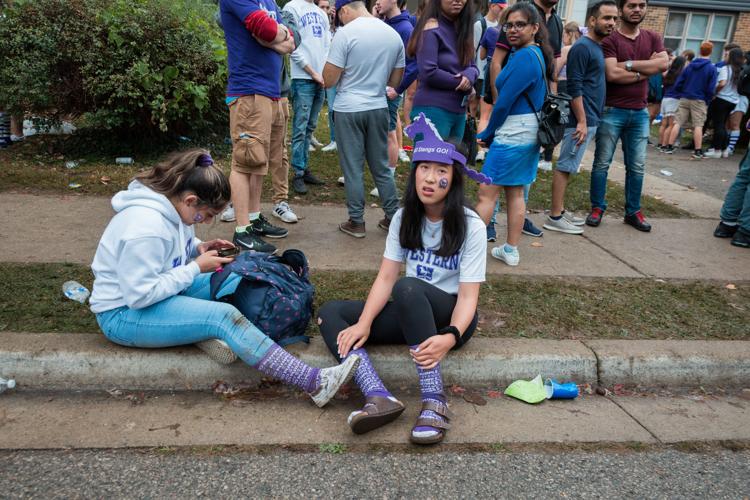 A predicted 20,000 people overran Broughdale Avenue this Fake Homecoming — some skipping Purple Fest after its headliner cancelled — amid news of strong punishments for partiers which seemed destined to shock the party.
Early police estimates say around 20,000 were on the street and the surrounding area, which would match last year's attendance peak.
After months of work from Western University and London to stop the annual block party, a characteristically chaotic day leaves few certain conclusions to make.
But, the worst-case scenarios seem off the table: with a steadied population, no reports of serious injury or any indication yet of drastic penalties, Fake Homecoming's strangling grip on campus may have loosened for the first time.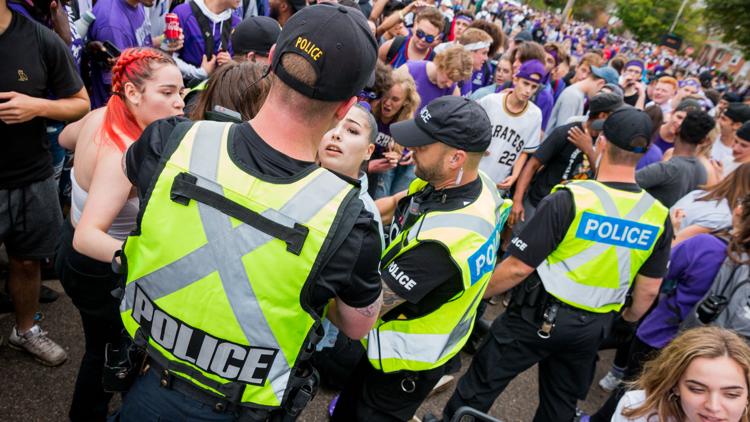 The street party started as it always does — early. Around 10 a.m., police kept the morning's smaller crowds on the sidewalks and off the street.
Police last year blockaded the street at its intersection with Audrey Avenue, leaving a path for emergency vehicles. This year, police cordoned off Audrey entirely, as ambulances often came through the street to open their backdoors onto Broughdale, where injured partiers could be loaded in.
Nineteen people have been hospitalized as of Saturday evening, according to the CBC. Other reports say 50 people were assessed by paramedics on the street. Last year saw 52 people hospitalized with injuries stemming from the party.
No serious injuries have been reported so far.
Broughdale was flush by noon. Without the police blockade on Audrey, a crowd of potentially the same size spread more evenly across the street.
Policing Broughdale looks, from the outside, like a complicated dance. By midday, students overwhelmed any attempt to keep them off the street, so officers often stood in groups of two or three, the purple and white crowd flowing around them.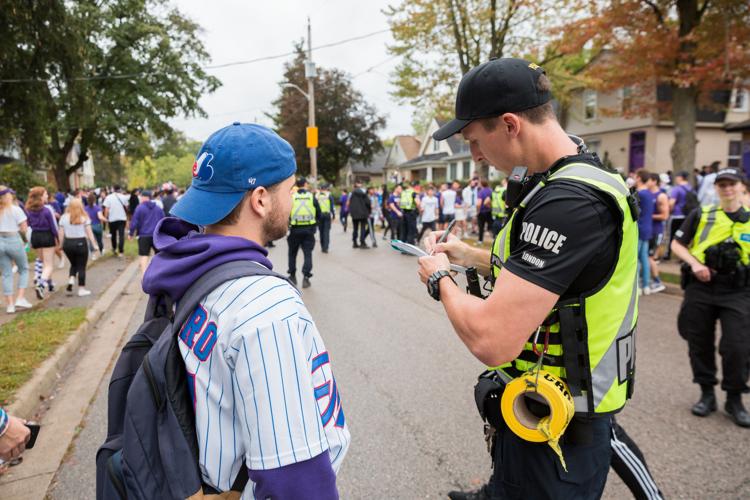 Many officers monitored the streets to confiscate open beer cans or tequila bottles, or to break up fights. Officers often responded to radio calls that a backyard party needed visiting, and stepped into the gatherings in groups.
Officials confirmed around 1 p.m. that a house had been fined under London's revamped nuisance bylaw. Previous uses of the bylaw have fined students hosting major parties $1,130 each. Dozens of students hosted parties on Saturday that would meet police's normal "nuisance" threshold.
Full policing numbers have not been released. But with one bylaw charge announced all day, after London laid eight in two normal weekends, it seems the fines may have been relaxed for the occasion.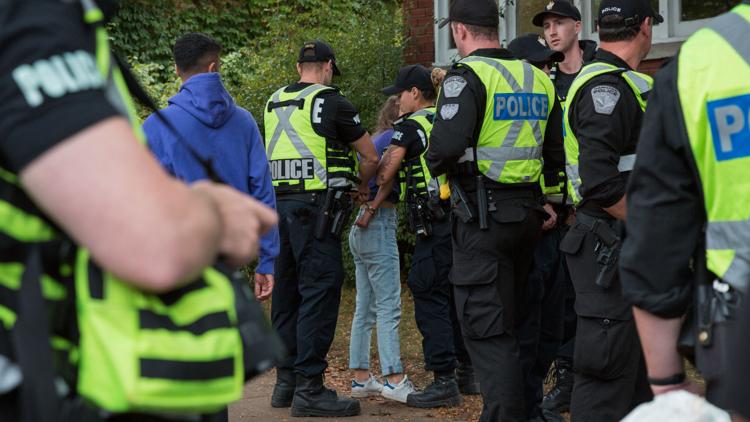 Coming after weeks of news about anti-party efforts, it seemed Broughdale's drunken students were dancing on thin ice: police, the fire department and their own university have spent months preparing punishments like the fines that have yet to fully materialize.
Controversial surveillance cameras stared down at the crowds from the street's hydro poles. They drew special attention in the lead-up to this year's Fake Homecoming, as many residents told media they were not notified the cameras were coming.
Police say the cameras were for finding partiers in the crowd who need help; fights or emergencies can easily get lost in the throng of students.
But with the new bylaw, stunning policing figures from last year and Western's public entry into to anti-party punishment, for many students the cameras emblematize this year's push for penalties.
Western quietly announced their biggest effort this week: a private information pipeline with the police meant to help Western sanction partiers under the Student Code of Conduct. Students charged with breaking the law will be named to Western, who can investigate them for punishments up to suspension or expulsion.
Western said in April that the code will affect parties like Fake Homecoming, but their collaboration with police, planned through the summer, went unmentioned until this week.
Another campus initiative to fix Fake Homecoming comes from the student government: Purple Fest.
The grand strategy to stop Broughdale was thrown upside down Friday night when A$AP Rocky tweeted he would not be headlining the concert. Despite an impressive setlist of Tyga, A Boogie wit da Hoodie and bulow, the concert's lineup was gutted less than 12 hours before it started.
The University Students' Council said in a press release that 13,000 people attended the concert; they sold 14,000 tickets. The remainder of students likely diverted to Broughdale Avenue.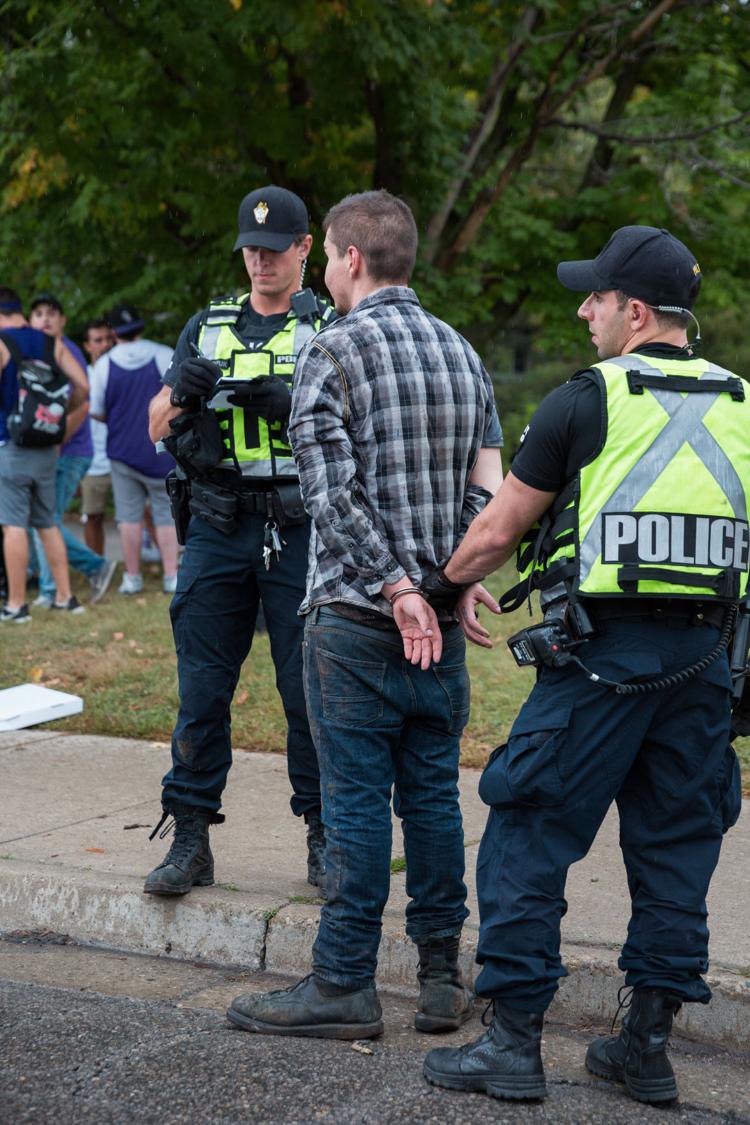 When asked, the USC said there were no arrests and no hospitalizations.
The crowd appeared the fullest at Tyga's performance, who played just before Boogie. Last year's concert sold out, but failed to detract students from Broughdale; while Purple Fest was almost empty, Broughdale had 20,000 people on it.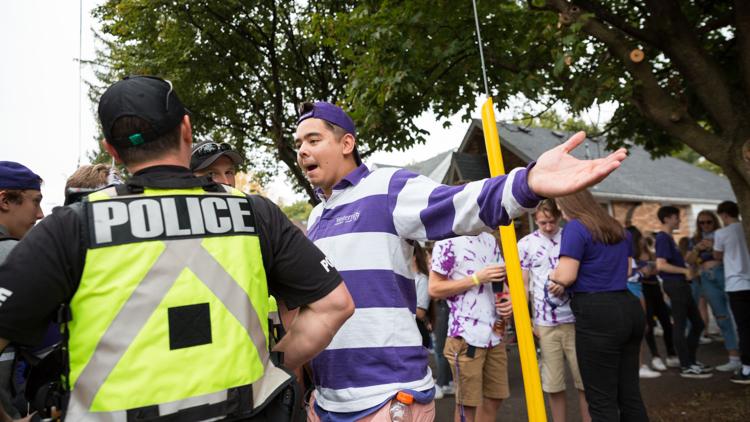 Broughdale began to thin out by the early afternoon, and around 3 p.m., police started to clear the street.
Officers formed a line across the street and for an hour shepherded partiers slowly to Broughdale's opening on Richmond Street. Richmond was closed to all traffic between Huron Street and campus' Main Gates in the early afternoon.
Students filtered out into the street, and formed out-the-door lines at the nearby King Richie's Pizzeria and Omzzy's Shwarma.
Police estimates suggest that this Fake Homecoming crowd, for the first time in years, may not have grown. If the 20,000 estimate holds, the fourth Fake HOCO flatlined from last year, which shot from 11,000 to 20,000.
The total party population, including Purple Fest, could have increased. But the Broughdale crowd, which the city has been scrambling to stamp down, may have plateaued.
Update (Sept 28, 11:34 p.m..): This article has been updated to reflect the final Purple Fest attendance figures, upon retrieval.