Content warning: This article contains quotes with anti-Asian discrimination.
On Thursday morning, the sign outside of the local Ale House bar read "Mr Ford, history will show lockdowns caused more damage 2 the public then [sic] the China virus!"
The sign immediately drew backlash from the London community, prompting a petition with over 8,000 signatures calling on Mayor Ed Holder to request the sign be taken down.
Western University's Ethnocultural Support Services wrote in an email that they are "angered by the recent racist message that was publicly displayed outside of Ale House London."
"The use of the word 'China Virus' may encourage discriminatory attacks against the Asian community," wrote ESS. "[It] puts blame on Chinese people and provides a misconception of them being 'dirty.'"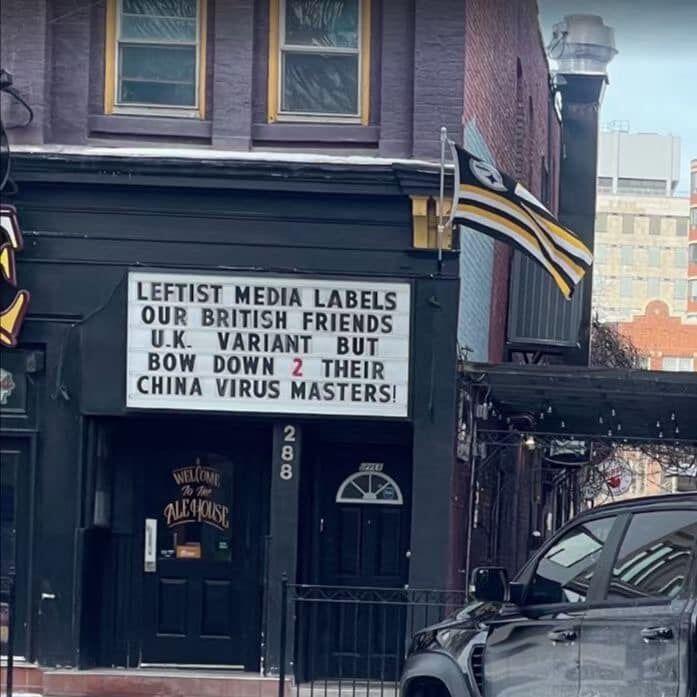 Victoria Lu, a third-year Ivey Business School student with Chinese heritage echoed the same sentiments and is concerned about the amount of attention the Ale House sign has gotten, fearing that it will threaten the safety of students.
"I think that this sign will start problems. We already see a heated debate about it on [the Facebook group "'Must Knows' for courses at UWO"], with xenophobic comments and attitudes," said Lu. "It's unfortunate to have to subject the entire London community to this arena."
Lu said dealing with hate crimes is her biggest fear as a Chinese-Canadian student.
"Attacks on the Asian community have risen over 1,000 per cent compared to last year, many of which are driven by miseducation about the [corona] virus," according to ESS.
But even amid community decry, London Police Services said the sign "does not meet the threshold of a criminal offence," such as hate speech, as the Canadian Charter of Rights permits freedom of expression.
The restaurant changed the sign by lunchtime on Thursday to read, "we love Chinese people we hate the genocide and China virus your commie govt [sic] has inflicted on us."
"My signs are rants about oppressive governments including our own," the bar's owner, Alex Petro, wrote in a statement to the Gazette. "They are in no way an indictment of the people of said governments. We do, and will continue, to welcome all guests."
The bar was accused on social media of denying service to Asian customers. Petro denies these allegations and said he is seeking legal action for defamation against the source of the claims.
"I can 110 per cent assure you that what has been alleged did not happen," wrote Petro. "I have spoken to four media outlets and invited them to view our cameras to verify my account."
A similar message is posted at the top of the restaurant's website.
Petro said he had no intention to hurt the Chinese community. On Friday, the sign was changed to "Calling out an oppressive govt is not racist period! We have [heart shape] respect 4 all people."
Despite calls to boycott the establishment on social media, Petro said Friday was his busiest day for take-out and indoor dining.
The University Students' Council supported ESS and released a statement denouncing "acts of racism perpetrated against the Asian community."
A joint statement released by Western University, its affiliates and Fanshawe College did not directly condemn the sign, but called for people to stand up against racism in the community.
"We urge [Londoners] to join us and call out racism when you see it, to be vocal when the dignity of anyone is questioned, whether it is the colour of their skin, the deity they worship or the people they love. Racism has no place in this city, this province, this country."
The signs have also received national attention, drawing criticism from federal NDP leader Jagmeet Singh as well as local members of federal and provincial parliament.
London is fortunate to have a proud, and vibrant Chinese community in our city. The outpouring of support we've seen in response, from Londoners of all backgrounds, is a testament to that. And, I believe, a far better reflection of the values this city truly represents. #ldnont

— Ed Holder (@ldnontmayor) February 19, 2021