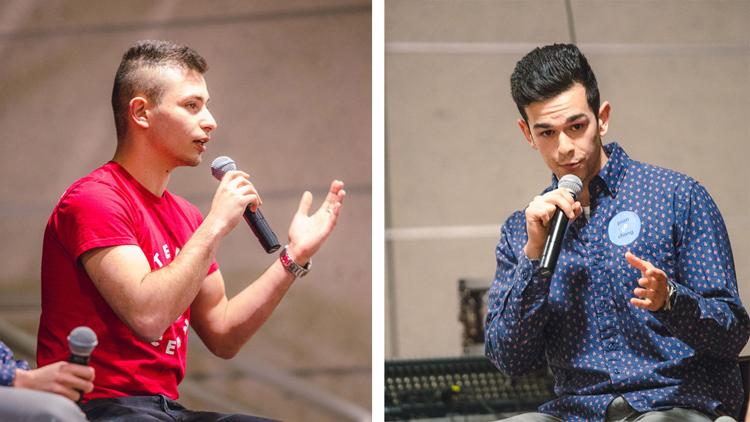 From freedom of speech to women in leadership, the University Students' Council's presidential debate saw Team Ocean and Team PrattChang match up again — and get divisive. 
Freedom of speech was the hot topic on Monday, Jan. 29, with Team PrattChang and Team Ocean weighing in on a dispute that's unfolding at universities across the country.
Mitchell Pratt, Team PrattChang's presidential candidate, said he draws the line at violence.
"I believe that universities are a place of discourse and discussion as long as it's done in a peaceful manner," Pratt said. "We have seen many events on campus where it can devolve into violent confrontation,… and we need to make sure we are promoting peaceful discourse."
Team Ocean's presidential candidate, Ocean Enbar, took a firmer stance. He said clubs that promote hate or discrimination have no place on campus. He referenced a pro-life protest from Western Lifeline that happened on Western's Concrete Beach earlier this year.
Pratt: universities are places of discourse, so long as it is done in coordination with student interests. We need to promote safe, peaceful discourse.

— Martin Allen (@_martinallen) January 29, 2018
"If you are going to tell a women on campus that she does not have a right to her own body, then you are not welcome at Western," said Enbar to audience applause.
Moderator and former USC president, Matt Helfand, pushed Enbar on the issue. Enbar said he would advocate for Western Lifeline events to take place off campus. He emphasized that the point of universities like Western is for students to feel safe on campus; there is no place for clubs that promote hate or discrimination.
"When you're a specific minority or group on campus that is targeted, that is the line.… There's no place for that on campus," Enbar said.
The debate also took an interesting turn when the topic of women in leadership came up.
While PrattChang discussed the importance of empowering women through community engagement and platform implementation, Enbar promised a tangible solution. Since Enbar has been a solo candidate after his vice-presidential partner resigned last week, he said he would strive to choose a female vice-president if elected.
"The circumstances are unprecedented.… This is an opportunity the USC has never seen before," Enbar said. "I will personally encourage as many female candidates as I can to nominate themselves for the vice-presidential role after the election is done."
Another topic of discussion was the role of the USC and its relationship with the Western administration.
Enbar rebut: most important part of the presidential role is to bridge students and the admin, so you must always take both into consideration. So when OWL/HOCO issues come, students are better involved.

— Martin Allen (@_martinallen) January 29, 2018
Enbar said he saw the USC's role as a bridge between students and the administration. He added the USC needs to not only communicate the interests of students to the administration, but also the needs of the administration to students.
On the other hand, Team PrattChang drew a firmer line. Pratt said the USC is the voice of students during conversations with Western administration.
"First and foremost, the USC is here to work for students," Pratt said. "While the relationship with the administration needs to be one of give and take,... I will always prioritize the students' interests."
Ultimately, both slates reiterated their commitment to students.
"These promises we are making to you aren't empty. We have been able to prove ourselves as leaders on this campus and look to continue doing so if elected as USC president and vice-president," Chang said.
"I will be working with and speaking to as many students as possible to remember that a vote for Team Ocean is a vote for more representation and diversification on campus," Enbar said.