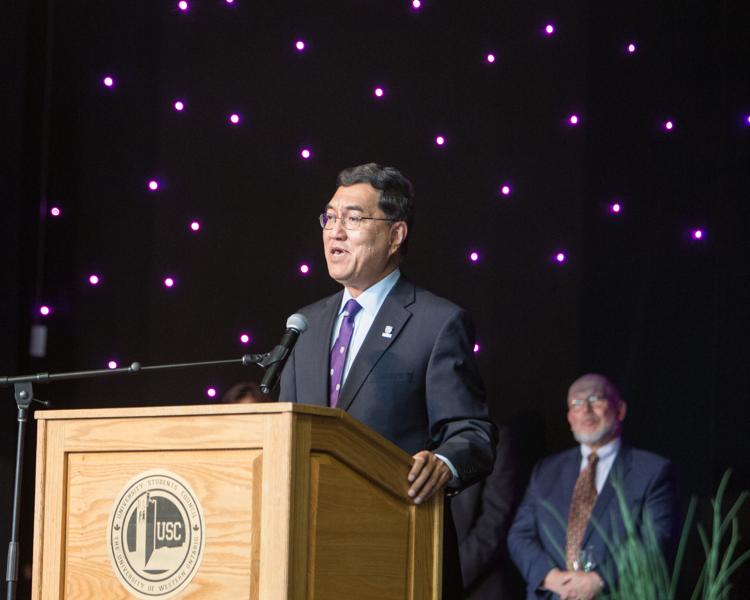 Faculty and administrators gathered in the Mustang Lounge Thursday to celebrate Amit Chakma's decade-long tenure as Western's president.
The lunch began with familiar songs from Rick McGhee, a longtime campus performer, and featured a parting speech from the president. An immigrant from Bangladesh, Chakma began in academia as a chemical engineer. He became the University of Waterloo's provost in 2001, before taking over Western's presidency from Paul Davenport in 2009.
"The [question] is: is the institution better able to deal with opportunities and challenges today than had been the case when I came in? My answer is yes and I feel good about it," he told the Gazette.
Chakma will hand over the reigns to president-elect Alan Shepard on July 1. He will be Western University's 11th president and vice-chancellor.
Celebrating @PresWesternU Chakma today at #WesternU. Thanks for a decade of leadership. pic.twitter.com/E3sw7sa23i

— Jo Ann Johnston (@JoRoJohnston) May 16, 2019
In her speech, Kelly Cole, Western's vice-president external, announced the creation of the Amit and Meena Chakma International Scholarship to honour the departing president. The scholarship will be formally presented to Chakma at a Board dinner in June. Cole announced that $1.3 million of the $1.5 million goal toward establishing the scholarship has been raised; donations remain open. The endowed scholarship began as an initiative Western called Chakma's "Legacy of Opportunity."
"We all know that students and internationalization are a top priority for Amit, and for that reason we created an opportunity for donors and alumni and colleagues," said Cole. "Collectively those gifts will create a new endowed scholarship for incoming international students."
Chakma entered Western with a stated goal of internationalizing its student body. Provost Andrew Hrymak spoke highly of this commitment in his own speech, citing Western's increase in international enrolment from two to 12 percent during Chakma's tenure. Western's incoming first-years were six per cent out-of-province, and are now 10 per cent, he added.
Beyond the scholarship, Western's new Engineering Building was also given his namesake last semester.
The departing president's 10 years at the helm have earned him great respect in some circles. The University Students' Council outgoing vice-president, Danny Chang, complimented Chakma's impact on the Western community.
"Over the past 10 years he's done a lot of great work that's put Western on the map," he said in an interview. "In his farewell speech, he hit on something really important which is that there's something really special about Western and its campus."
Though Chakma's speech was brief, it was extensive in its thanks and gratitude to his colleagues. He was presented a watch with a Western crest on its face, and said he would use it for special occasions, though he normally tells time with his Blackberry. After his speech, the president offered advice to university leaders of the future:
"[To] the people who play the sort of roles that I play: we should be focusing on not just specific achievements, we should be focusing on making the institution stronger"