Western students' future likely won't include a transit tunnel under Richmond Street after city councillors' vote Monday night. 
Late last night, the City of London's strategic priorities and policy committee finalized the proposed routes for a $440-million bus rapid transit (BRT) system. The councillors' biggest revision to the plan was their decision to axe the Richmond Street tunnel — for now at least.
Usher: I have been involved with the project since its inception in 2006. At the time we didn't talk about tunnels or railways #BRT

— Western Gazette (@uwogazette) May 15, 2017
While the politicians passed a motion to keep Richmond Street as the preferred northern BRT corridor through downtown, in a 9-5 vote the committee went with a ground-level crossing and dedicated bus lanes as the preferred way across Richmond. Councillors Mo Salih, Stephen Turner, Jesse Helmer, Michael van Holst and Phil Squire voted against the motion. 
One of the lowlights of my time serving on council, almost exactly a year after the decision to drop LRT on the NE corridor #ldnont https://t.co/7tcDtHcDpD

— Jesse Helmer (@jesse_helmer) May 16, 2017
Canning the tunnel dropped the project from a $560-million price tag to $440 million, half the original proposal's $880-million cost when it included the tunnel, buses and light rail. But the slashed price threatens the 'rapid' in BRT. A city staffer stated typically nine to 10 trains cross Richmond Street daily causing average delays of between four to six minutes. 
"There is absolutely a little bit of disappointment that the tunnel's not going to be in place," said Landon Tulk, University Students' Council (USC) vice-president. He added that while the USC would have liked to see the tunnel option kept, they're happy Richmond Row will still be the main downtown corridor.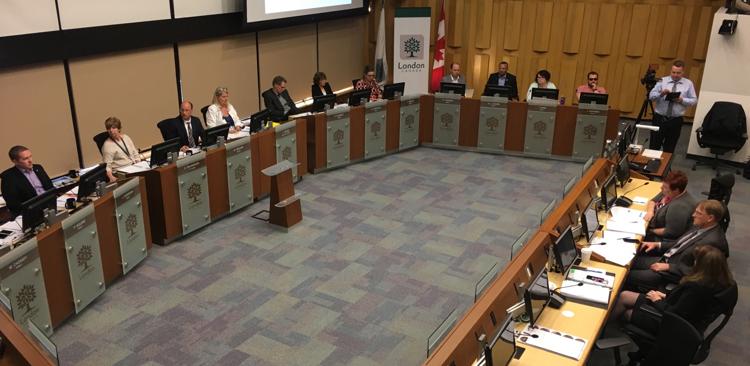 As ward 5 councillor Maureen Cassidy pointed out, an efficient transit system is critical if London wants to attract young people in the future.
"If we want ... university students to stay in London, we have to provide them with the things they're looking for," she said. "In general, millennials want better transit, and millennials are who we're trying to attract. If we're going to continue the services that the City of London provides, we have to grow."
Other changes the committee endorsed include the following:
One of the two BRT lines planned for King Street was moved to Queens Avenue, creating a 'couplet' system.
Several corridors were approved: north to Masonville Place through Western University, east to Fanshawe College, south along Wellington Road to White Oaks Mall and west to Wonderland Road/Oxford Street.
City of London staff will explore options for bypassing the ground-level rail crossing on Richmond Row.
Tobi Solebo, USC president, said BRT has been in the works for a long time and that it's exciting to finally see it moving forward. Tulk added the USC will continue to make sure students' voices are heard until the project's completion.
"We want to see reliable, frequent and efficient transit options for students in this city," said Tulk. "We need a high-quality transit system in London and BRT is the option on the table right now."
The committee's formal endorsement will go to council on Tuesday for a final vote.