By Mia Jing, news contributor 
After months of debate over the specifics of London's proposed bus rapid transit (BRT) system, city council will finalize its routes early next week.
The proposed BRT system would cost an estimated $560 million and includes a 900-meter tunnel underneath Richmond St. as part of its 24-kilometre system for high-frequency buses on the major streets of London.
According to the proposal, the creation of bus-only lanes for high-frequency services and emergency vehicles would reduce traffic and increase the reliability of buses' arrival. The tunnel under Richmond Row is estimated to save two to three minutes in commuting time between Western and downtown London.
Approaching city council's Monday meeting, Londoners have shown concern and division regarding the BRT plan. According to a poll conducted by the London Free Press and Toronto-based Mainstreet Research, 35 per cent of Londoners support BRT while 29 per cent oppose it.
Many Londoners who oppose BRT are worried about the negative effects it can have on local businesses — specifically ones located on Richmond St. — as a result of the construction blockages and reduced street parking.
On the other hand many students at Western University are speaking out in favour of BRT.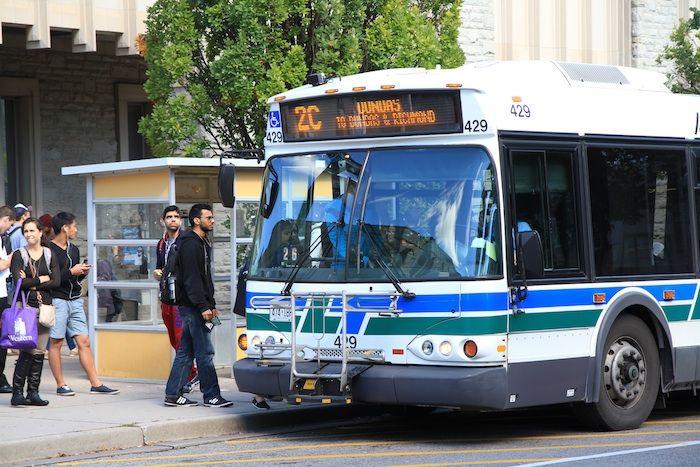 "It's probably good for the students because they don't have to wait on the side of the road for as long for a bus," said Racel Sopoco, a recent Western geology and biology sciences graduate. "[When] I used to go to school, I would be here at least half an hour early just in case."
Many students have experienced buses with full passenger loads passing by them, which is particularly difficult to deal with during the harsh winter season.
"I guess it depends on how much the city is going to grow. If they think it will grow enough then it would be a useful idea. For right now, I don't think it's necessary, but maybe in 10 years," said Chandrika Manjunath, a recent Western political and medical sciences graduate.
As the debate over BRT remains ongoing, Monday's city council meeting is set to be filled with conversations from both sides. Currently, London is the largest Canadian city without a bus rapid transit system.