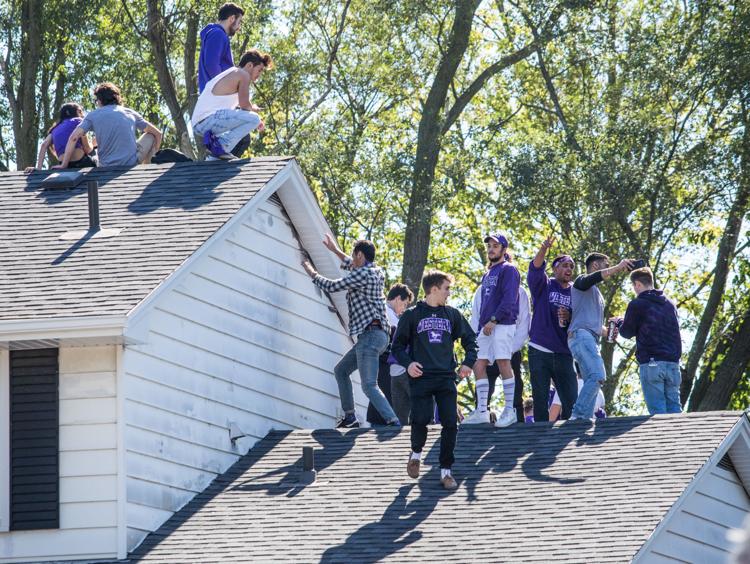 To stop dangerous and illegal activities during Western's "fake homecoming," City of London staff are speaking with YouTube about the dangers of posting videos of students climbing and jumping off of roofs.
This activity is commonly known as "brewfing," where students climb onto roofs and use it as a social space, explained Orest Katolyk, London's head of bylaw enforcement.
Katolyk has been in contact with YouTube about posting these types of videos, and he explained how performing dangerous stunts at unsanctioned street parties has resulted in serious injuries.
"This has kind of become about whose video can go more viral. So now the trend has become jumping off roofs, trying to break tables," said Katolyk.
YouTube recently changed their policies on posting content that is dangerous in nature. The site has removed videos of the Bird Box Challenge, which urges people to post videos of themselves performing unsafe or difficult tasks while blindfolded, and the Tide Pod Challenge, where people bite into laundry detergent capsules.
The city has discussed with YouTube that videos of students performing reckless activities in an inebriated state may also encourage dangerous and illegal behaviour.
"It's somewhat human nature to see if you can up the ante and maybe jump off a higher roof," explained Katolyk. "It's that kind of philosophy of challenge, who gets the most watched videos, that kind of thing."
Katolyk says that this has been an issue for about three years among many universities and colleges.
Although the term "brewfing" was coined in California, the trend of performing other dangerous stunts, like jumping off roofs and burning furniture, has spread across North America. 
"Initially in North America, because we're members of the International Town and Gown Association, these issues come up at their seminars and conferences," said Katolyk. "Previously, the issue was challenges on burning couches,… so you pull your couch out of your house, put it on the road and set it on fire".   
Katolyk explained that the issue of unsanctioned street parties is multi-faceted.  
While banning YouTube videos will not solve every problem, the city is looking at all of their options to ensure students will not be injured or killed from something they did in an inebriated state.  
"Our position is that we're not going to solve unauthorized parties simply by taking videos down," said Katolyk. "But certainly diving off of roofs and people getting hurt is something that is dangerous in nature and, in our opinion, does not fit in with YouTube's policies."
No decision has been made by YouTube to take down the videos. The city is continuing to meet with Western University administration, emergency management staff, student leadership and communications officials to look for solutions to this issue.