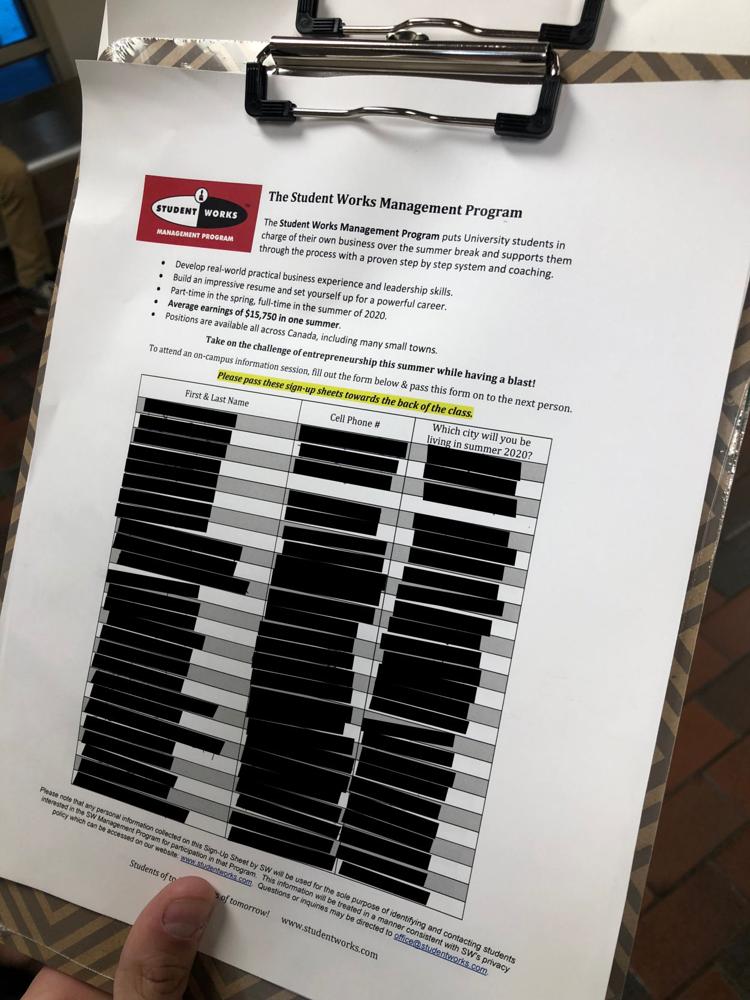 A controversial job recruitment practice using clipboards to collect students' personal information is against Western policy, according to Campus Police.
Campus Community Police Service on Friday spoke to Student Works, the company distributing them, to tell them to stop the practice as it is against Western's policies on advertising and commercial activity.
Issues surrounding the technique began last year when anonymous clipboards were found in classrooms around campus. They had forms promising a lucrative business opportunity and asking for personal information, including phone numbers and emails.
"Clipboards left in classrooms are not permitted," said Inspector J. C. Aubin. "If someone were to continue they were looking at a permanent activity under the trespassing on property act."
When the clipboards reappeared in classes last week, a company named Student Works confirmed they had placed them both years. Student Works said that they had removed the company name last year but they put it back this year to remove any confusion.
Patrick Lalonde, a vice-president of the company, said the company stopped distributing clipboards on Thursday, before the call from police, due to controversy surrounding the practice.
Regarding the controversy the practice, Lalonde said the company does not have any comment at this time.
Though Student Works is phasing out the use of the clipboards, they will still be recruiting on campus through the Student Success Centre. This will include posting on job boards, holding interviews on campus and using online job postings. 
"There is definitely a company-wide shift to move recruitment practice less on campuses and more online," Lalonde said.
Leaving clipboards in classrooms is not allowed by any company, police said.
Aubin said that though there are official ways for companies to recruit on campus, it is unlikely that this clipboard technique would be ever allowed.