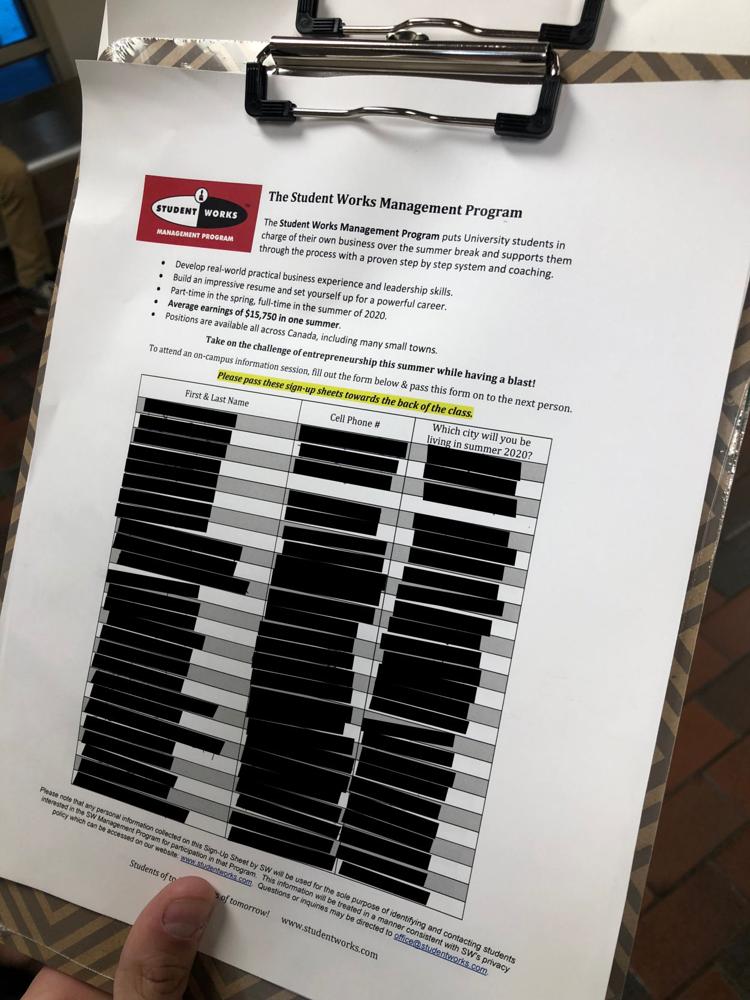 Clipboards asking for contact information and promising the start of a "powerful career" reappeared in classes today, after similar but anonymous forms placed last year attracted police attention.
The recruitment forms now identify themselves as from a company called Student Works Painting.
The clipboards have copies of forms for students to fill out to express interest in a summer job. The forms describe the job as "real-world practical business experience" with a management opportunity to start your own business.
The forms ask for names, cell phone numbers and city of residency for summer 2020, while boasting an average of $15,750 in earnings anywhere in Canada.
Student Works employees and managers told the Gazette that the company decided to remove their branding from the clipboards last year, but added it again to address the confusion it had caused.
Campus police said they were investigating the clipboards' reappearance.
Clipboards found in classrooms around campus last year had no company name listed -- sparking unsupported claims of malicious intent.
Though the clipboards spurred a campus police investigation at the time, it is unclear whether these companies were allowed to continue collecting information in classrooms at Western.
Eric Straatman, an owner/operator of Student Works, told the Gazette the police did not contact him during last year's investigation.
On Thursday, a clipboard was found in room 1059 of the Spencer Engineering Building, the site of a large Calculus 1000 lecture.
Luke Fenn — a fifth-year consumer behaviour student at Western University, and Student Works' district manager — said the clipboards were made "way more clear" to avoid issues with campus police. He added he was unaware if clipboards were allowed in the classrooms.
Patrick Lalonde, a vice-president of the company, said they had met with Western's Student Success Centre to notify them they were recruiting on campus. But, he said they did not have specific permission to recruit in lectures.
"Students go on campus and they find the best way on promoting it to other students," he said. "That's all there is."
Fenn said students were hesitant to fill out information this year due to the controversy last year. He pointed to a new privacy statement on the recruitment form stating that "any personal information collected on this sign-up sheet by [Student Works] will be used for the sole purpose of identifying and contracting students."