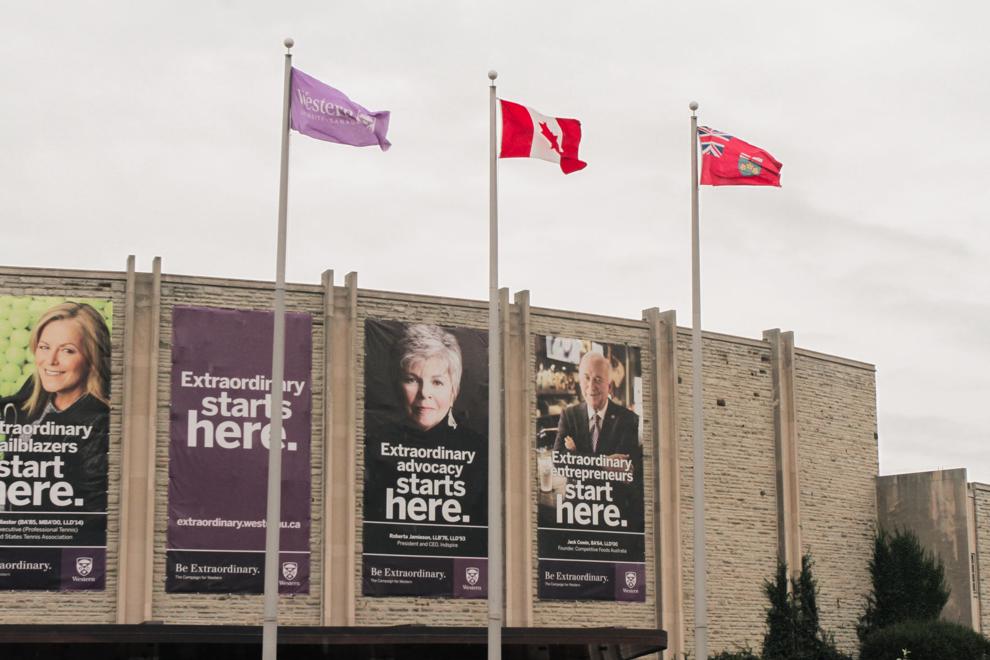 Western's marshall of convocation resigned from his position Sunday in protest of chancellor Linda Hasenfratz's decision to travel abroad during a pandemic.
Gregory Kelly, adjunct professor of physiology and pharmacology and marshall of convocation at Western University, said he does not wish to share a stage with Hasenfratz when in-person convocation becomes safe again.
"For me to share the stage with our chancellor would implicitly endorse her conduct," Kelly wrote in an open letter to the director of convocation. "As a matter of principle, I cannot do so." 
The chancellor acts as the honorary and symbolic head of the university and presides over distribution of degrees, diplomas and certificates at convocation. The marshall is a key figure in convocation in charge of leading the procession of students in lining up, seating and walking across the stage, among other things. Both positions are included on Western's convocation board.
Kelly said he has proudly participated in convocation at Western for many years, but he cited his intolerance for "those who willfully break [COVID-19 regulations]" as a significant driver of his decision. 
"I have no beef with the administration, but I have a beef with [Hasenfratz] being there because she willingly traveled and she was not supposed to," said Kelly in an interview with the Gazette. "She's removed herself from a task force that the provincial government has placed her on, so she knew the rules and she broke them."
In his letter, Kelly wrote that he feels it necessary to stand in solidarity with the Western community, and individuals who have followed the COVID-19 guidelines and have been touched by the pandemic. 
"It doesn't matter if it's administration or students or faculty. Anybody who breaks rules that are set up for our own safety is breaking the rules," said Kelly. "For me, I just couldn't see this double standard. It's total hypocrisy."
Western declined to comment on the letter.
Kelly's decision comes after both faculty and students have spoken out against Hasenfratz's decision to vacation abroad in Barbados over the winter break and her subsequent choice not to resign from her position at Western.
Just two weeks ago, the University of Western Ontario's Faculty Association, Western's teaching assistant union, the Society of Graduate Students and the University Students' Council condemned the chancellor's decision to travel abroad. UWOFA and TA union have also called for her resignation. 
UWOFA president Beth MacDougall-Shackleton expects there will be more faculty who, like Kelly, will resign from their convocation roles in protest of the chancellor's behaviour. 
"We don't [resign] in spite of our commitment to Western or to Western students, but because of our commitment," said MacDougall-Shackleton. "Most faculty members feel that, after the year that students have had, when they cross the stage they ought to have their degree conferred by somebody they can look up to." 
UWOFA has called on the school to impose harsher sanctions on Hasenfratz in order to prevent a double standard, where students can be punished under the Student Code of Conduct for breaking COVID-19 protocols while administrators are given a slap on the wrist. 
"This chancellor embodies hypocrisy, self-interest, rule-breaking and double standards for the wealthy and powerful," said MacDougall-Shackleton. "It is just untenable to have that person presiding over convocation." 
Hasenfratz apologized to the Western community after her travels came to light in a Globe and Mail report. Rick Konrad, the chair of Western's Board of Governors, called this a "learning moment" for the university.
MacDougall-Shackleton said UWOFA continues to call for the chancellor's resignation and for Western administrators to listen to students and the academic community sooner rather than later. 
"The lack of action is not sitting well with students and it's not sitting well with faculty. The longer it drags on the more divisive it becomes."