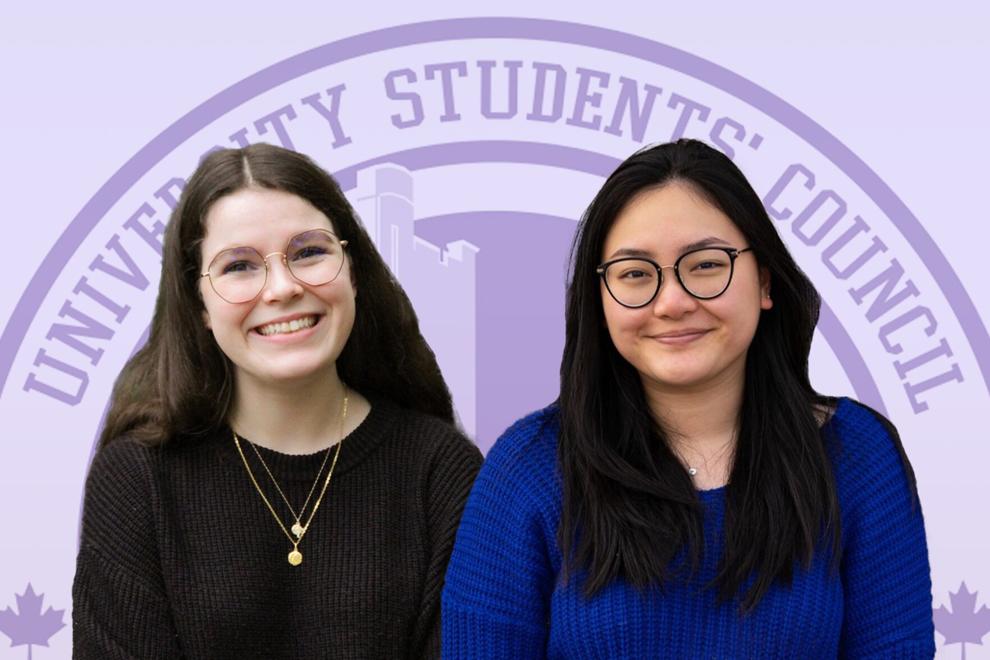 Lauren Jarman and Jessica Look will join the 2022-23 USC executive as the vice-presidents university and external affairs, after an internal council vote last week.
Sixty-two out of 93 USC councillors participated in the blind ballot election — only two thirds of the eligible student representatives.
Lauren Jarman was elected vice-president university affairs with 37 votes or 60 per cent of the ballots. Jessica Look, who ran unopposed for vice-president external affairs, passed a vote of confidence with 98 per cent of the vote, only one council member voted non-confidence.
"I am incredibly honoured and grateful to have been elected. I am excited to get to work on shared initiatives with councillors and look forward to being to work with incoming executive to make change on campus," said Jarman. "Working on mental health support for students and Anti-Sexual and Gender Based Violence policies are two priorities I am hoping to start working on as soon as possible."
Jarman is the Music faculty president and worked with the current VP university Ziyana Kotadia and vice-president student support and programming Maddie Osborne to bring menstrual products to Music Faculty buildings through the Free the Dot. campaign.
The fourth-year music and French student ran on a platform focused on mental health accessibility, equity, diversity and inclusion and decolonization training, anti-sexual and gender-based violence and coronavirus safety advocacy.
Jarman ran against Rohan Singh, a three-time science councillor and current student appeals support coordinator working under the university affairs portfolio. Singh's platform focused on sustainability, outreach, advocacy and recognition.
Jessica Look is a fourth-year political science and French student and currently serves as the associate vice-president of advocacy on the Social Science Students' Council, programming assistant of the Social Science soph team.
"I'm incredibly grateful and excited to have been given this opportunity, and I look forward to working with students from all around campus next year," said Look. "Thank you again to all the incoming and outgoing councillors for the consultations, to all student leaders for being such an inspiration, and to my support system for helping me get to this point."
The newly elected VP external hopes to advocate for student affordability and students who are traditionally overlooked by the USC "bubble" by increasing their engagement in government advocacy affairs.
The two vice presidents will be joining incoming USC president Ethan Gardner on the executive council for next year. The other three executive positions will be selected by hiring panels and announced later this semester.
---
Update (Monday, April 4, 2022, 5:18 p.m.): This article has been updated to include quotes from incoming USC vice-president university affairs Lauren Jarman and incoming USC vice-president external affairs Jessica Look.