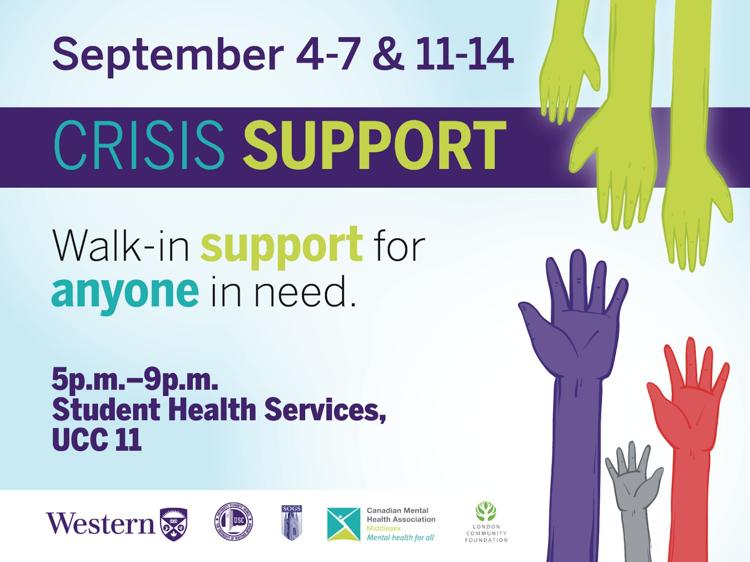 Crisis counselling will now be offered during Orientation Week to support first-year students.
The counselling, run by the Canadian Mental Health Association and funded through CMHA's London Community Vitality grant, will take place in Student Health Services in Room 11 of the University Community Centre.
Counselling is available to any student on a walk-in basis between 5 p.m. to 9 p.m. on Sept. 4-7 and Sept. 11-14.
This is the first year that crisis counselling will be available during O-Week.
The grant, awarded in 2017, provided the USC with $236,000 over three years to be used toward mental health, homelessness or reconciliation with Aboriginal Peoples. This is the second year the grant is being used. 
Last year, crisis counselling was made available during exam season thanks to this same grant. The Vitality grant will continue to fund crisis counselling during necessary times throughout this year and next. 
Carina Gabriele, student programs officer, was eager to implement support during O-Week.
"The option of providing crisis counselling during orientation was brought up and we immediately said yes," said Gabriele.
Gabriele mentioned a survey completed last year by sophs and first-years that called for more mental health support during O-Week.
"Transition periods are hard for everyone, and we realize that, and we want students to get the most support," said Gabriele.
Gabriele said this mental health initiative will be the first of many this year.
"We would like to ensure that we are always prioritizing student wellness and mental health," said Gabriele.