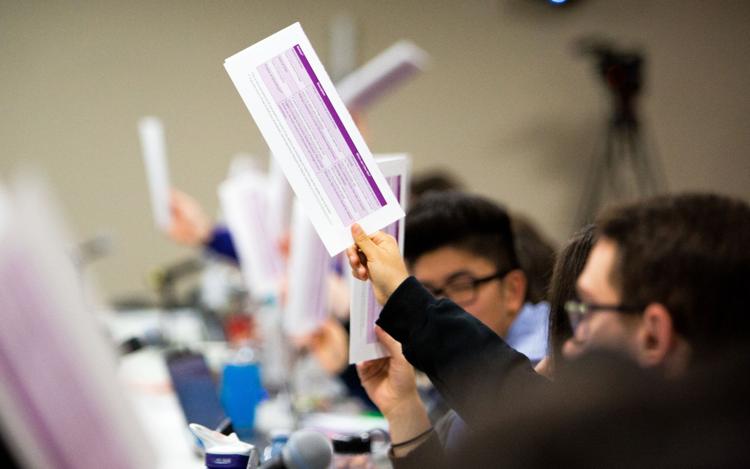 The USC debated the funding of its health plan and quietly anonymized councillor's student programs officer votes throughout a dense November council meeting. 
In an agenda packed with impactful motions, the University Students' Council pushed its student-fee funded health and dental plan to the first item. A presentation on the trust that funds the USC's coverage — which featured an extended Q&A period — accompanied a motion to put a referendum on the spring ballot: whether to increase the fee to around $15 for two years, a hike above the allowed seven per cent annual increase.
The motion carried with 77 per cent of the vote.
This year, the combined health-dental fee was $272.97, the largest section of the up to $867 the USC can collect from students. Students can opt-out, but must pay a $3.50 administrative fee if they do. Seventy per cent of students paid for the coverage in 2017-18, totalling $4.7 million.
The presenters discussed a number of problems facing the Campus Trust fund that could jeopardize its reserves in the future. Among them were upcoming changes to the Ontario Health Insurance Plan, which is becoming a second-payer in Ontarians' health expenses — meaning the USC's coverage will now pay first, before OHIP contributes if necessary. The reps said the USC would inevitably have to cut back their coverage if the students did not pay more now, allowing council to reach into their savings less frequently.
They also openly complained about Manulife Financial. After councillors criticized the insurer's "red tape," the representatives said Campus Trust has rotated through multiple insurers, leaving each with a profit.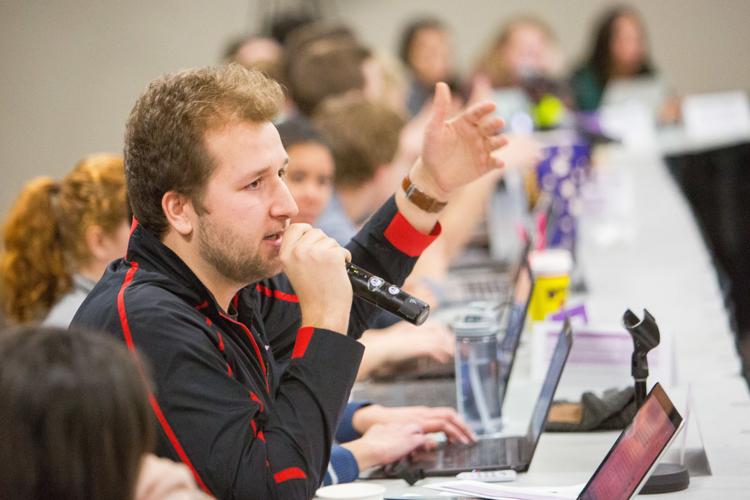 In the Q&A, and in the motion's ensuing debate, Huron University College councillor Florian Selmani emerged as a stern critic, questioning the representative's pay and loyalties. He urged his fellow councillors to vote down the referendums, as he complained about the lack of transparency he said he'd experienced in over a month investigating their agency's financials. Law councillor Joshua Hollenberg, who often features in council debates, replied that much of the information Selmani sought would be confidential.
Amid repeated questions and comments from Selmani and an abandoned attempt to postpone the motion, the atmosphere on the floor was unusually testy.
Two questions now about specific meds apparently not covered: Health Care rep says essentially every sort of med is covered, though specific drug request forms from doctors may be required; otherwise, most cost-effective drug is selected.

— Martin Allen (@mtrallen) November 29, 2018
Council moved to its next item and passed it almost as quickly: to anonymize councillors' votes in the student programs officer elections.
After the USC president and vice-president are selected, councillors vote to select another executive, the SPO, who handles Western's clubs, Orientation Week and events planning with faculty student councils. 
Last year's council was divided over a motion to make them public in a tension between transparency and protection of small faculties who rely on the SPO's support. Music president Kyle Tang led the opposition, saying his faculty would be affected disproportionately if the SPO took the voting personally. 
Despite total silence on the floor, last year's mandate was rebuked with a 95 per cent vote to keep the votes private. Now, the USC will release the votes under unique identifier codes, one for each voter, which councillors can reveal to constituents if they choose.
November's council meeting
The USC met Nov 28 to discuss fees, but not to discuss anonymous ballots. 
The USC finished harmoniously with a promise to address anti-Semitism on campus. Social Science president Jared Forman moved that council adopt the International Holocaust Remembrance Alliance's definition of anti-Semitism, and partner with Western Hillel, campus' most prominent Jewish group. He cited an incident last March when a swastika was drawn in an Essex Hall elevator. The motion carried with large support.
Forman yielded part of his time to Justin Shapiro, Western Hillel's vice-president of outreach and a student advocate, who spoke passionately for the motion.
"I don't pretend to have all the answers, but I do know that complacency nourishes prejudice, and prejudice turns to hate," he said. "With one small vote, we can take one giant leap forward in promoting safety and inclusivity for our entire campus community."
Correction (6:29 p.m., Nov. 30): A misspelling of Jared Forman's name has been corrected in paragraph 13.
Correction (2:29 p.m., Dec. 1): In paragraph two the allowed annual increase has been corrected from five per cent to seven per cent, and paragraph four was updated to clarify that the USC transfers out the money totalled through health-dental coverage.