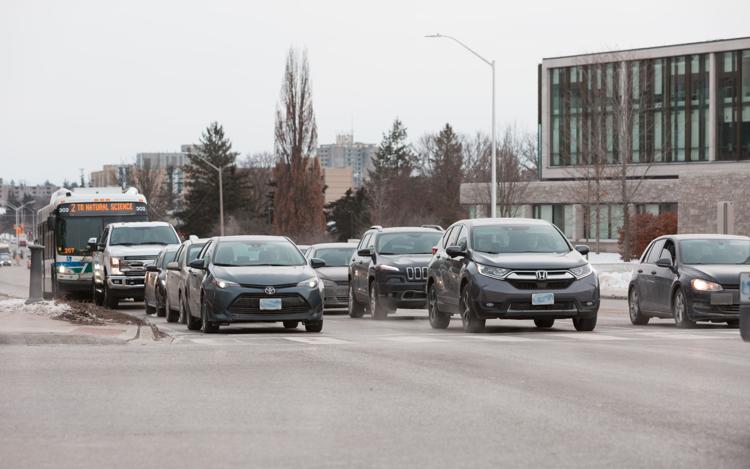 New changes to distracted driving penalties took effect on Jan. 1, 2019 as part of Ontario's Bill 174 cannabis and road safety legislation.
Following the legalization of recreational cannabis across Canada, these new rules were made under the Cannabis, Smoke-Free Ontario and Road Safety Statute Law Amendment Act to ensure road safety.
For A to G and M licence holders, penalties depend on conviction level: 
- First conviction: fine of $615 up to $1,000, three demerit points and a three-day licence suspension.
- Second conviction: fine of $615 up to $2,000, six demerit points and a seven-day licence suspension. 
- Third conviction: fine of $615 up to $3,000, six demerit points and a 30-day licence suspension. 
According to Sgt. Sean Harding of the Traffic Management Unit at the London Police Service, novice drivers face the same convictions without any demerit points. However, they will face a 30-day licence suspension on their first conviction, a 90-day suspension on their second conviction and a cancellation of licence on their third conviction.
The law stresses the importance of refraining from driving under the influence of any drug or substance, which could lead to a short-term licence suspension, especially for novice drivers. 
When asked how frequently university students are pulled over for distracted driving, Harding said it's not part of the course of penalization to ask for a driver's profession, so the number of students pulled over is unclear.
"There are no statistics of the occupation of the people who are receiving these tickets. It could be during certain times, but on average, it is not something we look into regarding students," he said. 
Staff Sgt. J.C. Aubin, Campus Police operations leader, said distracted driving incidents are infrequent on campus. When asked about previous penalties for distracted driving incidents involving students, he said that there were very few cases.
"Most traffic coming through campus isn't students," Aubin said. "And we haven't charged for [distracted driving] yet this year."