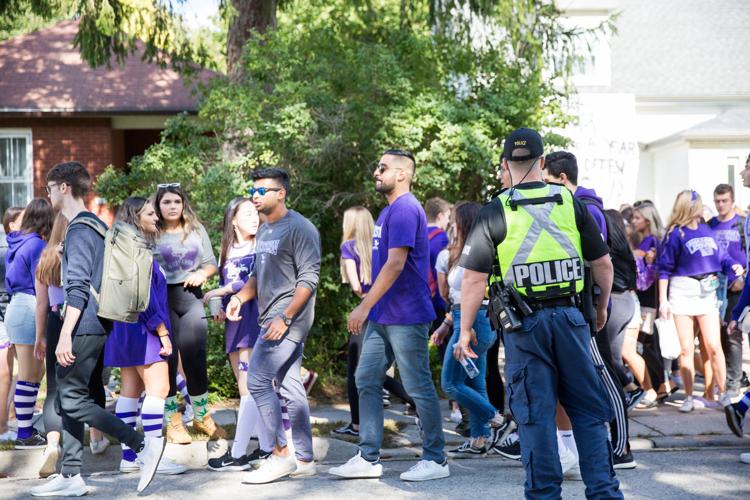 Eight more tenants were charged over $1,130 each for hosting two large parties Saturday, in the second use of new city bylaws meant to crack down on partiers.
Two 20-year-old men were charged for hosting a loud backyard party on Patricia St. Police say more people were being dropped off as they arrived around 3:45 p.m. on Sept. 14.
An hour later, police handed out six notices to a group of 19-year-old men hosting 300 to 350 people in the house they rent on John Street, downtown.
They were charged under an amendment to London's Nuisance Bylaw, which levies fines against large gatherings on private property.
When asked if the eight tenants are students, police said they are from out of town but currently residing in London.
The bylaw, designed to recoup policing costs from student parties in the city, has netted London over $12,000 in revenue in two weekends. As police exact thousands from renters, and Western entertains using its Student Code of Conduct, London seems primed to stamp out the party culture that has dogged city and university officials for years.
Although city councillors have said this bylaw targets parties city-wide, only student-aged renters have been charged so far.
The bylaw allows police to charge anyone who "sponsors, hosts, creates, attends, allows or cause/permit" a nuisance party. The city defines "nuisance" as any party resulting in public intoxication, disorderly conduct, or unreasonable noise.
The maximum fine is $25,000; the cost of last year's Fake Homecoming was $200,000.
The first charges under this new bylaw were laid last weekend, when four men between 19 and 20 years old were charged after hosting a party on Broughdale Avenue. They were also charged $1,130 each.