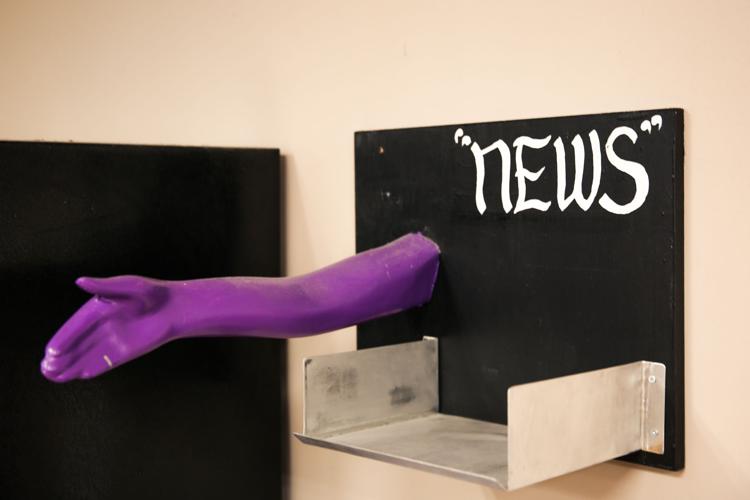 The Undergraduate Engineering Society's newspaper, the Purple Arm, has some students up in arms following their September 2017 issue.
After finding the issue, several students have said it is offensive and degrading to campus minority groups. Articles within the issue include: 
"Deportation is the only solution" — an article about deporting Fanshawe students.

"How to survive first-year engineering" — an article that recommends students be girls, lie and swallow semen.

"Racist candy" — an article stating white supremacists created all white Skittles to combat LGBTQ rainbow candy.
Undergraduate engineering students publish the newspaper, and its intended audience is students within the faculty. Elaine Cook, president of UES, says the newspaper is a "comedy publication," and "the articles do not in any way reflect the view of the UES or Western Engineering."
Although Cook says the paper is meant to be funny, some students feel differently. Ariana Magliocco, a third-year Faculty of Information and Media Studies student and soph, was upset by the paper and specifically took issue with the articles "Racist Candy" and "A flowchart for dealing with women," which links a woman's irritable attitude to her menstrual flow. 
"This was clearly another uninformed attempt at satire that completely missed the mark. Calling Black Lives Matter a 'liberal extremist group' is not satire; it is a reiteration of the racist rhetoric used to discredit a very real social issue," Magliocco said. 
The Purple Arm has existed for several years and has created controversy in the past over its contents. Other Canadian universities have similar engineering papers, including the University of British Columbia's Red Rag and McMaster University's the Plumbline.
Asha Sivarajah, a second-year media, information and technoculture student minoring in political science, also took issue with some of the paper's content.
"Their attitudes about women in engineering are outdated, archaic, and frankly not true," Sivarajah said. She added both her parents are engineers.
The "Degree appropriation" article was another piece that Sivarajah took issue with. The article ostensibly showcases "non-engineering disciplines" in an effort to broaden "tolerance and acceptance" of other fields, writes the description of the piece.
"It's nothing new that society tends to value those who study the maths and sciences over those who study the arts," Sivarajah said. "However, what I love about the arts, and FIMS in particular, is that we aren't taught what to think: we are taught how to think."
Jana Cernavskis, University Students' Council communications officer, said the USC does not stand by the Purple Arm's messages.
"We were disappointed to hear about the UES publication the Purple Arm and the offensive content it contained," Cernavskis said. "We at the USC always try to encourage open dialogue and debate by allowing students to publish their own materials; however, the Purple Arm has offensively referred to minority groups on campus."
While Cook acknowledges that the content "isn't perfectly politically correct," she hoped students would take it in jest and apologizes if students are offended. Cook also said, "We stand by our students' right to express themselves." Cook said she was unavailable to do an interview with the Gazette and did not respond to emailed questions.
"As a soph, I am deeply upset that these were the role models incoming first years were told they could look to for support and guidance," Magliocco said. "Frankly, I don't care that this was supposed to be a joke: their intention means nothing when weighed against the impact this surely made on student readers." 
Faculty of Engineering Dean Andrew Hrymak released a joint statement with Cook following a meeting about the Purple Arm's September issue.
The statement read: "We recognize that this issue contained some content that was offensive. It was never the intent of the UES or of the Purple Arm's editors or writers to disrespect anyone or cause offence. The UES will be working with the Faculty to reevaluate the future of the Purple Arm, and we welcome input."
They further added that Western engineering is a welcoming community, and they acknowledge that this publication did not assist them with that goal. They said they will work together to ensure this does not happen again in the future.