Erika Chamberlain will be walking into Western's law building as the new dean of Western Law in May 2017.
The two most prominent themes in Chamberlain's vision are accessibility and student engagement. She hopes to achieve this through introducing new practical opportunities and research projects.
As someone who came from a working-class family, she understands the importance of making law school more accessible to everyone and having a diverse student body and faculty.
Chamberlain also mentioned that the implementation of the indigenous strategic plan at Western is a priority for the law school over the next several years.
According to Chamberlain, it's Western Law's student experience that makes it so unique.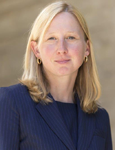 "I think we have a really great student body, I think they support each other a lot, law school can be a competitive place, but I think Western Law students look after each other and so I think that's really important to our experience here."
The interdisciplinary opportunities that Western Law offers to students is unique in Canada. Students are able to pursue combined degrees with history, computer science and earth science.
Chamberlain explained that it was the support that she received from professors and co-workers that helped her get to where she is today.
She graduated from Western Law in 2001 and has been active on Western's campus ever since. After working for the Supreme Court of Canada for a year and getting her PhD at Cambridge, she returned to Western's Faculty of Law in 2005 as an associate professor. In 2012 she became the associate dean of academics.
Finally, to the future generation of lawyers her advice is simple: "study hard."