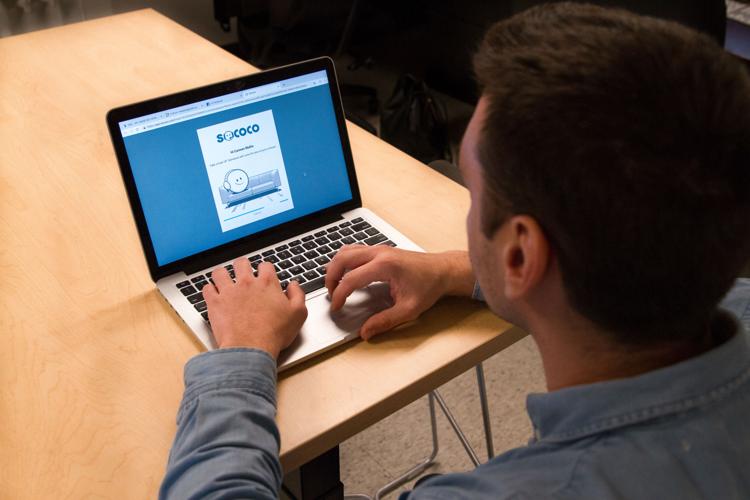 Students can now connect with recruitment coordinators at Western University's Faculty of Education in real time using Sococo, an online tool.
While available to anyone, the online platform targets potential and recent applicants to the Faculty of Education. Western Education recruiters Tom Croucher and Meghan Kines are available on Tuesdays and Thursdays from 2 to 3 p.m. to answer questions relating to faculty programs, course prerequisites, admission requirements, types of degrees and available scholarships through type or video chat.
"It gives us an opportunity to really be much more interactive with students and much more personalized with the advice we give, more so than email," said Croucher. "We're able to be much more responsive."
Sococo was created as an online platform for team collaborations between workers in remote offices or workplaces, and has been adapted for recruitment purposes. Croucher and Kines believe the tool could be used to simulate "online office hours" and facilitate communication with students.
Sococo Explainer Video from Sococo on Vimeo.
Launched in late September, Croucher explained the recruitment service will be available until December on a trial basis to ensure it is meeting prospective student needs.
"We're in our early days, but we've had great conversations where [students] say, 'This has been actually a great idea. I'm happy I was able to take part in it,' " said Croucher. "Some of the early feedback has certainly been positive."
Students can access the platform using a guest link available on the faculty's website. They can then log in using a guest account and connect with available recruiters. They can also access documents, brochures and other information shared by recruiters through the platform.
"We're always looking for new ways to help students throughout the [application] process," said Croucher. "We're in a world now where there's so many different ways of accessing information and conveying information. We're really just trying to find whatever way we can be responsive to student needs in a way that's more personalized and really gets them information accurately and in a very short amount of time."