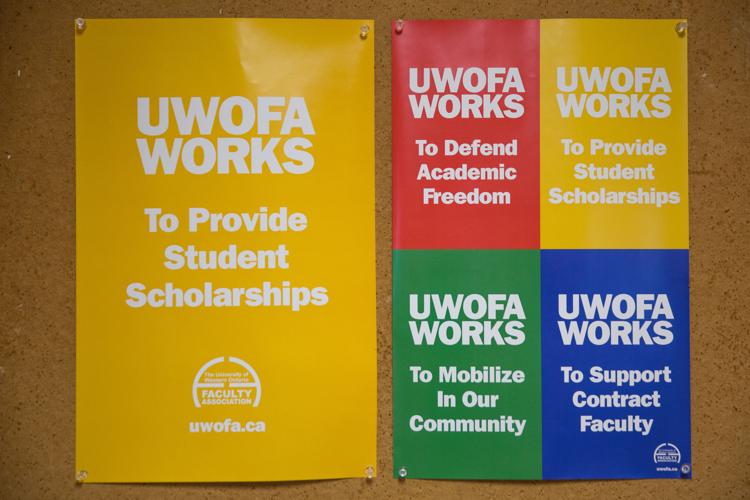 A chief representative of faculty bargaining with Western said they will likely vote to allow a strike if negotiations break down.
The University of Western Ontario Faculty Association vote began this morning at 11 a.m. and is set to conclude Wednesday. Its members, Western's professors, librarians and archivists will cast either a "yes" or "no" vote in expressing their willingness to strike. Voting takes place Sept. 20-21 and 24-26.
"I am feeling very strongly, very confident, that our vote will be 'yes' and it that will be a strong 'yes'," said Dan Belliveau, UWOFA's president.
Though a "yes" vote would show faculty are willing to strike, it does not necessitate a strike occurring: it would give UWOFA's negotiators the power to call a strike on their members' behalf if bargaining sours.
There are other options negotiators could exhaust before a strike, like rotating strikes, one-day strikes and work-to-rule.
Helen Connell, Western's associate vice-president of communications, was unsurprised by the strike vote.
"We have had a good history of being able to reach a professional contract agreement through these talks, and we remain optimistic that we will be able to do so again," said Connell. 
UWOFA can only strike if the outside mediator supervising the bargaining fails to create an agreement and if either party files for a "no board" report. A strike could then occur 17 days after the report is filed, though it is not mandatory. To have the authority to file such a report, the UWOFA negotiators must have a majority "yes" vote behind them.
In the event of a "no," Belliveau said he would be disappointed, as it would indicate that UWOFA would have to accept the offer from the university as it stands today.
On August 30, both sides filed for a conciliator to help mediate the negotiations.
"[It] is a very positive sign of the commitment both UWOFA and the [Western administration] have on reaching a negotiated fair and equitable agreement," Belliveau said.
UWOFA has not decided on what specific actions will be taken if conciliation fails.
"It's difficult to predict what the provincial Progressive Conservative government could do," Belliveau said. "Certainly, they have indicated that they will not hesitate to bring in back-to-work legislation."
A recent faculty strike at York University lasted five months before Premier Doug Ford ordered them back to work, ending the strike.
Though Belliveau cannot comment on any counter-offers from UWOFA, he did reinforce that Western staff would not reach an industry standard of pay with Western's proposal of a 1.25 per cent increase with one per cent in the years following.