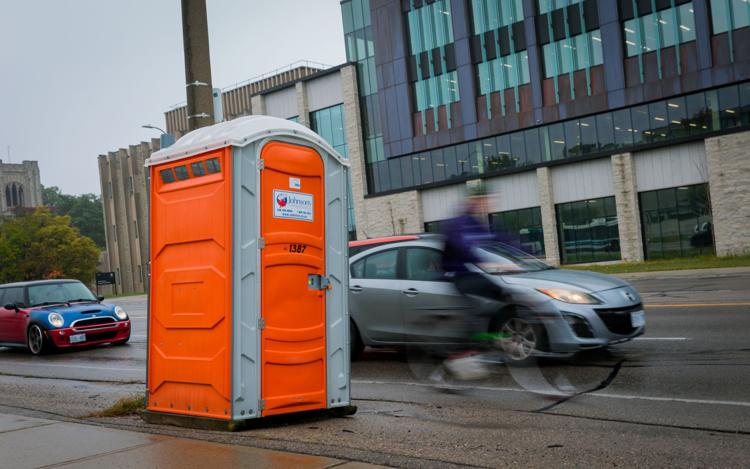 Porta-potties are now lining the outskirts of campus, drafting what could become by Tuesday a picket line between Western and its librarians and archivists union.
Eight portable toilets from Johnson's Sanitation arrived along Western Road and near Main Gates Thursday morning. More are expected to arrive before next week's strike deadline.
The porta-potties are an inconspicuous symbol of a looming picket line, installed as on-going negotiations between the faculty union and Western inch towards a strike deadline. If a collective agreement is not reached by midnight on Monday, librarians and archivists could call a work stoppage.
Negotiations paused on Sept. 16, after the faculty union filed for a "no board" report with the ministry of labour. This allowed them to legally strike 17 days after it was approved.
This is the fourth time Western has gone to the bargaining table with different labour unions over the past year. 
As strike looms for Librarians & Archivists @WesternU the important picket line necessities are in place. #GetLoud #LDNews pic.twitter.com/d8XayavXfu

— UWOFA (@UWOFA) October 3, 2019
The University of Western Ontario's Faculty Association relocated their office to a strike headquarters in an abandoned Rexall building on Oxford and Wonderland. This is the same building used last year when faculty nearly took strike action.
If a strike begins, they will not be able to cross the picket line to their formal office on campus.
But, University of Western Ontario's Faculty Association president John Ciriello hopes it won't come to that.
UWOFA and Western will continue to meet down to the wire. They negotiated on Thursday that did not result in a deal, and have another planned for Monday.
Following Thursday's bargaining, Ciriello said the two sides are starting to see eye-to-eye.
"I'm optimistic something may happen, however it's unpredictable," he said. "We still have our major issues to deal with."
The negotiations are hung up on Bill 124. The proposed legislation would limit public sector wage increases to 1 per cent a year. Although this bill has not been passed yet, Western is still aiming for this standard.
But, Ciriello cited that inflation is moving at a rate of 2.1 per cent right now, and argued a 1 per cent increase would become a wage cut over time. This draws out negotiations revolving around increased compensation and benefits.
"It's not legislation yet, let's move on. When it becomes legislation, then we can deal with the situation," Ciriello said. "My long term concern actually is I believe the university is trying to establish a new low for negotiations. That's for every group on campus."
And UWOFA is feeling the weight on their shoulders. 
Ciriello is already thinking ahead to contract negotiations between the administration and the teaching assistants' and post-doctorals' union set to take place this year, and even for when UWOFA re-enters the battleground on behalf of faculty in three years.
"Whatever happens in this negotiation will set the tone for all future negotiations with all employee groups on campus."
The local TA union — part of the Public Service Alliance of Canada — has actively supported UWOFA through their negotiations.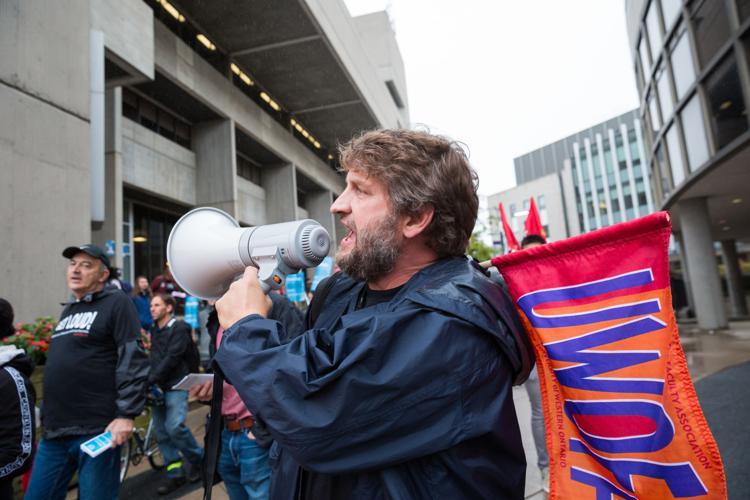 The faculty union has been trying a variety of strategies to have their voices heard on campus. On Thursday, members of the faculty union took to the streets, starting on Concrete Beach.
Around 50 people marched through campus, into the D.B. Weldon Library and down to Western's gates on Richmond Street. The faculty union was joined by PSAC, provincial and local workers unions and the Amalgamated Transit Union to host a rally in support of librarians and archivists. London North Centre MPP Terence Kernaghan and NDP federal candidate Dirka Prout marched alongside the unions.
A week earlier, PSAC led a rally through the library and into the University Community Centre. They made their way into the University Students' Council office, chanting and waving flags 
UWOFA has also spread leaflets around campus, asking students and the public to stand with education workers. 
@UWOFA is 'getting loud' for librarians and archivists by singing, drumming and chanting in Weldon pic.twitter.com/cNS1IyEdx6

— Em Tayler (@emtayler16) October 3, 2019
 PSAC president Ari Vangeest led the crowd into Weldon, singing pro-union songs and chanting, accompanied by a circle of drums. Students gathered around the crowd and filmed on their phones.
Two women working at the library's front desk said they were surprised by the loud commotion, but appreciated the support nonetheless.
The crowd marched to sing outside of Western's president Alan Shepard's office at Stevenson Hall, then made their way to the front gates, blocking traffic as they went. A microphone and table of coffee were waiting for protesters when they reached the gates.
Many stayed after the speeches to hand out leaflets.
In support of UWOFA, the Amalgamated Transit Union said buses will detour around campus if a strike begins. It's written into transit workers' collective agreement that they will not cross a picket line.
"The whole city should be standing behind you," the transit union's president Steve Holmes said. "We'll do our part, we'll not cross the picket line and we'll be standing with you when we can."