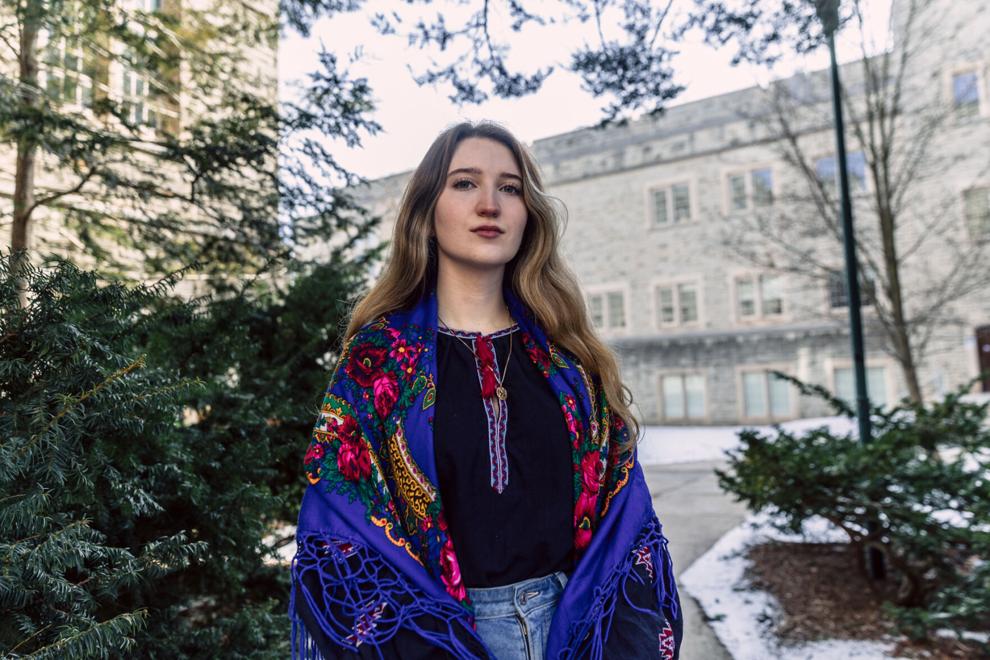 Sofia Holowatsky walks around campus wearing her vibrant hystica, a traditional patterned Ukrainian scarf, wrapped around her neck. Laid delicately on the deep blue of the hystica is her gold tryzub, a pendant necklace donning a Ukrainian emblem that spells out one meaningful word: freedom.  
Holowatsky, a second-year Faculty of Information and Media Studies student and member of the Ukrainian Students' Association at Western, was, like many, stunned when the news broke of the Russian invasion. The war and the uncertainty of its resolution is hitting her close to home. She says the men in her family back in Ukraine are volunteering in the territorial defense forces, sacrificing their lives in defense of their country's sovereignty.
Sofia is not alone. Canada has 1.4 million people of Ukrainian descent, more than any country in the world aside from Russia and Ukraine. Twelve thousand of them are here in London. This war isn't just affecting those overseas fighting, it's hurting every Ukrainian in Canada, in London and at Western University, who can only hope for the safety and well-being of their loved ones. 
Sasha Moskalenski, a third-year King's University College student from Kyiv, found out that his entire family, and the people he grew up with, were under the attack of Russian airstrikes from a text message: 
"We're at war with Russia."
Moskalenski has watched with the rest of the world as Russian forces continued their war on the people of Ukraine. As the only member of his family in Canada, he wishes he could be with them right now.
"I wish I was there …. I wish I could help our military," says Moskalenski. 
"My mother is basically saying goodbye to me every time we're talking because she doesn't know if she's gonna be alive next time."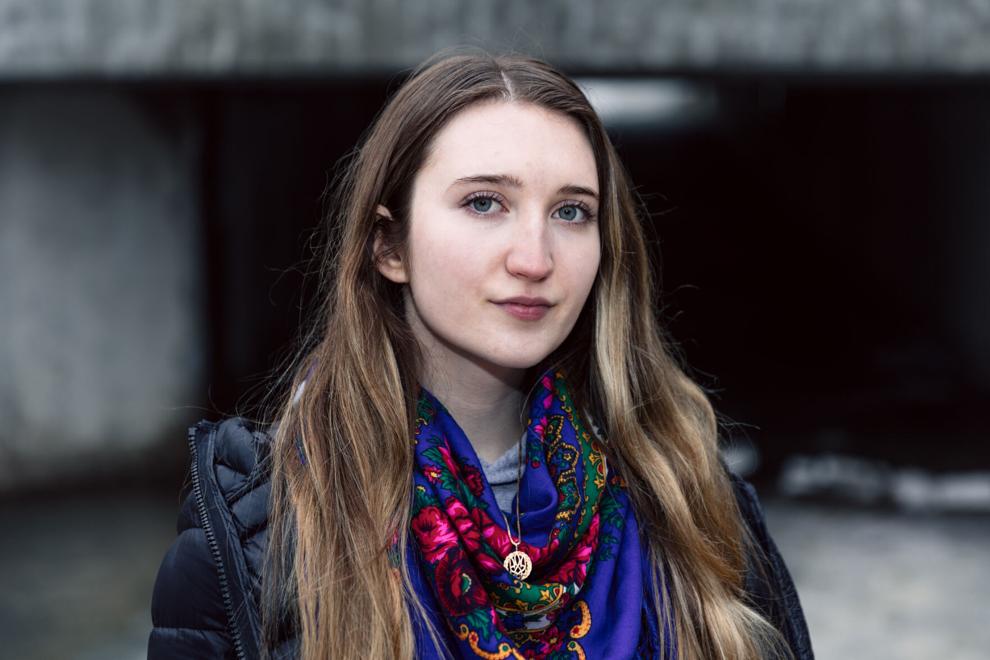 Holowatsky, whose immediate family lives in Canada, has been able to keep in contact with her relatives in Ukraine, but the erratic nature of the conflict has made it difficult for her to go about daily life. She says Western and her professors have been extremely accommodating, allowing her to focus on her mental health and humanitarian efforts, but the weight of the war has proved to be a heavy burden.
"[In class] I just completely broke down," she says. 
"I just started crying … I got through the class, and I went home, but it's been very hard to focus on studies right now."
Michaela Yarmol-Matusiak, a second-year American studies student and the inclusion and diversity officer at the Ukrainian Canadian Students' Union, echoed this sentiment. 
"It's very hard to focus when you're sitting in class talking about something that feels so benign, when [the war] is real, right now," she says. 
"Someone [said] in my class that Canada's not going to be affected at all, except for rising gas prices. [But] there's 1.4 million Ukrainian-Canadians right now that are all suffering, and that's maybe not the Canada that you see, but everyone I know is in some kind of agony or struggle right now."
She's spent the past week listening to harrowing stories from Ukrainian students across Canada. 
A member of her organization in Toronto told her she's been getting calls from students whose houses and families are being bombed by Russian forces. Hearing these accounts from fellow students as well as friends and family back in Ukraine has taken its toll. 
"I'm agonized, heartbroken, worried. There's a constant sense of anxiety even when [I'm] going to sleep," Yarmol-Matusiak says.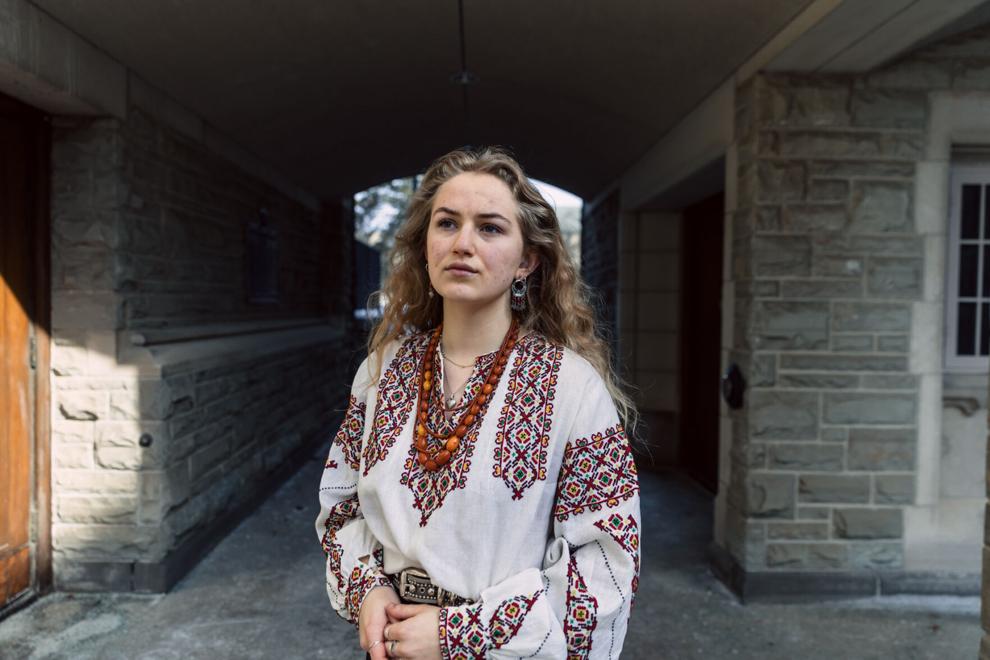 But Yarmol-Matusiak and the Ukrainian community at Western have turned that heartbreak into action. She and Holowatsky have been helping Ukrainian and Ukrainian-Canadian students at Western access academic and mental health resources, as well as taking time to volunteer at the London Ukrainian Center, packaging and sorting medical supplies, personal protection equipment and camping related gear. With the Ukrainian Students' Association, they have organized donations, attended rallies and tried to offer support to their families and friends back in Ukraine. 
While many students have focused their energy on efforts in London, Yarmol-Matusiak says she has had conversations with students who want to go back to Ukraine to fight alongside their families in the military. 
"People are really making life and death decisions right now," she says.
Oleksa Mojsiak, a second-year student and executive at the Ukrainian Students' Association, is part of the humanitarian and advocacy effort at Western and in the London community. He says he's been inspired by the unity and strength of the Ukrainian community in Canada and around the world. 
"Ukrainians have never been so proud to be Ukrainian," he says. "I've never been so proud to be Ukrainian." 
Mojsiak says it's difficult to think about his grandparents watching the villages they grew up in, that were already destroyed, attacked once again. He grapples with the fact that if he were to trade places with one of his cousins living in Ukraine, he would be fighting with the military right now. In spite of the realities of the war, he is grateful for the support Ukrainians have received. 
"It's really been inspiring to see the world come together and support the Ukrainian community," he says. 
Yarmol-Matusiak says it's this unity and resilience that gives her hope at a time like this. 
"What really brings us all together is that, time and time again, we continue to show up for one another."
Moskalenski has found similar inspiration in the effort on the ground in Ukraine, specifically the civil military two of his cousins have joined. His message to Russia and its leader is clear: 
"On the second day [of the invasion] 13 Ukrainian border patrollers were on Snake Island and when the Russian military ship came up and told them to surrender, they said 'go fuck yourself Russian ship.' So that's what I'm going to tell Putin if he hears this: Go fuck yourself Putin, stop the war."
Freedom to Ukrainians is not a given — Yarmol-Matusiak says it has been a generational fight to keep their culture, their people, and their country free. 
That fighting spirit is embodied in the tryzub that hangs on Holowatsky's neck. The gold pendant resting above her heart serves as a reminder of what she and her family, and millions of Ukrainians, will continue to fight for — the hill they are willing to die on. 
As Holowatsky puts it: "You can't occupy people who have freedom in their blood."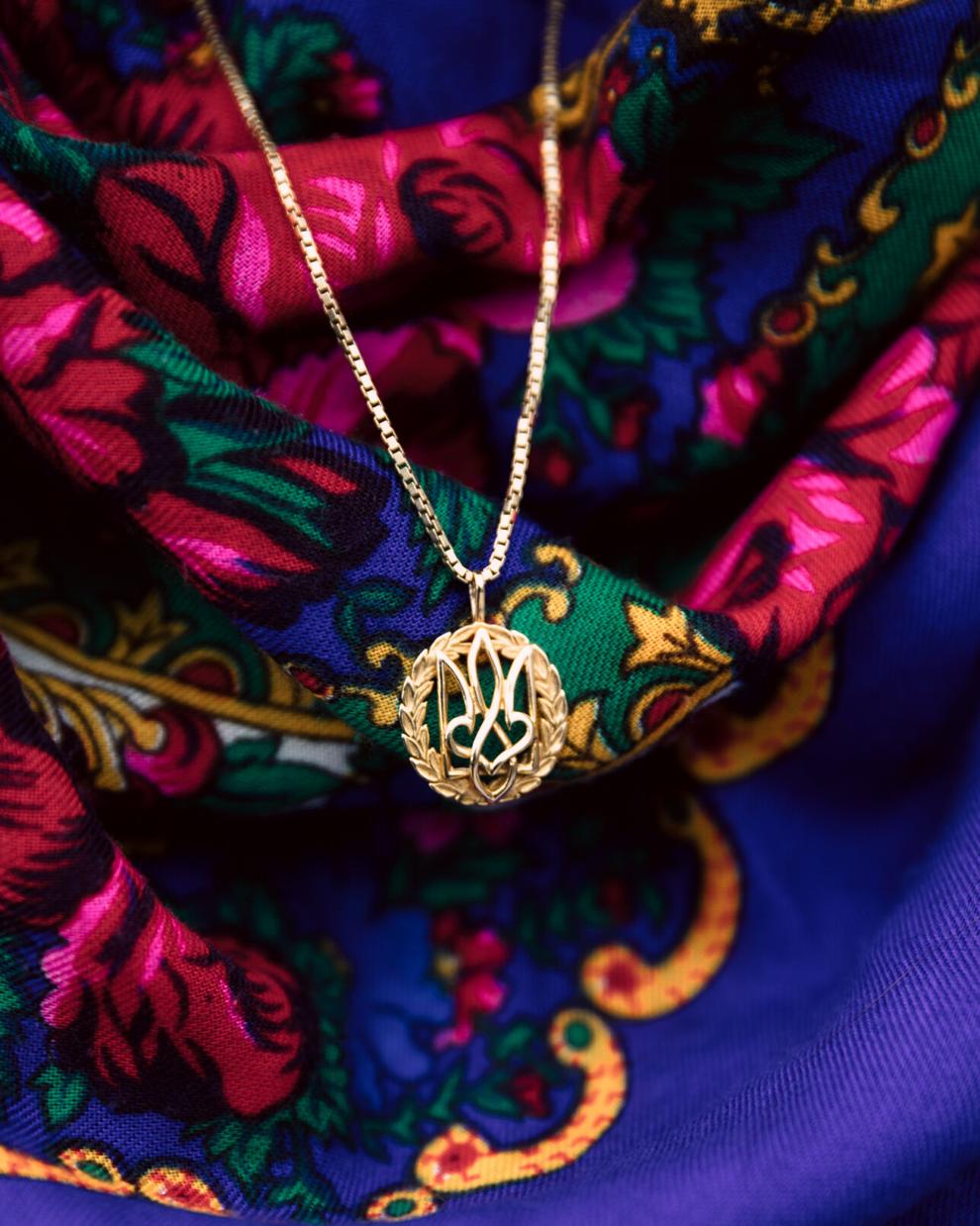 ---
Donations are being accepted at the Western International Office, located in the International Graduate Affairs Building, from 9 a.m. to 4 p.m  as well as at designated locations near campus organized by the Ukrainian Students' Association.