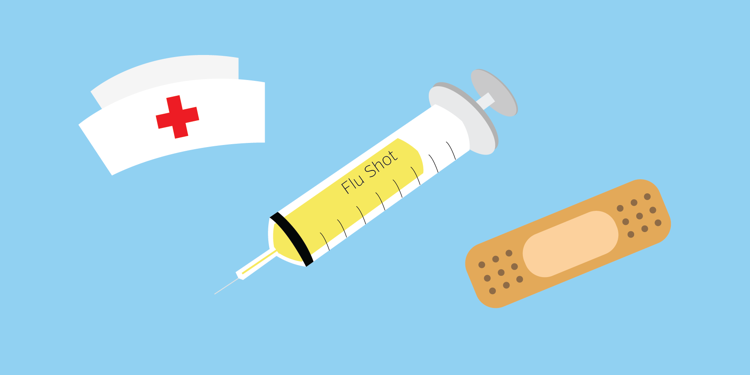 With flu season just around the corner, flu shot clinics are popping up all over London — and at Western.
Western University's Student Health Services started up the flu vaccine clinic on Oct. 27 and had overwhelming demand during the first three days, with over 1,000 people showing up between Oct. 17 and 19. In the past, SHS has usually seen 2,500 to 3,000 students, staff and faculty at the clinic overall. 
It's even mandatory for some students to get the flu shot, like nursing students including Julia Mutton and Parris Bell. They encourage other students to learn about the flu vaccine straight from their healthcare professional rather than relying on anecdotal information or hearsay.
"Especially in university, you live in such close quarters to everyone, and it's really important because things can spread extremely easily," said Julia Mutton. 
Still, youth tend to be underrepresented when it comes to flu vaccination rates. In 2013–14, Statistics Canada reports 64 per cent of seniors (aged 65 and over) got a flu vaccination; meanwhile, only 19 per cent of Canadians aged 12 to 44 years old got the vaccination.
News outlets reported many people don't get the flu shots because they feel like they don't need it, they're concerned about side effects, they don't think it works or they believe the shot causes the flu. Despite the misconception about the safety of the shot, studies consistently conclude that the flu vaccine has a very good safety profile.
Cynthia Gibney, director of Student Health Services said the flu shot is especially important for students.
"Students have such little time to get everything done and only four months to prove themselves in a course, so if you're out in bed for a week, that can be really detrimental to your academic work," she said.
Further, getting the flu shot is important because, unlike the common cold, getting influenza is extremely serious and can lead to serious complications, according to Marlene Price, vaccine preventable diseases manager at London and Middlesex Health Unit. She said the flu shot is proven to reduce chances of getting the flu, ease flu symptoms and, ultimately, reduce the number sick days and increase productivity.
While students tend to have strong immune systems, she added it's a good idea to get the flu shot to protect those around us, especially those not able to get the flu shot.
"You can wash your hands and stay home when you're sick, but the best way to prevent the flu is by getting the flu vaccine," Price said. 
Student Health Services' clinic runs in the University Community Centre basement on Nov. 1, 7 and 9 from 9 a.m. to 3:30 p.m.