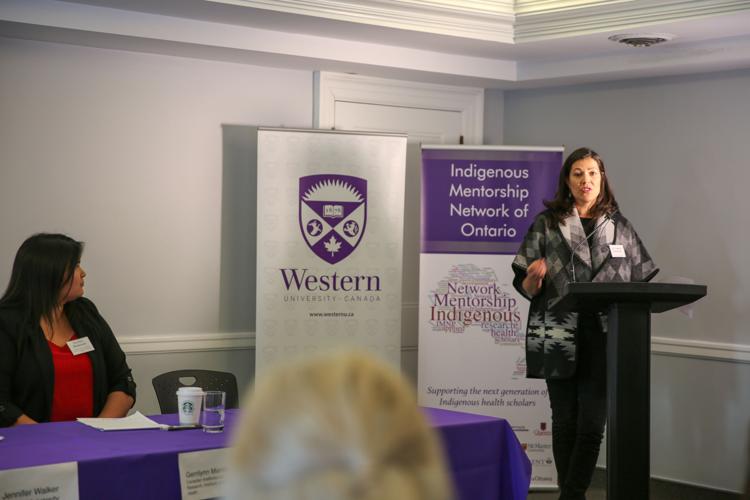 Ontario is now home to a new indigenous mentorship network, and Western University is the hub.
The Canadian Institute for Health Research is providing $1 million in funding for the just-launched Indigenous Mentorship Network Program of Ontario. The network will also receive $1.2 million in funds from other partners and groups over the next five years. 
As of Jan. 11, the research network comprises 13 research institutions with a team of 70 researchers and community collaborators. Western will act as the provincial network's central mentorship hub.
"What makes this network really special and unique … is that we are investing in community-led research," said Chantelle Richmond, program leader and associate professor of geography at Western.
Despite an increase in indigenous research in Canada, Richmond explained that health outcomes are not improving. She believes indigenous peoples need meaningful ways to participate in and lead research on health matters relevant to their communities.
CIHR's investment in the network is a part of its commitment to contribute more to indigenous health research, spending 4.6 per cent of its budget. CIHR will also contribute $8 million to eight indigenous mentorship networks across Canada.
"At CIHR, we believe that health research has the potential to reduce disparities in health and equity experienced by indigenous peoples across Canada," said Gerrilynn Manitowabi, project officer at the CIHR's Institute of Aboriginal Peoples' Health.
The goal of the CIHR funding is to encourage students to consider careers in indigenous health research and train the next generation of indigenous students at the post-secondary level.
Richmond announced that the network will offer 17 scholarships that are worth a combined total of $80,000 to indigenous students who will study in Ontario post-secondary institutions. Seven grants, each worth $5,000, will be available for indigenous postdoctoral fellows and investigators with full-time status within the first 60 months of their academic appointments.
An undergraduate research workshop will also begin this February at Western. This workshop is designed for indigenous undergraduate students who are enrolled in institutions participating in the Ontario Indigenous Mentorship Network Program. The focus of the workshop is to think about successful transitions from an undergraduate program into graduate studies as well as indigenous health and well-being.
"What indigenous students can expect to receive out of the mentorship network is a sense of belonging and a sense of hope and a sense of inspiration," said Richmond. "They get to see this incredible collection of indigenous allies and scholars who really care about their future and this is what the investment is fully about."