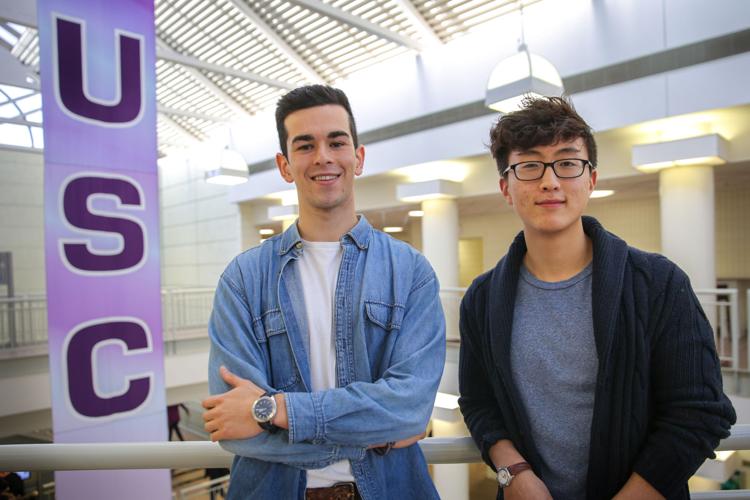 The first slate, Team Pratt-Chang, has announced their candidacy for the University Students' Council 2018 presidential election.
Fourth-year social science student, Mitchell Pratt, is running to be president with third-year science student, Danny Chang, as vice-president.
The two already have experience in presidential roles — Pratt and Chang are currently presidents of the Social Science Students' Council and Science Students' Council, respectively. Previously, they were also both USC faculty councillors, and during his first year, Chang was the chair of the now defunct USC first-year students' caucus.
Besides a history with the USC, both candidates bring other leadership experience. In his second year, Pratt was an executive-at-large for Western Model United Nations Society, eventually becoming the vice-president sponsorship. Pratt was also a social science senator in his third year.
On the other hand, Chang was a part of Western University's soph community. He was a science faculty soph during second year, and this year, he's a project coordinator and a member of eCampusOntario's board of directors. Last summer, he worked as a research intern for the Ontario Undergraduate Student Alliance.
Pratt and Chang met each other through the USC. Since then, they said they've both been able to work together in a professional capacity while getting to know each other as friends.
"Being a third-year student, I didn't think I was going to run because I want to be able to finish my undergraduate degree," Chang said. "I don't think there's any other person who I've come across who cares as much as Mitch does, and that's the biggest reason why I ran. I want to do this right, and I think Mitch is someone who feels the same way about that."
Team Pratt-Chang said they both did not have the president and vice-president position in mind when they first got involved in student politics. However, they decided to run together this school year after realizing they had similar goals. 
Their platform's five main pillars will include academics, student experience, health and wellness, safety and life in London. In terms of a safer Western, they are hoping to make Western a community where students can feel safe, such as improving pedestrian safety and sexual violence prevention. They said the mental health crisis is currently the most important issue on campus.
"Our job as the USC is to empower students to pursue their passions on this campus," Chang said. "Regardless of their financial, social or wellness barriers, or any others, we want students to have that access to be their best here at Western."
Looking at the current USC executive, Pratt and Chang said Team Tobi is doing a good job on delivering platform promises, such as the airport shuttle service and the recent announcement about a donation to increase mental health services on campus.
"While there should always be room for new ideas and improvement, we think stability is a great way forward," said Pratt. Both agreed they will strive to improve the work that previous USC slates have accomplished.
Pratt and Chang plan to consult students-at-large and use their feedback to incorporate ideas into their election platform. They believe the best policies are derived from listening to the perspectives of current students and stakeholders on campus. They are hoping that by holding student consultations, it could increase the USC elections' voter turnout. 
"I think people, because of our past experiences, may see us as status quo candidates," said Pratt. "But we are anything but status quo. We want to use our experience to change and shake up the status quo within the USC itself."