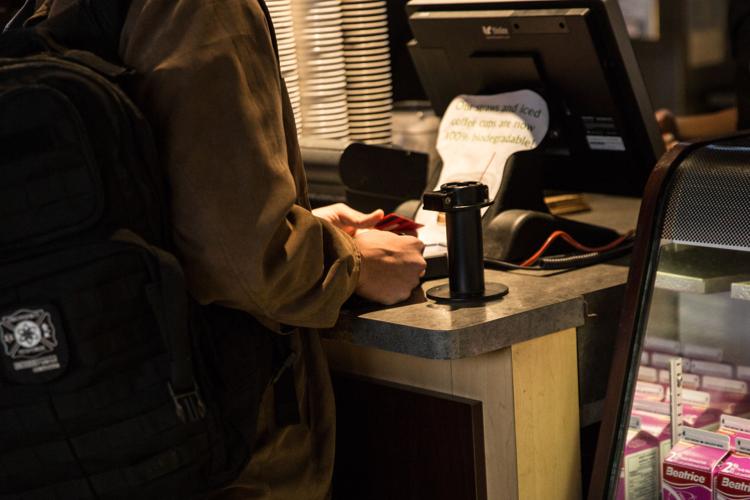 The Spoke and the Wave currently offer discounts on Fridays if you follow them on Instagram.
The two popular hangouts located in the University Community Centre announced Follower Fridays on Jan. 16: a new initiative available to all guests to attract more followers on their social media platforms and to the restaurants themselves.
Discounts, such as 15 per cent off a meal or one dollar coffees, will rotate on consecutive Fridays, likely into exam season.
Crystal Mak, marketing co-op for the University Students' Council's promotions team, said there aren't enough current students who follow the USC's social media accounts. 
Even though most customers at the popular locations are students, Western University alumni and faculty make up a large portion of their followers on social media. The USC, which operates both restaurants, wants to see an increase in current students accessing their various promotions and giveaways.
"We like to call The Spoke and the Wave almost kind of like the living room of the UCC," said Mak. "We want to draw attention to these two services and also to appreciate our current follower base and reward them with what we're offering on our platforms." 
According to Mak, the inspiration behind Follower Fridays was the USCEats app that reduces wait times for students at both eateries. It allows students to avoid long lines and cut wait times by placing orders online. She said the goal was to continue to provide students with an online service to better their experience with the USC's various operations.
The Spoke and the Wave are already seeing a large increase in followers on their social media platforms. According to Mak, their Instagram page gained 422 followers and was seen by 1,400 more people since the promotion's first Friday.
She noted that both locations do several giveaways and contests on their social media pages that they want to bring to the attention of students, including a Super Bowl event on Feb. 3. 
The USC sees the new initiative as a success and hopes to bring similar ones in the future to Western's community.
"The past two Follower Fridays have been really successful so we're really hoping to grow it in the future," she said. "Hopefully this will become a permanent thing for students to look forward to on Fridays."
Update (11:42 a.m., Jan. 31): This article has been updated to clarify that Follower Friday is ongoing but will offer various deals along with 15 per cent off a meal.