When Jessica Lai received an email from Western offering her a new room, she jumped at the chance to get out of Saugeen.
The summer before her first year, Lai had ranked Saugeen-Maitland Hall as her lowest priority, and was dismayed when Western University put her there anyway. She had heard horror stories from her older sister, who trudged up the Saugeen hill every morning when she was in first year.
Then, she and her soon-to-be floormates received emails from Housing and Ancillary Services, offering them the chance to move to the coveted Delaware Hall. 
The only catch: they'd have to share bunk beds in small single rooms.
"Bunked singles" are unique to Delaware, as the building boasts the biggest rooms across campus. But even with the largest rooms, a bunked single houses two people sharing a space around three-quarters the size of the double rooms in Saugeen.
Western guarantees residence for incoming first-year students if they meet some criteria — but the school has come up short on space, welcoming more high school graduates and overbooking their halls to fit them.
Chris Alleyne, Housing's associate vice-president, said they overbooked residences for returning upper-years and a larger than usual incoming class.
"This past summer, a few more incoming first-year students accepted their Western offer of admission, also accepting their guaranteed bed in residence," Alleyne wrote in a statement to the Gazette. "This resulted in the residence system being overbooked."
Housing sent an email to some students in Lai's year, writing about an opportunity for them to move to the "heart of campus." 
"After a number of requests, we have converted a few of our largest single rooms on campus into bunked double rooms, to provide a more economical residence choice for students to consider," the email reads.
The email does not say that the students would be a fix for Western's overcrowding problem.
The rooms were offered on a first come, first serve basis with limited availability, and at a discounted rate of $6,400 — $690 less than they would pay for a double room in Saugeen.
"We will be offering these rooms at a reduced room rate, as they are slightly smaller than our regular-sized double rooms," Housing wrote in the email.
Delaware's 39 converted rooms also house students who missed their residence payment deadlines, something that would usually lose them their bed on campus.
The residence usually houses 450 students, and Western said Delaware still has the most washrooms and staff per student on its floors even with the additional students.
And while the discounted cost was a drawing point to make the move, residents said the chance to move to Delaware Hall was the biggest motivation, citing the location and perceived cleanliness.
Each 135 square foot room has two desks and chairs, one closet, a wardrobe and two single beds stacked on top of each other. And the bunk beds have no ladder.
Instead, whoever sleeps on the top bunk has to shimmy up the side of the slatted headboards to reach their mattress.
For Gloria Kim, a second-year student in nursing, that the missing ladder wasn't the biggest problem. Kim was assigned to the top bunk but pleaded with her roommate to eventually switch.
"The top bunk, it was too close to the ceiling so you couldn't actually sit up in bed," she said. "In the bunk room beside mine, they just removed their ceiling tiles so that they could be able to sit up. So when they sat up their head would be in the ceiling."
She explained the bottom bunk also posed its own challenges.
"The bottom would move any time the top bunk moved," Kim said. "So if [my roommate] would roll around in her sleep or something, I could hear it and it would move my bed as well."
Before moving into residence, first years fill out a survey indicating their living habits — whether they drink or smoke, when they go to bed — to best match roommates. Based on how different their lifestyles were, Kim was pretty sure the survey was not consulted when matchmaking for the bunked rooms.
Her roommate would wake up as she went to bed. Kim slept on her friend's floors and in the residence common room on more than one occasion before she was able to switch rooms three months into the semester.
And while roommate troubles are far from unheard of in residence, both Kim and Lai said they thought the tight space made everything worse.
"There's no personal space whatsoever, even with the double room you don't have much personal space but at least you have your own side of the room," Lai, now a second-year criminology student, said. "But with a single room there's absolutely none. You're always with them."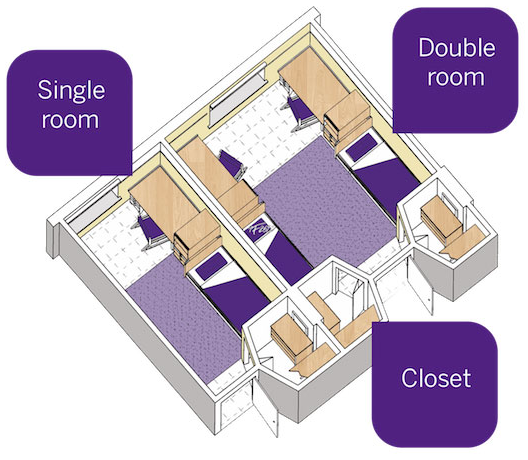 Lai said she was lucky to get along with her roommate, citing it as the only reason they were able to share the small space. And while she has had her fair share of concerns about the room, she thinks Delaware was the right place for her.
"I really like Delaware despite the fact it was a single room shared with someone else," Lai said. "It's very close and the location makes it all worth it to be honest."
Kim was not as lucky. She agrees Delaware was the right fit for her, but would trade it all to avoid a bunked room.
"The survey that goes out at the end of the year asking what you felt about residence situation for your first year, my only feedback was please don't ever make people live in bunked singles again," she said. "I was really upset when I found out they did it again this year."