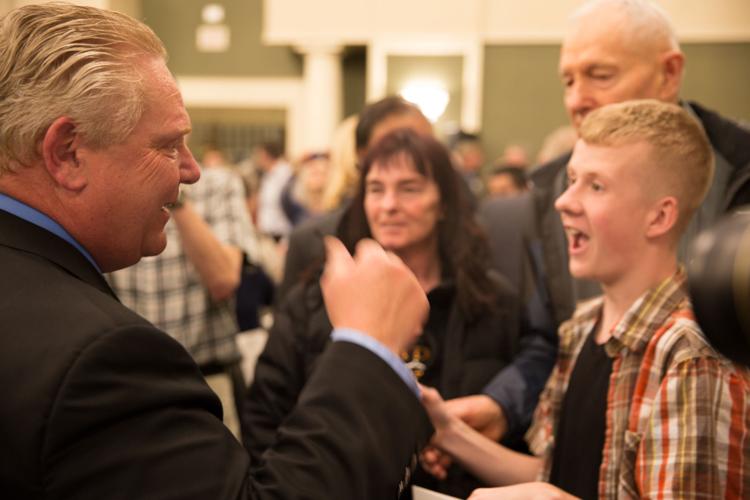 The Premier accused student unions of Marxist nonsense in a fundraising email sent to supporters today, highlighting an aggressive messaging campaign against student governments.
"Students were forced into unions and forced to pay for those unions," it reads. "I think we all know what kind of crazy Marxist nonsense student unions get up to. So, we fixed that. Student union fees are now opt-in."
The Progressive Conservatives recently mandated all ancillary fees become optional, save those deemed "essential", like health insurance and transit passes. The Student Choice Initiative was one of three post-secondary funding shake-ups, along with Ontario Student Assistance Program changes and tuition cuts. Each was almost universally panned by student governments, university administrations and student advocacy groups. Students have protested the changes at Queen's Park and on Concrete Beach.
University Students' Council president Mitchell Pratt said Ford's comment shows a "surface-level understanding of student government."
"This sentiment is a blanket label for all student governments, glossing over the significant impact of the work we do at the USC, as a democratic and accountable student union," he said. "If holding the University accountable, advocating for affordability and accessibility, and filling service gaps to better the student experience is 'Marxist' like Doug Ford claims, then sign me up."
The Ontario Undergraduate Student Alliance, Ontario's main student lobbying group, also responded that they were disappointed with the email.
"Student associations are the conduit for student advocacy, provide essential services and enhance student life," they put out in a statement.
Originally, transit passes that save Western University students hundreds of dollars annually were not "essential," but were ultimately protected. Ancillary fees — which fund services like The Spoke and the Wave and the Gazette — are opt-out, not opt-in as the Premier states.
OUSA has clarified with @ONtrainandstudy that although the latest @OntarioPCParty fundraising email suggests opt-in student fees, student fees will be OPT-OUT as per the announcement. #ONpse #onpoli https://t.co/kDTjL5QCQG

— OUSA (@OUSA) February 11, 2019
A joint letter from 76 student governments across Canada sent last month responded to the view Ford expresses in the email, saying Canadians cannot opt-out of provincial and federal taxes either.
Another letter from over two dozen ex-presidents of the USC was addressed to Stephen Lecce, MPP King-Vaughan and USC president of 2006-7, who is now the Premier's parliamentary assistant.
Ford's email, titled "How broken was education?", also discusses the PC's 10 per cent tuition cost cut.
"What are the Liberals saying about it now? That we're gutting the system. These guys are nuts," it reads.
While it would make tuition cheaper, it does so by lowering university revenues. Western is set to lose $43 million by 2021 from the changes — $10 million more in cuts than they had expected.
And the email addresses the curtailment of some OSAP features, which provided non-repaid grants of up to the full average tuition cost for low-income families. OSAP will now provide loans, with their interest accruing immediately rather than after a six month grace period.
The email finishes with a request for donations, linking to the party's contributions page.