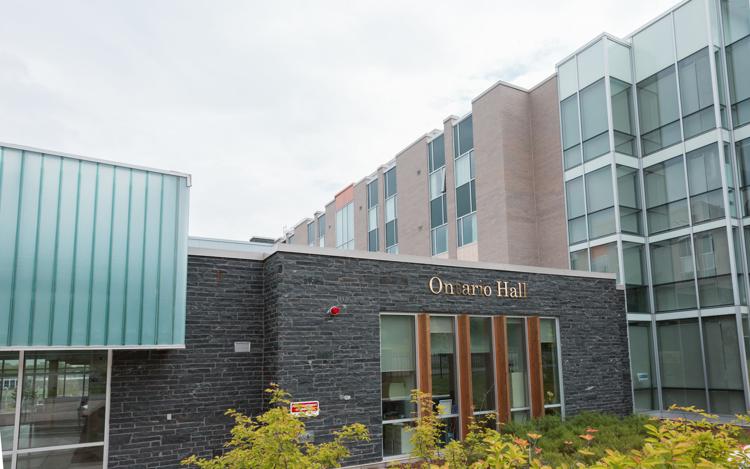 Roommates, communal showers and buffet-style dining halls — all hallmarks of traditional residence living — are under close scrutiny as Western looks to revamp its first-year housing amid the novel coronavirus pandemic.
But in a statement to the Gazette, Western University's Housing and Ancillary Services confirmed that all incoming first-years who were promised a place in residence are still guaranteed their spot — but that spot may not be on campus. 
"We are currently planning for residences to be open in the fall," said Chris Alleyne, associate vice-president of Western's housing service. "Those students that meet the conditions … will be guaranteed a space."
Western traditionally guarantees a spot in residence for most incoming first-years, providing 4,662 beds across seven buildings. But as the pandemic prevents roommates from living in close quarters, the university is searching for alternative ways to keep their promise should classes continue in person this fall.
Western is waiting on guidance from the government and local health experts before setting anything in stone.
Due to social distancing practices, Western is preparing for the possibility of housing one student per room, eliminating roommates. In a statement, Alleyne said Western is "exploring" other housing options both on and off campus to accommodate incoming first-years.
"Doing this of course significantly lowers our residence capacity" said Alleyne. "Think of the number of double rooms in our traditional-style buildings."
Western is also looking to limit interactions outside of sharing rooms, as they consider restricting visitors, increasing cleaning in shared washrooms and extending dining hall hours to prevent lines.
Western offered to refund six weeks of expenses if students moved out of residence by March 22, days after the university announced the semester would end digitally. The university allocated over $10-million in refunds.
The remaining students were moved into suite-style residences by late March, with private bedrooms, bathrooms and kitchenette areas to encourage social distancing.
But even with March's freshman exodus, Western's residences are having a busy spring. 
Nearly 500 students, most of them international, opted to remain in their residence buildings after the refund deadline. Of those students, around 200 remained after the semester ended and are paying a reduced rate of $150 a week.
"This housing has been put in place to support any Western students who cannot return home due to travel restrictions, health, personal circumstances or various obligations," said Alleyne. "The majority of these 200 students are also international."
In addition to lingering students, Western's residences have also opened their doors to house front-line healthcare workers during the worst of the pandemic. 
Windermere Manor was opened to provide accommodation for healthcare workers in late March, and was joined by Perth Hall on April 15. The buildings accommodate up to 190 front-line workers.
"Thankfully, not all of the rooms were needed," said Alleyne. "We have seen a slow and gradual reduction in bookings. We are hopeful this is an indication that the number of cases in London is slowing down."
While it's still up in the air whether classes, bar nights and hair salon visits can return to some semblance of normalcy in the fall, Alleyne assured students that Western is still committed to providing "Canada's best student experience" in residence.
"While this September may be gearing up to look physically different than previous years, we're still strongly committed to ensuring our students feel part of a community, and make supportive social connections that residences have always offered."