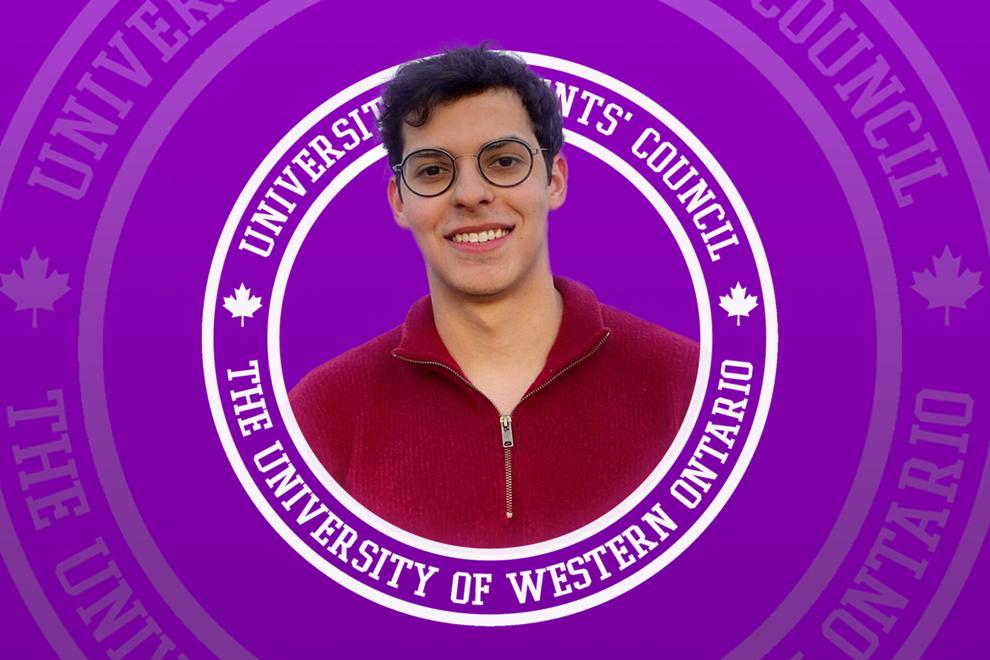 Ethan Gardner will be the next USC president after winning 4,046 votes in the first round of ranked ballots. 
Gardner rose to victory with an overwhelming 59 per cent majority of student votes. A winning candidate needed 3,438 votes in the first round of ranked ballots to gain the title of University Students' Council president. Gardner received almost 1,000 more votes from students — more than enough to be handed the victory in the first round. 
Gardner ran on a platform that prioritised community building, advocacy and student safety. He received more than three times the number of votes as runner-up candidate Andrew McCann. 
"This is something I've wanted for so long now and I'm so excited it's a reality," said Gardner upon hearing the results. "I think [this election] was both the best and worst time of my life. It's been an anxiety filled past couple months but I've met some amazing people, I've built some amazing relationships. Hearing from the Western student body, it was a privilege and it's something I look forward to continuing doing next year."
As a three-time soph and member of the social science soph leadership team this year, Gardner's experiences in student leadership seemed to heavily inform his platform's focus on anti-sexual and gender based violence reform and student programming.
In addition to being a soph, Gardner has some prior experience with student politics as a member of the finance team on the Social Science Students' Council in his third year.
"[To the Western community], thank you so much for believing in me. I can't wait to prove y'all right … I'm excited to get started and leave an impact on Western."
Current USC president Zamir Fakirani also expressed his excitement for Gardner's win.
"I have had the pleasure of sophing alongside Ethan for two OWeeks," said Fakirani in a statement. "Through these experiences, it's been extremely clear just how much Ethan cares about the campus community, the orientation program and gender-based violence work. I am very excited to … see how the USC conintues to grow under his leadership."
Three candidates fell short
Andrew McCann received the second highest number of votes of the four candidates, ending the first round of voting with 1,300 first-place votes — 2,746 votes behind Gardner. 
McCann ran on a platform centred around community safety, student engagement and reintegrating Greek life with the USC. 
"In a campaign experience as exhausting as this, Ethan Gardner's success … shows his ability to represent our community," McCann said. "I'd like to warmly congratulate him and his team on this feat and wish him the success of this new role."
McCann added the candidates' willingness to serve Western students makes them some of "the most honourable people I've met in my time here," and urged his voters to congratulate Gardner on his success as well.
Michael Amodeo came third with 831 votes. Amodeo ran on a platform of student safety and affordability, with a large focus on ASGBV reform.
Amodeo praised Gardner and the other candidates for their campaigns while also appreciating students for participating in the election
"I see Ethan Gardener won, of course. I think he'll be a great USC president. I spoke with him before and after the debate, and of course during the debates, and I have no fear with where the USC is going," said Amodeo. "I just want to appreciate and give thanks to the USC and Western student body for participating in this democratic process, it really shows what we're about."
Ben Jones came last with 698 first-place votes in the first round of voting, trailing close behind Amodeo. Jones campaigned on affordability and "justice" for students.
"While naturally tonight's outcome was not what we were hoping for, I do think Western students should feel very confident in our future," said Jones. "This has been by far one of the strangest things I've done in my life, but I've never had a better feeling than being able to really fight for people."
An unorthodox election
Outgoing USC president Fakirani was vocal near the end of the election process about his disappointment in the lack of diversity of the candidates, seeing neither women nor visible minorities putting their names forward on the presidential ballot. 
In a statement on social media Thursday, Fakirani also explained his displeasure over the candidates' apparent failure to consult with diverse groups to inform their platforms. 
"It is so disappointing how so few of the platforms I'm seeing for USC pres root their recommendations on gender-based violence prevention and response in community voices and in research," said Fakirani, who also said none of the candidates consulted with him before running. "I think that each and every single platform could have been improved if they had engaged more diverse segments of our community when they were building the platform."
In another big change from past years, no candidates were sanctioned under the elections violations procedure during this year's campaign period. 
The USC removed the rules of fair play from the elections violations procedure this year, which cut the regulation that prevented candidates from engaging in slander, sabotage, misrepresentation of fact and more. 
According to Nathan Szierer, the USC's vice-president governance and finance, he believed the removal of this rule would give "the power back to voters and students by leaving the decision up to voters and having the candidates' actions go through the court of public opinion."