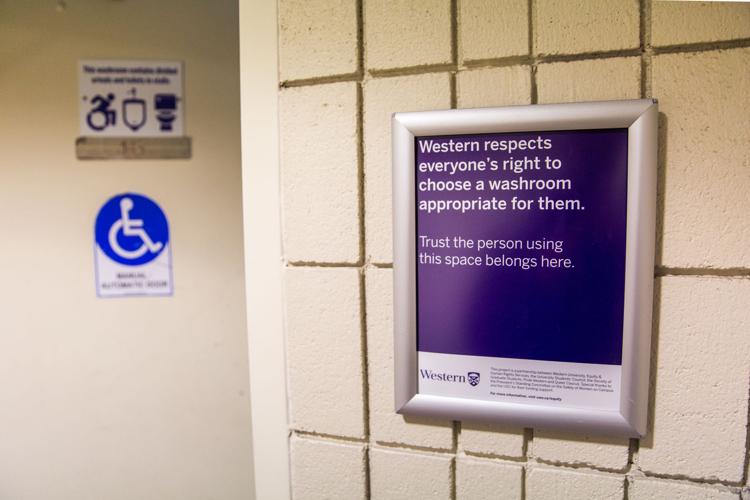 Students walking through the University Community Centre should keep an eye out for the new additions — gender neutral washrooms. 
Implemented on Feb. 28, the gender-neutral, converted washrooms are on the ground floor adjacent to the UCC Starbucks.
These renovations came after months of advocacy and consultations. The University Students' Council tasked its 2017–18 executive with devising a plan to create new and more accessible gender neutral washrooms on campus in March 2017. Previously, the sole multi-user, all-gender washroom was located in the FIMS and Nursing Building, which opened in January 2017.
Campus groups such as Pride Western and Ally Western played a role during the consultations.
USC vice-president Landon Tulk led the USC's efforts to implement the washrooms. He explained that the converted women's washroom remains relatively unchanged; however, signage has been updated. Tulk said that the converted men's washroom now has dividers between the urinals and sanitary waste disposals in the stalls. 
"I'm ecstatic we've got the point where the washrooms are functional and ready to use," Tulk said. "This is a big move for our campus. We didn't set the precedent for this, ... but it was clear this was priority for students."
Layne Clarke, third-year anthropology student and Spectrum president, said the gender neutral washrooms are important for many reasons, especially student safety. Clarke said washrooms are often precarious and potentially dangerous sites for gender non-conforming individuals.
"Trans people are often harassed in bathrooms, and not just trans people; non-conforming cisgender people have also been harassed. This is really important to a lot of people," Clarke said. Spectrum is helping spearhead the communications effort to let students know that gender neutral washroom options are now available in the UCC and why they're important.
Clarke said the next step would be ensuring it's standard for all of Western University's future buildings to include gender neutral bathrooms.
"The safety of trans people is really important," Clarke said. "It's to ensure that people feel free to go into these spaces and don't feel endangered. While gender neutral washrooms aren't the be-all end-all for safety, it's a good step forward."