Canadian students from low-income families will now receive up to $3,000 in post-secondary education grants, as the federal government announced a 50 per cent increase to the Canada Student Grant program on Thursday. 
So what's actually changing?
Canada Student Grant is money for post-secondary education that students don't have to pay back. It is "free money," as described by the government website. 
The grant amounts will increase from $2,000 to $3,000 for full-time students and from $1,200 to $1,800 for part-time students from low-income households.
Students from middle-income families will also see an increase from $800 to $1,200 in their federal grants.  The grant enhancements are expected to benefit 350,000 students across the country, according to the government.
The changes will come into effect from August 1, in time for the 2016-17 academic year. 
Students with permanent disabilities and students with dependents have also been eligible for Canada Student Grants in the past, however, the government has not mentioned if there will be a separate increase in grant amounts for them. 
How is low-income and middle-income calculated?
The brackets for low-income and middle-income families differs with the number of people in the household and per province. In Ontario, a four-person family earning $45,446 before taxes is considered low-income.
Students' eligibility for the Canada Student Grant is automatically assessed when they apply for student loans through their provinces. In the case of Ontario, the assessment will occur when a student applies for the Ontario Student Assistance Program (OSAP).
Detailed country-wide income charts are available below.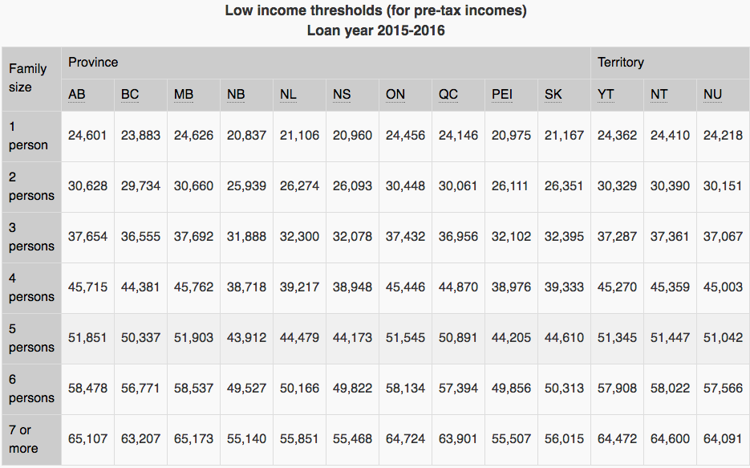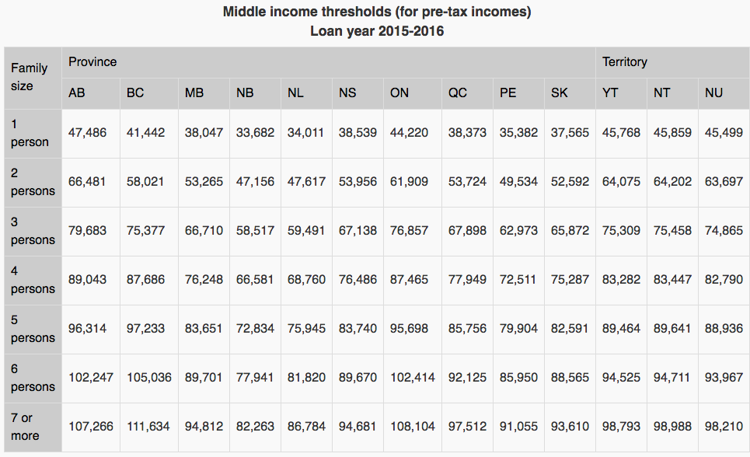 What about the free tuition in Ontario?
Canada Student Grants is a federal program whereas the OSAP changes from earlier this year fall under the purview of the Ontario government. 
Students in Ontario will benefit not only from the increased federal grants but also from the provincial government's plan to free tuition for families earning under $50,000 per year. 
In addition, 50 per cent of the students from Ontario families earning $83,000 or less will receive grants in excess of the average tuition. 
An important point to note is the Ontario government's free tuition initiative will start from the 2017-18 academic year whereas the Canada Student Grant increases will apply to the upcoming 2016-17 year. 
What are people saying about the changes?
On Friday, Prime Minister Justin Trudeau tweeted, referring to the Liberal platform to help the middle class and posted a link to an online budget document highlighting his government's plans to assist young Canadians. 
In #Budget2016, we cut taxes for middle class Canadians, helping you save more. Details: https://t.co/sazkQjf1RD

— Justin Trudeau (@JustinTrudeau) July 29, 2016
This included changes to the Canada Student Grants program as well as raising the loan repayment threshold to $25,000. 
Jamie Cleary, vice-president of the University Students' Council and president of the Ontario Undergraduate Student Alliance, expressed his delight in the federal government's announcement and spoke about the role of student advocacy in such initiatives.
"Since starting our roles in June, Eddy [Avila] and I have placed a priority on advocating to our local Members of Parliament for the need to change our federal grant and loan programs," he said.
"We have also been working with student unions across Canada on federal topics facing our students and I believe that these conversations and recommendations have played a huge role in the emphasis our government is placing on post-secondary education."
What's next?
The Canada Student Loan threshold is being increased from $20,210 to $25,000, meaning students would not have to pay back their loans until they have an of income of $25,000 or more. This change will begin from November 1, 2016. 
The changes to the Canada Student Grant program will provide financial assistance of $1.53 billion over five years. Changes to the loan repayment threshold will provide assistance of $131.4 million over the same period, according to government data.
The federal government has also promised further changes to student assistance programs for the 2017-18 year. 
---------
Have a question about these changes or did we miss something in the story? Send us an iMessage or Google Hangout at text@westerngazette.ca or email editor@westerngazette.ca.
Have an opinion about this story? Don't keep it in, write for our Community section and let people know!