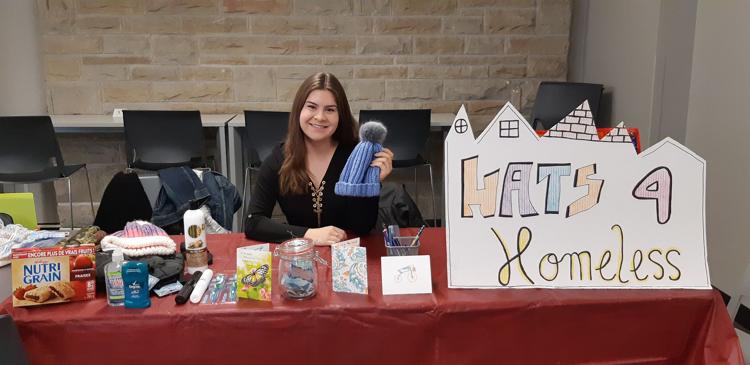 Amberly Charette, a second-year teacher candidate at Western University's Faculty of Education, is building survival kits to help the homeless brave the cold winter months.  
Charette raised around $1,500 plus item donations over the last few weeks from the Western and London communities for her initiative Hats 4 Homeless. The money went towards buying items for the survival kits, which will include everything from winter apparel, such as hats, scarves and mittens, to hygiene products, such as hand sanitizers, Band-Aids and hand creams to prevent skin dryness in winter.
Inspired by her deep religious beliefs, Charette launched her initiative in mid-November after the idea struck early one Saturday morning. Determined to follow through, she created a cardboard sign and set up a donations booth at Althouse College. She also started going around campus asking for donations to reach a larger number of people.
Charette was overwhelmed by the community's positive response.
"It was so eye-opening to see how much trust and support I received," she said. "It's not like I'm working for an organization and I have a nametag, I'm just walking around with a cardboard sign and a glass jar."
A number of organizations also stepped up when Charette explained her cause. Walmart provided her with a 10 per cent discount on suitcases. Canadian Tire and Goodwill also provided suitcases at a discounted price. Further, an online seller was selling three $25 fast food gift cards, which he sold to Charette for a total of $35.     
"I didn't want to go in with any expectations and feel disappointed," said Charette. "I had no idea I would raise this much money."
Along with several fellow teacher candidates, Charette hopes to distribute the survival kits to the homeless on the weekend of Dec. 14 to 16. Charette plans to distribute the kits primarily in London and expand to other areas, such as Sarnia, Toronto and surrounding towns, if any kits remain. Some of the items will also be donated to Just a Bunch of Friends, a local organization that helps the homeless.
Charette explained she was raised in an upscale part of Sarnia, where she was rarely exposed to the struggles of the more disadvantaged people in society.
"I didn't really get to see firsthand what people are having to endure," she said. "When I came to London, I saw it a lot more often, because I would find myself in the downtown area, and it was just more common to see."
Charette is determined to ease the pains of the homeless this winter, and emphasized that anyone can do what she's doing.
"It was literally Saturday at four in the morning when I just came up with idea, and then a few nights later I made a cardboard sign, bought a jar at Dollarama and went around and started asking for donations," she said. "Anyone can make that kind of initiative and help out the community."