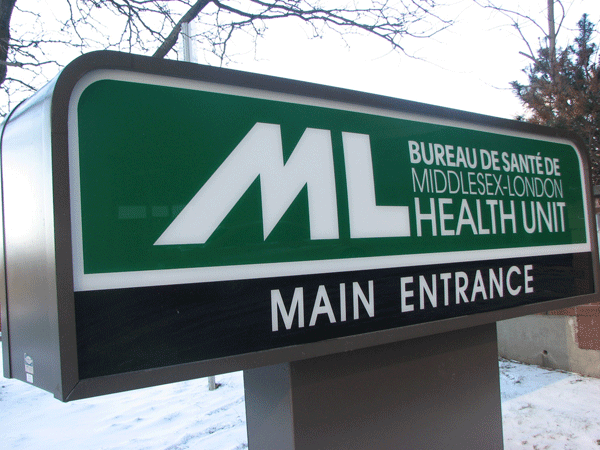 London's local health unit said Monday they've identified two probable cases of the Omicron variant through preliminary lab testing. The cases may be linked to clusters associated with 30 total cases.
The two individuals are linked to travellers arriving from Nigeria to London in late November. The spread appears to be in schools and childcare centres, as well as ​​at least 14 cases at a church named God's Favourite House.
The Middlesex London Health Unit is still investigating any potential links to London's postsecondary institutions.
The two identified cases screened positive for S gene target failure, a marker of the Omnicron variant.
"It is important to note that officials are still awaiting Whole Genomic Sequencing of the samples; however, with the travel history and the laboratory screening results, the likelihood
of an Omicron cluster is very high," said a press release from the Middlesex London Health Unit.
Mayor Ed Holder also called for caution Monday after bylaw enforcement officers issued charges against two nightclubs in downtown London over the weekend. The charges related to improper or no masking in the venues.
"This kind of thing just cannot be happening today. Not at this stage. And especially not when we're dealing with the potential of a new variant," said Holder. "Come on, folks. We need to be smarter than that. We need to take this seriously."
The health unit is reporting 36 new cases Monday and over 30 each day this past weekend, bringing the total active caseload in London to 250. No new cases are linked to the outbreak at Saugeen Maitland Hall.
Though the Omnichron variant is similar to other strains in symptoms, it is far more transmissible and It is unclear whether the severity of illness is different.
"We just don't know exactly what [it] is yet, which is why we still emphasize how important it is to get vaccinated," said Dr. Alex Summers, acting medical officer of health at the Middlesex-London Health Unit. "Continue to wear a mask, keep distance where you can and reduce your social contacts as we go into the holiday season."