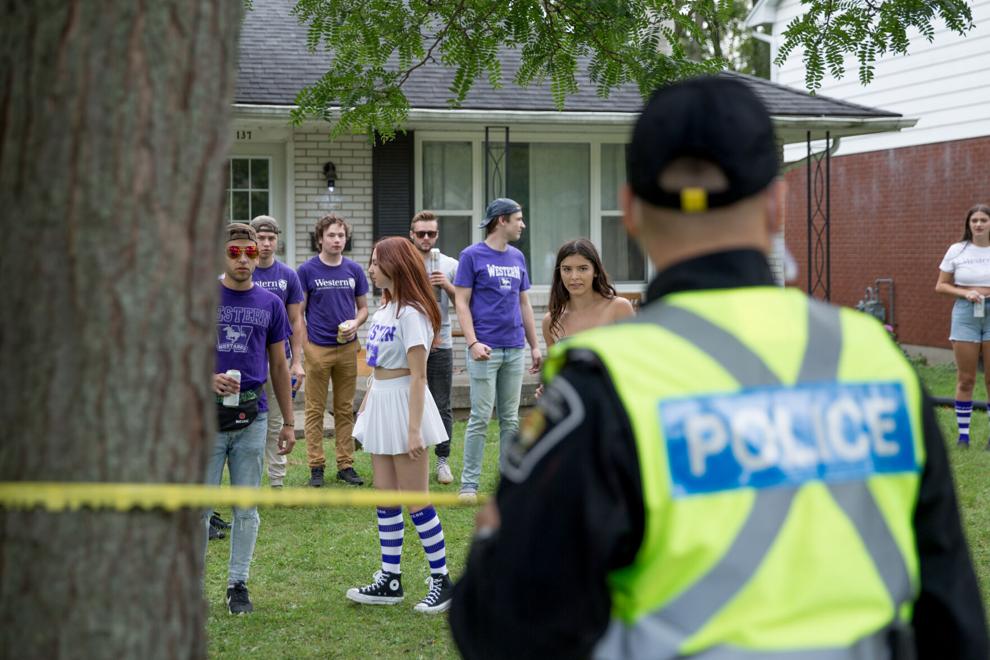 Western's first September Homecoming had a lower turnout, with around 2,000 students and more than one hundred police officers showing up to the unsanctioned street parties that used to attract tens of thousands.
Scores of police enforcement and emergency services patrolled Broughdale Avenue, Western University's notorious party street, in overwhelming numbers, easily outnumbering the purple-clad students and party-goers.
The London Police Service, emergency services and the city heavily staffed Fake HOCO in previous years as the event attracted tens of thousands of partiers — 25,000 at its 2019 peak — and resulted in several injuries, incidents of property destruction and unruly crowds. Over 150 police personnel policed the event in 2019.
Bylaw officers, who were present in overwhelming numbers, patrolled Broughdale Avenue to enforce the city's reinstated bylaws: gatherings were capped at 25 indoors and 100 outdoors, with fines ranging between $750 and $5,000 for hosts. 
London's weather forecast called for heavy showers throughout the afternoon and crowds grew as the rain picked up around noon. 
The police forced students off Broughdale at 1 p.m. as crowds surged and front lawn parties grew rowdier, with officers forming two human barricades across either side of the street.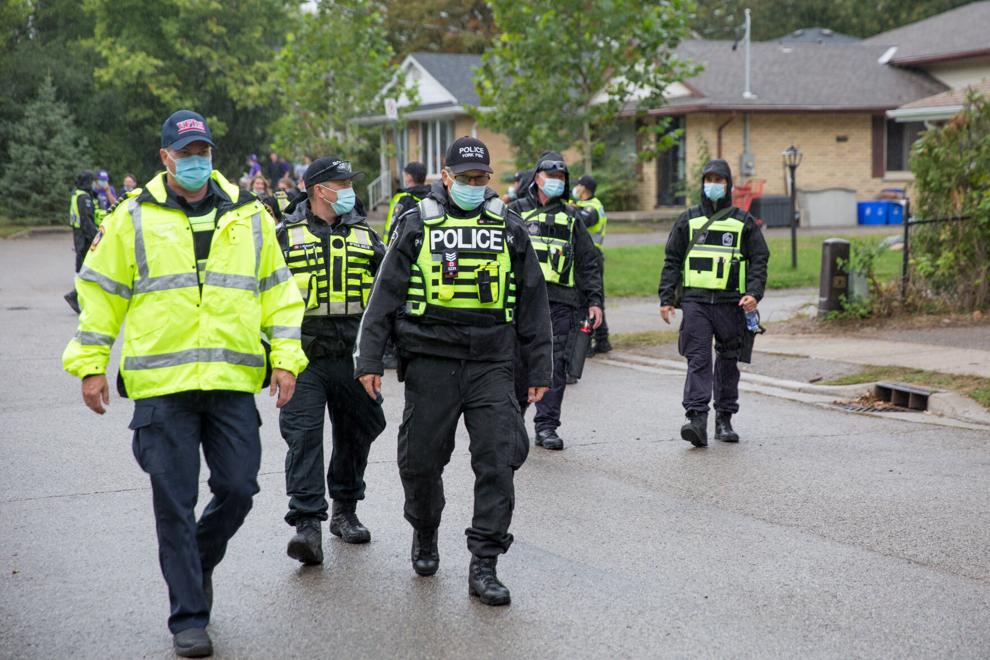 The closure of Broughdale redirected student parties to neighbouring streets, like Huron Street, where students continued to congregate for HOCO fanfare. Some students who lived on Broughdale said they were barred from accessing their homes when the police barricaded the street.
"We ended up leaving because we weren't allowed to go inside any of the houses because of the fines and stuff like that," said Ariel, a second-year BMOS student who also attended the gatherings on Broughdale and Huron. "I have friends living on [Broughdale]. Obviously I didn't want them to get fines and anything like that so we just came over [to Huron]."
London Police Service's media constable said the authorities are continuing to monitor the student gatherings off Broughdale.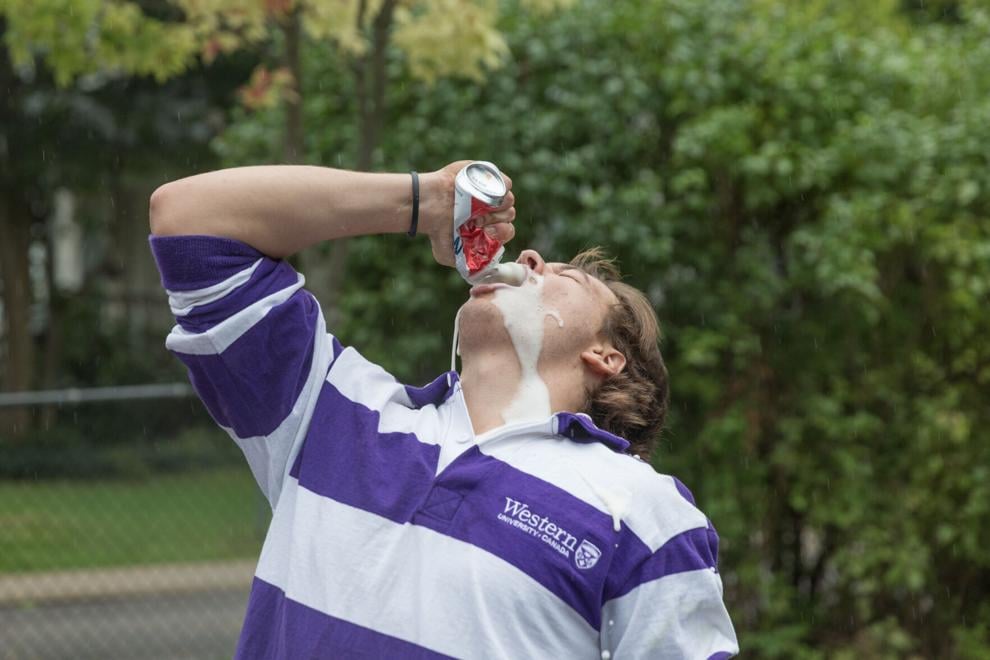 Some students were hoping for a much larger turnout on Western's first return to its regular Homecoming date in five years. Fake Homecoming was introduced in 2016 in rebellion against the university's decision to move Homecoming to the middle of October when students' midterms are in full swing.
"[I was expecting] lots more people. It's kind of disappointing," said Mia, a student dressed in Western merchandise who was partying with her roommates on their front porch on Broughdale Ave. 
Many unmasked students clung to their backyards and front lawns, staying off the heavily-patrolled roads and sidewalks. 
"It's intimidating. I feel like I can't do anything without a cop staring me right in the eyes," said Brendan, a fourth-year computer engineering student on Broughdale. 
Some officers engaged in the student festivities, taking pictures with partiers and throwing footballs.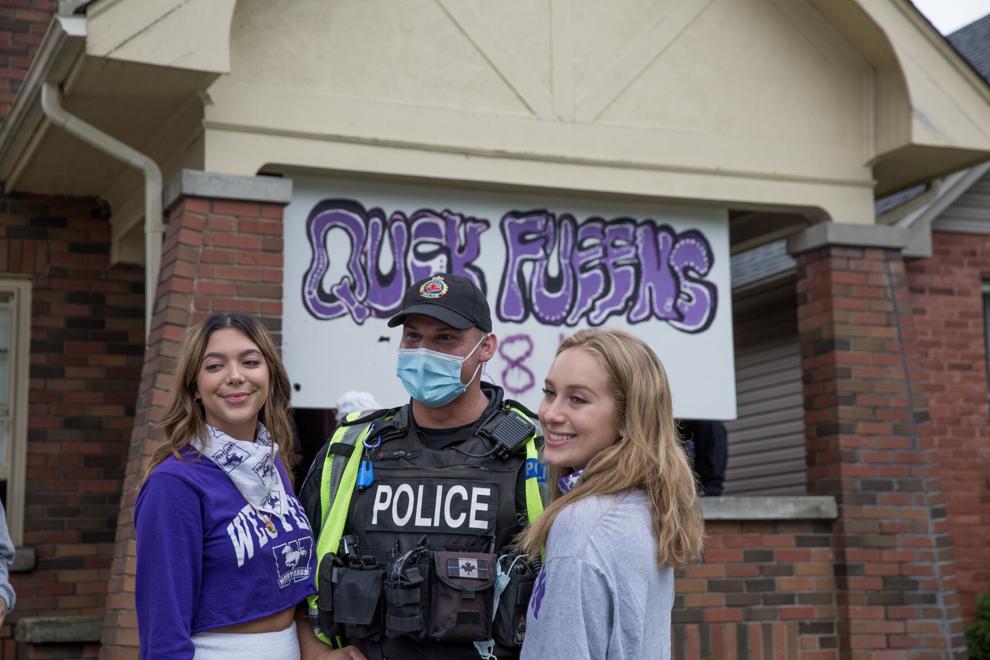 President Alan Shepard restored Western's homecoming date to the last Saturday of September after previous leadership pushed the event to mid-October — an unpopular move among students as the new date conflicted with their midterms — in hopes to keep party-goers away from Broughdale Avenue.
The decision backfired and saw backlash from students and party-goers from across the province, who kick-started a "fake homecoming" on the original September date. 
Fake Homecoming attracted larger crowds and, consequently, more injuries, destruction and unruliness from revellers. When Fake HOCO drew its largest crowd in 2019, city officials reported 31 hospitalizations, over $300,000 in fines and 14 arrests.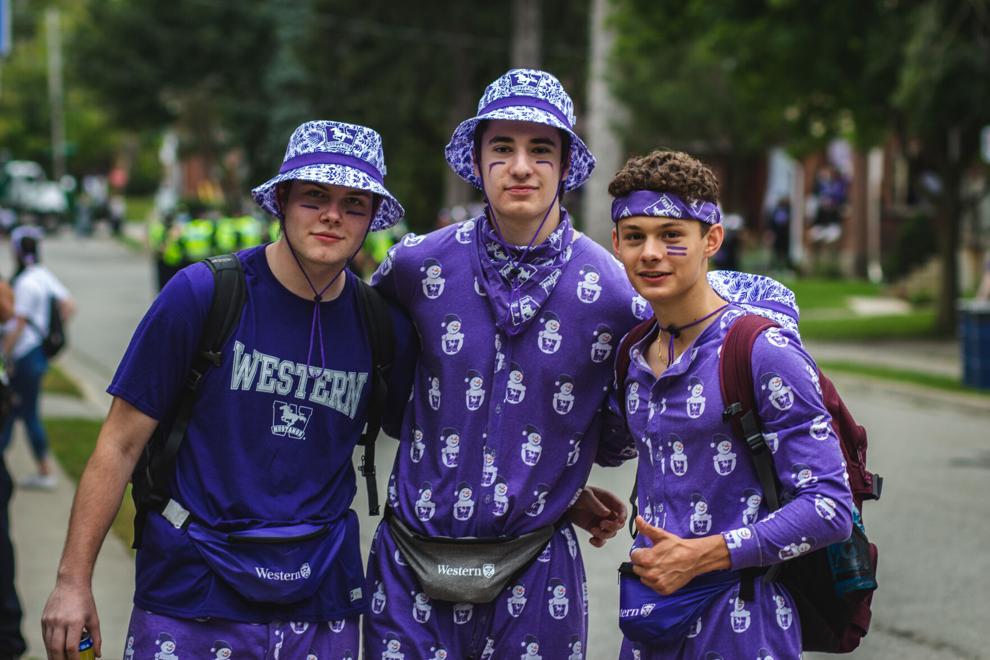 The unsanctioned street party drained both city and emergency services' resources, putting increasing pressure on Western to provide alternative programming, which led to the Students' Council's Purple Fest — a concert featuring popular music artists, like Lil Uzi Vert in 2018, to keep students away from illegal street parties.
London Police Service said the priority for officers this year was to keep Broughdale's road clear in case emergency services vehicles needed to get through.
"We want to ensure that we don't have large gatherings of people on the street. It obviously creates safety hazards if we have a large group of people blocking access to emergency vehicles and services."