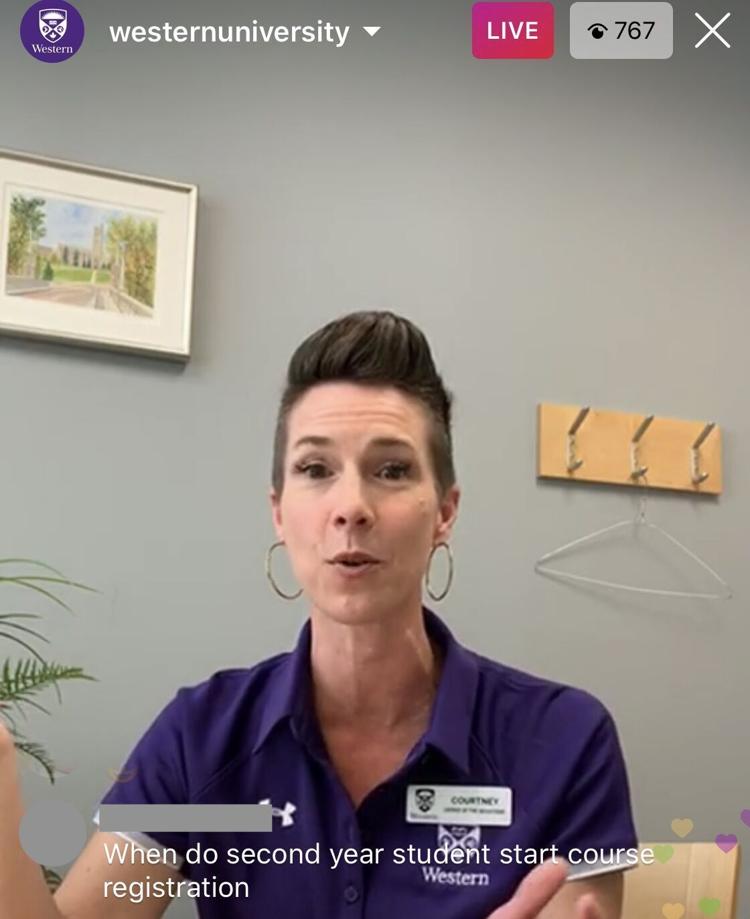 The pandemic has changed every aspect of campus life, from the libraries closing to online classes. Now, Western has to rethink how students can register for courses and how to transitions its services online in a matter of months.
Over a live Instagram and Facebook broadcast on Wednesday, Western University answered students' questions about course registration for the 2020-21 year, covering blended courses, waitlists and timetable slots for online courses.
The broadcast was led by Courtney Hern, the team leader for Student Central Telephone and Online Client Services, who highlighted important changes to the course registration system that will be implemented throughout the summer as registration for the fall and winter term commences.
As a result of the novel coronavirus, Western plans to digitize most classes for the fall and winter semesters, which has also impacted the constantly-changing registration process. Even before COVID-19, Western made changes such as allowing students to sign up for a waitlist themselves.
And then COVID-19 hit, closing campus and forcing Western to rethink class registration and what those classes will look like.
"We want the best for each and every one of you, so I want to try to make this as stressless as possible," Hern said. "I know that it's [a time of] high anxiety right now, and I am hoping we can fix this."
For the upcoming year, classes will be offered in three formats: online, blended or in-person. While online classes will be entirely digital, Hern notes that some still mandate specific times where students are expected to be available. As such, students will not be allowed to take classes with overlapping time slots, even if both are online.
Most blended courses will have online instruction paired with in-person tutorial or lab components — offered bi-weekly for some classes — to provide students with hands-on experience.
Some online courses have no specified times or dates on Draft My Schedule, the university's schedule-making program for students. Hern clarified that these classes will be pre-recorded and will have no interactive components. Students are expected to keep up with these classes according to their own schedule.
Hern also noted that, due to the ongoing pandemic, course times and dates are still subject to change for upper-year courses until July, when registration starts.
"I always say this to students. I think of it as like Hermione's time [turner]," said Hern, referring to the Harry Potter series. "You can't be in two places at once. If a course has a set day and time, the professor expects you to be there at the set day and time."
Students can also now add themselves to waitlists when registering for already-full courses.
In the weeks following registration for upper-year students, Western would lift priority restrictions — allowing only people within a certain program to register for mandatory courses — and allow all students to access those classes. But, the university's course registration website has never been able to support the bandwidth of students trying to register at the same time.
Instead, now students can sign up for a waitlist during their course registration time and on July 29, the system will process all waitlist requests and notify those who have been admitted via email.  
"What we are trying to do this year is alleviate [the stress on the website], so [it will] allow you to actually add the course that you want at [your] registration time and put yourself on a waitlist," Hern said. "Then, on the 29, we will do the work for you."
Students will be responsible for ensuring they have access to technology, like computers and internet connection capable of supporting online classes, exams and e-proctoring platforms, such as Proctortrack.
The Office of the Registrar has also launched a virtual helpline to answer any questions and guide students as they begin planning for the fall and winter terms.
Hern encouraged incoming first-year students to make an appointment for Summer Academic Orientation to receive assistance on choosing courses, drafting schedules and other program-specific information. 
"SAO is really good for [helping] students to tell if you have added the right courses for what you want to do if you graduate," Hern said. "It is something I highly recommend to all first-year students."