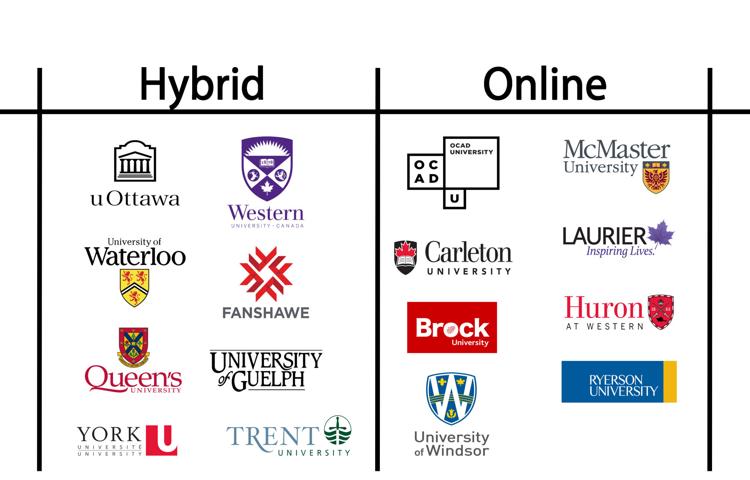 The past months have been a whirlwind for university faculty, administrators and students, as schools scramble to develop new structures to operate through a pandemic.
With limited guidance from the federal and provincial governments, universities have been left to rely on their local public health authorities' recommendations and provincial social distancing guidelines to develop their fall plans. This results in schools across the province taking drastically different approaches to course delivery, residence and more, meaning, now more than ever, the university you choose will to shape your student experience.
Courses on Campus
Around a quarter of Western University's courses will have in-person components this semester, which while low, is significantly more than many other Ontario universities. McMaster University is going almost fully online and its facilities on campus are reserved mainly for research. Ryerson University has taken this a step further and barred students from using campus buildings unless they have received special permission from the school, with almost all their programs going online.
On the other side of the spectrum, the University of Toronto — despite its location in the heart of the country's largest metropolis — is matching Western's delivery rates, with over a third of its courses containing in-person components.
Some Ontario universities are also limiting the amount of in-person opportunities available to first-year students, reserving most in-person learning for upper-year courses. Though Western is offering in-person components for students in all years of study, first-year students at Queen's University will have fully-online course loads, with the exception of nursing students. The University of Waterloo will also hold all first-year lectures, tutorials and labs online, but upper-years will have some in-person course offerings.
Schools have also taken varied approaches to enforcing mandatory in-person components. Western said that nursing and dentistry students will have mandatory in-person components, whereas students in other faculties can be accommodated if they can't go on campus. Similarly, Waterloo will make some of its science and math in-person components mandatory as well. No other school has said there will be mandatory in-person components.
Residence
At Western, suite-style rooms can contain two students if they both choose to have a roommate, while traditional style residences will be all single rooms. Waterloo is taking a similar approach, opening all residences to students regardless of whether they have in-person classes. Rooms will be single occupancy.
Western is also keeping its guarantee that each first-year student is given spot in residence, even with a 26 per cent increase in domestic students. Wilfred Laurier University and the U of T St. George Campus have also made this commitment to incoming first-years, although Laurier has not specified whether double rooms will be turned into single rooms to accommodate social distancing measures.
Toronto schools Ryerson and the U of T St. George Campus are both currently accepting residence applications. Ryerson, as per usual, is allowing students to live on campus only if they have in-person classes and are unable to commute.
McMaster and Queen's are taking a cautionary approach to residence, with McMaster's residences restricted to students with mandatory in-person courses. Queen's will be admitting 2,300 students to residence — half of their normal capacity — and rooms will be single occupancy based on priority. This is in stark contrast to Western's residences this fall which will be filled to about 70 per cent capacity, with 3,800 students expected to live on campus.
Sanitary measures
Currently, most schools are enforcing social distancing measures and face masks in communal spaces, however some are taking additional measures to ensure safety on campus. Waterloo recommends students conduct coronavirus self-assessments before coming to campus, similar to the questionnaires Western asks staff to complete before returning to campus each day. U of T Mississauga Campus plans to shrink-wrap desks in lecture halls to help students identify which spaces are safe to sit.
While the evolving pandemic means none of these plans are guaranteed to last through the year — or even the term — all of Ontario's universities said they are aiming to maintain these structures until at least January 2021.
---
This article is part of our annual Frosh Issue, read the full issue online.