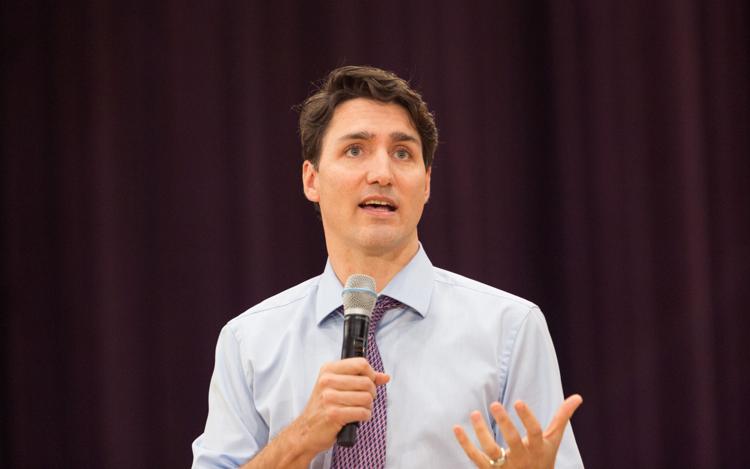 Released Tuesday, the federal government's annual budget for 2019 announced several investments impacting post-secondary students across Canada, including Indigenous students, graduate students and students with permanent disabilities.
Here is a breakdown of the most significant initiatives, totaling nearly $3.5 billion, that target students in higher education:
Lower student loan interest rates and 6-month interest-free grace period
To ease the financial pressures on students, the budget plans to lower the floating interest rate for Canada Student Loan borrowers from its current rate of prime plus 2.5 percentage points to prime only, starting in 2019-20. It will also lower the fixed interest rate from its current rate of prime plus 5.0 percentage points to prime plus 2.0 percentage points, starting in 2019-20.
Further, the budget will make the six-month grace period after leaving school interest-free for student loan borrowers to help them successfully transition to the labour market. This change effectively reverses the provincial government's recent decision to eliminate the interest-free grace period after graduation.
The budget dedicates $1.7 billion over the next five years to these two initiatives. Together, they are estimated to save the average student borrower around $2,000 over the lifetime of the loan, benefiting around 200,000 graduates per year.
Increasing student loan access for vulnerable borrowers
The budget invests a total of $111 million over five years to make the Canada Student Loans Program more accessible to students with vulnerable life or financial situations.
For students with disabilities, this amount will increase the cap on the Canada Student Grant for Services and Equipment for Students with Permanent Disabilities from $8,000 to $20,000 per year. It will also expand eligibility for the Severe Permanent Disability Benefit so that more students with disabilities qualify for loan forgiveness.
To allow students with permanent disabilities to return to school after a long absence, the budget will also remove the restriction stating that borrowers using the Repayment Assistance Plan for Borrowers with a Permanent Disability who have been out of study for five years cannot receive further loans and grants until outstanding loans are paid in full, starting in 2020-21.
For other students with financial struggles, the budget plans to increase the eligibility for loan rehabilitation for borrowers who default on their student loans, so they can access supports such as the Repayment Assistance Plan. The budget will also implement interest-free and payment-free leave in six-month stackable periods up to 18 months for borrowers taking temporary leave from their studies for medical or parental reasons, including mental health leave.
In addition, to account for these changes to student loan access, the budget will increase compensation to provinces and territories partnered with the Canada Student Loans Program by $20 million over five years, starting in 2019-20.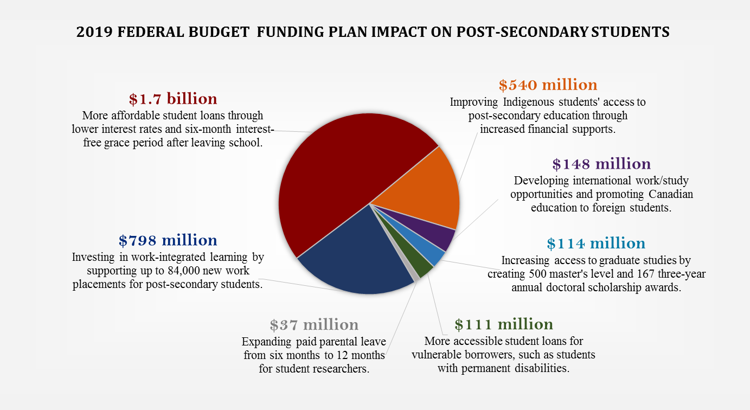 Increasing Indigenous students' access to post-secondary education
According to the budget report, Indigenous peoples in the working population are, on average, 18 percentage points less likely than their non-Indigenous counterparts to hold a university certificate, diploma or degree at the bachelor level or above. For this reason, the budget plans to invest a total of $540 million over the next five years to increase Indigenous students' access to higher education and supports during their studies.
Specifically, the budget dedicates $327.5 million over five years for First Nations communities to expand funding for the Post-Secondary Student Support Program. Further, the government will engage with First Nations to develop long-term First Nation-led post-secondary education models. Additionally, the budget will provide Indspire, an Indigenous-led charitable organization, with $9 million for bursaries and scholarships for First Nations, Inuit and Métis students.
Expanding paid parental leave and increasing scholarships for graduate students
The budget is dedicating a total of $37 million over five years to federal granting councils — the Natural Sciences and Engineering Research Council, the Canadian Institutes of Health Research and the Social Sciences and Humanities Research Council — to expand parental leave coverage from six months to 12 months for graduate students and postdoctoral fellows who receive granting council funding.
Further, the budget is providing a total of $114 million over five years to federal granting councils to create 500 more master's level and 167 more three-year doctoral scholarships awards annually through the Canada Graduate Scholarship Program. The government will also collaborate with provinces and territories to improve access to financial supports for graduate students from low-income families.
Creating more work-integrated learning opportunities
The budget sets an ambitious goal for increasing experiential learning opportunities. "Within 10 years, the Government will strive to ensure that every young Canadian who wants a work-integrated learning opportunity should get one," states the report.
In particular, the budget proposes an investment of $631 million over five years to expand Canada's Student Work Placement Program by supporting up to 20,000 new work placements per year for post-secondary students in all disciplines. The budget will also provide $150 million over four years to Employment and Social Development Canada to create a further 20,000 work-integrated learning opportunities per year.
Additionally, $17 million over three years go towards supporting the Business/Higher Education Roundtable's commitment to match these placements by creating a further 44,000 work placements per year by 2021. Overall, the budget dedicates a total of $798 million towards establishing up to 84,000 new work placements across Canada by 2023-24.
Developing international education initiatives
The government proposes an investment of $148 million over five years to develop international work-study opportunities for Canadian post-secondary students and to promote Canadian educational institutions to foreign students.