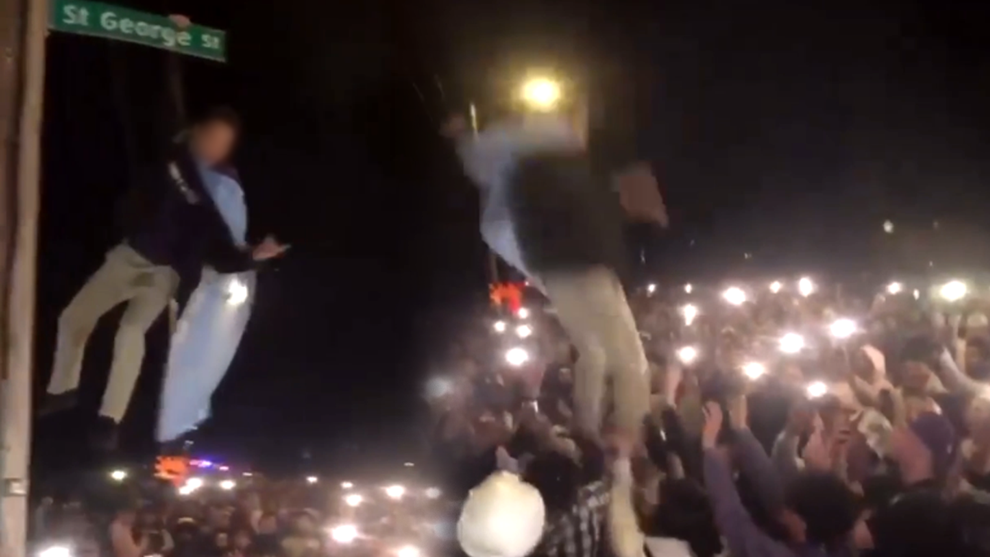 Despite a slow start to the morning, Western partiers crowded Huron Street on Saturday night, hours after police shut down Broughdale Avenue. 
Saturday marked Western University's Homecoming celebrations, which saw fewer students than usual. Just a few thousand students came out during the day — a contrast from Fake Homecoming in 2019, which saw 25,000 students.
During the day, rain, the threat of fines and a heavy police presence scared students away from parties on Broughdale. Students began to gather on Huron Street after 1 p.m., once the rain cleared away and police shut down Broughdale. The crowds only grew as the night went on.  
Olivia Morrone, a fourth-year Ivey student who lives on Huron said that she changed her nighttime plans to stay on her street instead of visiting friends on Broughdale.
"The cops totally blocked off Broughdale and weren't really letting us go visit people," she said. "So we ended up coming back to Huron where there [were] way more people on our street than there were on Broughdale."
Videos surfaced on social media at night, showing hundreds of students gathering on Huron with partiers backflipping from roofs, jumping off telephone poles and crowd surfing on plywood.
How it ended… pic.twitter.com/evP08GNYlk

— JDTM (@Ms_T_Mc) September 26, 2021
"There [were] some students climbing, some on poles, some hanging off of the electrical cords … Anything you could find, students would rip off so if there were signs on the street the students would grab that and they would be crowd surfing on that," said Morrone.
London's reinstated bylaws capped gatherings at 25 people indoors and 100 outdoors, with fines ranging between $750 and $5,000 for hosts. 
Bylaw officers are not visible in many of the videos circulating online. Morrone said it seemed police officers prioritized the protection of residential property over enforcing the gathering bylaws.
"We would see partners of cops standing outside of houses but not directly on the street … so they were present, but they didn't do anything to stop, like the gatherings, because there [were] far too many people," said Morrone.
Morrone said that, while her house remained intact, the gathering resulted in a destruction of public property.
"It was mainly just street signs that were absolutely destroyed. Our houses were fine as long as we had people home that were protecting it to make sure that no one came in."