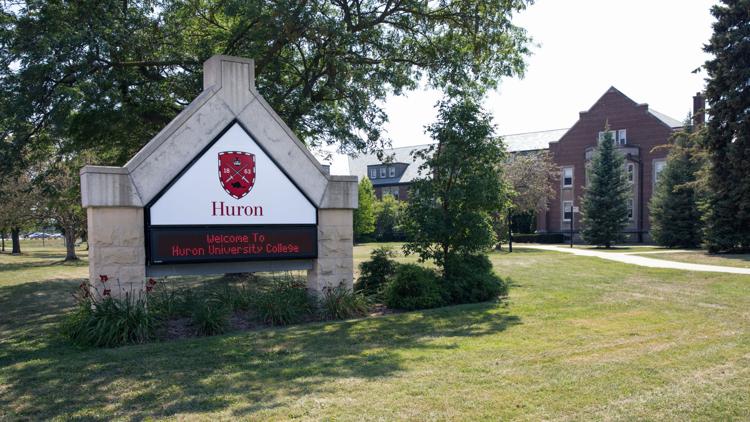 Huron University announced Friday their fall semester will begin entirely online, straying from preliminary plans created by main campus and other affiliates.
According to an email from the university's president, Barry Craig, the semester will start online with the possibility of returning to campus "if the situation changes sufficiently in a favourable direction."
Huron's decision marks the first Western University affiliate to choose online learning — as main campus, Brescia University College and King's University College all announced plans to see students on campus for small classes and labs. This comes as post-secondary schools across the country, namely in British Columbia and Quebec, announce plans to go digital in the fall, though many Ontario schools are still waiting for direction from the provincial government to make a final call.
Huron said it will transition many of its student services online, including its Summer Academic Orientation Registration, upper-year mentor system and Wellness House for mental health support. Craig's email also promises Huron students will receive a higher quality of online instruction than they did in March, as the faculty will have the next four months to prepare.
"I do not, for one minute, want to pretend the scenario I have outlined for the Fall is ideal," reads Craig's statement. "It isn't. But, I honestly believe it is the best plan given our current situation."
The liberal arts school also acknowledges that online courses will present serious equity problems. Some Huron students live in different time zones and others do not have access to high-speed internet, but Craig assures these students the university is working hard to accommodate them.
"If we radically reduced the capacity of our residences, we could accommodate, with appropriate social distancing, students who could not access online education easily from their homes," said Craig. "These students would be living in residence, but taking their courses online like everyone one else."
While officials from each affiliated school are consulting and coordinating their responses to the coronavirus pandemic, each institution is free to make its own decision.
"[The affiliates]'ll make their own decisions about reopening, but likely we'll all probably be making similar decisions," said Western's president Alan Shepard, in an interview with the Gazette. "We consult them, they consult us."
Shepard announced plans for a phased return to campus on Wednesday, explaining that while large lectures will likely remain online, small classes and labs will run in person. Huron, being a liberal arts college, does not face the same challenges of providing hands-on lab experience.
"While some might say that moving entirely online in the fall semester is the most straightforward solution, I am persuaded that the mixed model would ultimately be better for our community," the announcement from Shepard reads. "The isolation of the last two months has reminded us all of the essential value of being together."
Both Brescia and King's have made similar announcements in the past week, saying they're also looking at a "blended" model, with smaller classes taking place in person where social distancing is possible.
"As soon as it is safe to welcome everyone back into our classrooms, we will," said Craig. "What we want to avoid was having everyone return to campus, only to have another wave of COVID-19 cause another social shut down or, even worse, someone in our community being lost to this pandemic."
Correction (May 15, 5:57 p.m.): This article has been corrected to reflect that Huron University is no longer called Huron University College.