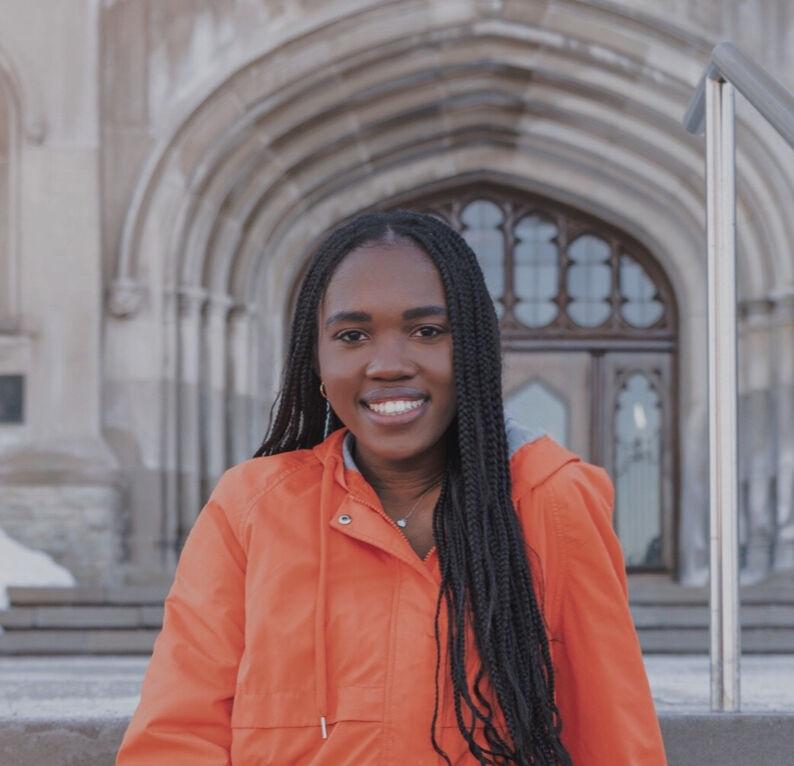 Eunice Oladejo has her priorities straight for the year ahead.
The University Students' Council's new vice-president external affairs will focus on advocating for affordable tuition, combating climate change and addressing gender-based and sexual violence on campus. 
The fourth-year political science and transnational justice student said she ran for VP external because of her extensive advocacy experience, encouragement from her peers and passion for policy building.
"I feel relieved but also excited, I'm so ready to get into it … really representing students, amplifying that voice," Oladejo said. "Just fighting for student needs and making sure that post-secondary education is more accessible to students and [students] are able to graduate with less of a financial burden."
As VP external, Oladejo will build relationships with municipal, provincial and federal government officials to advocate for student needs.
Oladejo was the twice-elected president for Water Aid Western, a club that works with a larger non-governmental organizations focused on providing clean water and better sanitation methods to people in need around the world. It was her research for the Child Welfare Political Action Committee of Canada, a federal not-for-profit organization, that that led her to advocate to members of provincial parliament and Canadian universities for free tuition for students from the welfare system. 
Oladejo also worked as a delegate for Western University with the Ontario Undergraduate Student Alliance, an organization that advocates to the provincial government on behalf of 150,000 undergraduate students.
Oladejo is also hoping to focus on climate change and sustainability during her term.
"[I am] looking to collaborate more with the City of London's environmental network, green bin program … and advocating for things like [publishing] the annual sustainability report," said Oladejo. 
For gender-based and sexual violence support, Oladejo plans to advocate to the provincial government for increased staff and resources to make the reporting process more survivor-centeric. The increase in funding will go towards data collection and improving reporting and disclosure support.
"I'm really looking forward to [hitting] the ground running with my team, planning out how we will accomplish all our goals and setting our priorities for the year … I'm really excited to see all of them flourish in their roles," said Oladejo. "All of us work together to help each succeed and really create a great school year." 
Oladejo also has a personal goal to empower and inspire Black and Indigenous students and other students of colour through her work. She believes the USC needs more diverse students in leadership roles as it is important to have different perspectives and experiences on the table. 
"Within this role I am looking to motivate other diverse students, specifically Black students, to run for leadership roles, to see their potential in roles like [VP external]" Oladejo said. "Hopefully I will look back and see a more diverse student council."