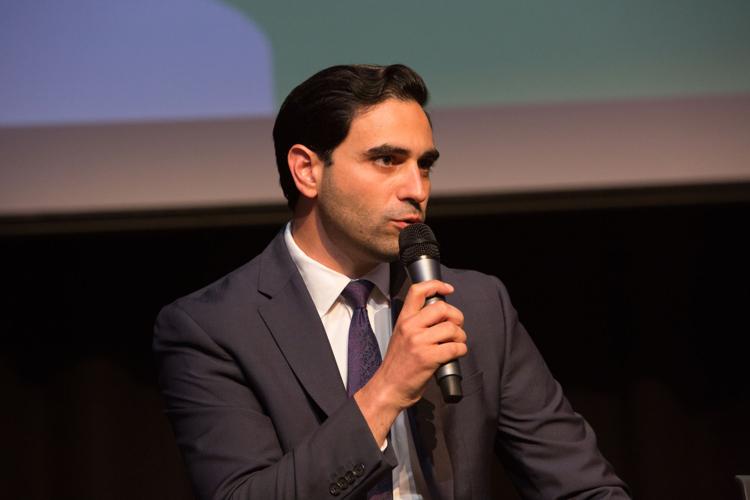 Peter Fragiskatos is looking for another win.
As the incumbent, he is one of six candidates running to represent London North Centre in federal legislature. As the polls have Liberals and Conservatives neck-and-neck just around the corner from the election, Fragiskatos is hoping his unmatched dedication to the city tips the scale.
But, after months of scandal for his party, the Liberals' shot at Ottawa has looked less likely — especially after photos surfaced last month of the Prime Minister in black and brownface.
In an interview with the Gazette ahead of next week's vote, Fragiskatos recalled the moment he heard the news.
"I was disappointed. I was quite disappointed. I knew that it would hurt people, and it did," he said. "But I think the Prime Minister did the right thing when he offered an unequivocal apology and I know him to be a sincere person."
"We all need to do better. We all have to confront racism together."
Beneath the controversies, he and the Liberal party are running on a platform with an ambitious climate plan, expanded social policies and job promotion — all things the member of parliament said will benefit students. And the incumbent has a resume to show London voters.
"I'm a Liberal because I believe the Liberal party has always always offered the best path to equality of opportunity for all Canadians, not just the wealthiest," he said.
Fragiskatos was elected as a first-time MP with the Liberal party in 2015, following what he called the "devastating" Liberal defeat in the 2011 election that gave Conservative Stephen Harper a second term.
The MP said he was always interested in politics ⁠— specifically in issues surrounding literacy, poverty and young people ⁠— but had never considered formally entering the field.
Fragiskatos completed his undergraduate degree at Western University and continued his education with a master's degree at Queen's University and a PhD in international relations from University of Cambridge in the United Kingdom. Even though he spent years studying politics, Fragiskatos said he was much more interested in activism.
"I remember the Iraq war was a really formative moment for me, because I was in my second or third year of my undergrad and this was the topic in Canada, on campuses especially," he said. "And I was involved in protesting it on campus, [and] in downtown London."
As he pursued higher education, Fragiskatos explained that he began to see the value in working within government.
His final push towards politics was during his time teaching at Western affiliates — Huron and King's University Colleges — around the 2008 recession.
"I was at the university teaching, and saw young people. At that time it was very economically difficult," he said. "They would graduate with a lot of debt, and I know that still continues. But the economy was not one that  young people could look forward to joining.
His interactions with students helped him figure out what is important to the city and contributed to Fragiskatos's fight to fund transit in the city. In August, he announced a $123 million investment to London's transit system: purchasing new buses, extending routes and investing in the city's Bus Rapid Transit plan.
That is the largest investment the city has ever received from the federal government — with more to come. The injection is just part of a $200 million fund that Fragiskatos landed, all of it directed toward parts of the city's infrastructure.
The need for a face-lift in the transit system was inspired by his time as a professor, as students kept arriving late to class.
"I remember being at the university teaching and I would all the time have students coming in late. And the reason was because they missed the bus," he said. "At the beginning I wasn't sure if I believed it, but talking to other professors, it's a real thing in London."
The sections of BRT that covered Western's campus were scrapped over a lack of public consensus when the plan was revitalized by the municipal government last year. Fragiskatos said he's open to future discussion about extending BRT into Western's campus, but needs the community to come to an agreement on the routes first.
Expanding transit routes is also a part of the party's platform to combat climate change — which Fragiskatos called "The central challenge of our time" — and that students and young people are leading the way.
"Students are always going to have an advocate in me," he said.