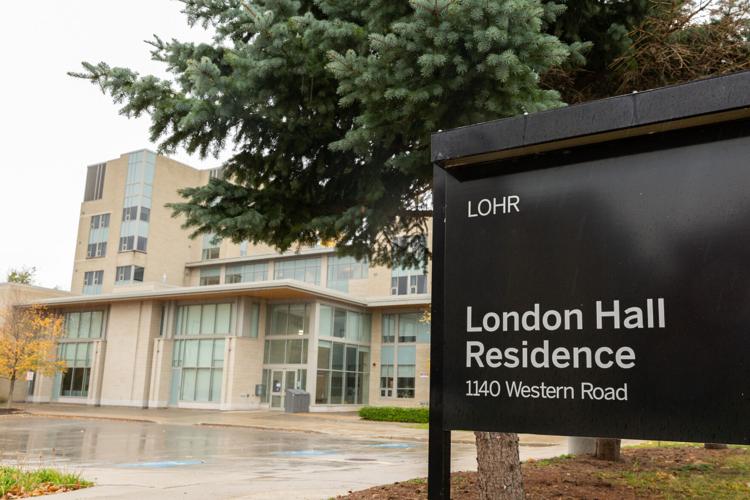 An additional case extended London Hall's outbreak, but students in the residence are transitioning past their quarantine period back into their normal lives.
A coronavirus outbreak in London Hall over Thanksgiving weekend left students living on floors with positive cases in quarantine either at home with their families or in residence. The Middlesex-London Health Unit commended Western University's efforts to contain the spread as students reached the end of their two-week quarantine at the end of October and are left their rooms to return back on campus.
"As we look back at this outbreak, we can consider that things actually went very well," said Dr. Alexander Summers, associate medical officer of health with the MLHU. 
London Hall confirmed an outbreak on Oct. 11. Those who travelled home for the Thanksgiving weekend were asked to quarantine in place and were refunded for their time away from residence. While students on affected floors are now out of their 14-day quarantine, a new case remained in residence, prolonging the outbreak past its two week period.
Large numbers of people living in close quarters in residence pose a challenge for social distancing, potentially increasing the risk for transmission, according to Dr. Summers.
But despite the outbreak, the concern of mass-spread in student residences has not materialized at Western for the most part, said Dr. Summers. The concern lies in contact with those outside residence, but even then, the precautions in place by Western are working to limit the spread.
"The risk of transmission goes up when there's large social gatherings where people are at mass [gatherings] and they're hanging out with people who aren't normally close contacts," he said. 
"With credit to the students at Western, they've really, really worked to do their part to limit transmission and … we admire [students because of] how hard that is to do sometimes."
Two weeks after asking students on affected floors to quarantine, London Hall is seeing students return across the residence, according to Ethan Andrews, a first-year student who lives in London Hall.
Those who do not live on affected floors were allowed to come and go throughout the outbreak, so most of London Hall looked "normal as always" said Andrews. 
Andrews does not live on the affected floors, but was alerted to the outbreak after he went to visit his family for Thanksgiving. He chose to quarantine away from residence until he completed the two-week incubation period.
"It was never announced who tested positive for [COVID-19]," he said. "We were home with our families, so we all wanted to know right away."
Resources in residence — residence staff in particular — helped ease students' concerns, according to Andrews. While the pandemic limits the university's reach, he believes Western did the best it could to mitigate the spread. 
"I think [Western] handled it pretty well," he said. "Students were able then to make the right decisions for them whether they had to come back to quarantine."
Students in London Hall may remain wary of the outbreak, but appear ready to move past it.
"It is such a small space," Andrews said. "Students, especially on the floors affected, I'm sure they're ready to get out."