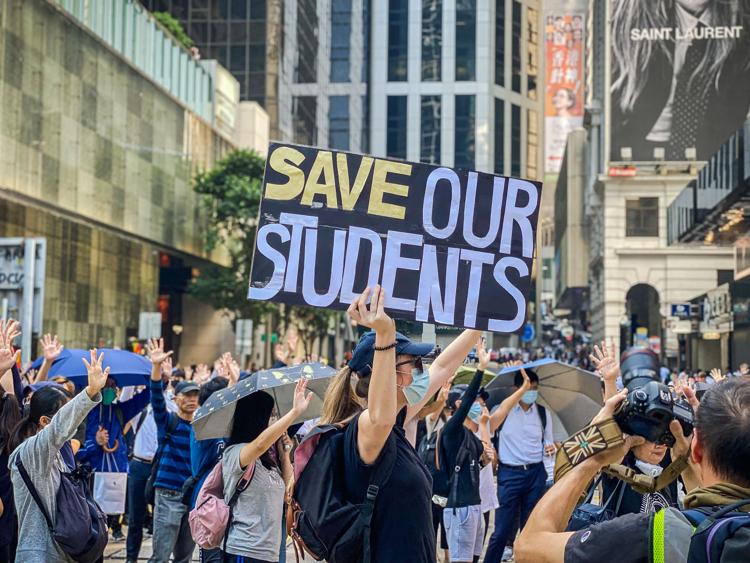 Five Western students are still in Hong Kong, after their exchange programs have moved classes online amid city-wide turmoil and violence.
The violence between police and protesters, now spread onto campuses, has made classes an afterthought. Many foreign universities have recalled students on exchange, including McGill University and the University of British Columbia.
But Maria Baidoukov has chosen to stay.
Baidoukov is an international business student, abroad as part of her master's program at the Ivey Business School. She has been in Hong Kong since Aug. 22, attending the Hong Kong University of Science and Technology.
HKUST has cancelled all classes, and Western University has urged students still in Hong Kong to come home. But, despite the turmoil, Baidoukov said she is safe and is staying out of love for the city and its people.
The HKUST is located in the far east side of Hong Kong. It has not been as drastically affected by clashes like Polytechnic University, the University of Hong Kong and the Chinese University of Hong Kong, which have since become battlegrounds between students and police. 
Baidoukov said the situation turned critical after Oct. 1, when China celebrated the 70th birthday of the People's Republic. That day saw large protests in areas where some of her friends lived. 
Hong Kong's flag-raising ceremony took place at the Hong Kong Convention and Exhibition Centre, where Ivey runs a separate campus for aspiring executives. Ivey said last month that the classes for mostly local adults were not disrupted as, at that point, protests were almost exclusively on weekends.
North American and European students in Baidoukov's circles are also safe, she said.
"I think we all feel pretty safe, but again, we just happened to find accommodation that's not in the main protest area," she said. "There are a couple of local students who live closely to the Polytechnic, which has the main clashes, and they obviously feel much less safe." 
Following the government celebration, protesters vandalized Hong Kong's subway system, halting its service. That following weekend, the HKUST campus was closed. 
"Since then it has gotten worse and worse," said Baidoukov. "The current atmosphere is quite tense and sad, almost, because you can sense that the protesters feel that their needs and initial aims and desires aren't being met — that they're trying to push for the government to fulfil [their demands]."
She said that HKUST students peacefully gathered in the central atrium on the main area of campus in solidarity with the protestors elsewhere in Hong Kong.
Tensions rose after Chow Tsz-Iok, a HKUST computer science student, passed away after falling off a parking garage on Nov. 4.
Baidoukov said that students were upset at the university's president for not giving a "strong enough" statement regarding Chow's passing. There were a few "intense" protests at the university, she said.
She was sent photos of graffiti on the walls, and smashed coffee shop and store windows surrounding campus. 
She hasn't been to classes since.
HKUST began sending emails on Nov. 11 to their students saying classes were cancelled. On Nov. 18, the university said classes would now be online.
Outrage from Chow's death spread to different campuses and is a rallying cry among protesters.
According to the CBC, Western sent an email on Wednesday to the five students who remain in Hong Kong, encouraging them to reconsider their decision to stay behind. 
Baidoukov said that she is in constant contact with her program administrator at Ivey and was given the option of returning home but said she would prefer to stay because of her love for Hong Kong, the people she has met and the university. 
Lyn Purdy, Ivey's associate dean of programs, sent a statement to the Gazette regarding Baidoukov's situation.
"We are in regular communication with this student and they feel safe with their current situation."
Purdy also stated that HKUST has cancelled their undergraduate exchange program for winter 2020 and that Ivey is looking for other destinations for the HBA students that were scheduled to go there.
She also said that there were two master's of science students planning to attend HKUST next year but have since requested a change of location.