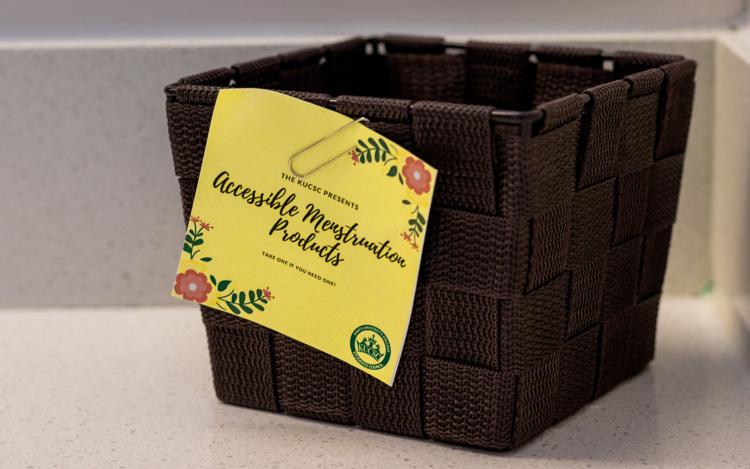 King's University College recently introduced free menstrual products on its campus.
These products are available in the Darryl J. King Student Life Centre's women's washrooms and are primarily funded by donations.
King's University College's Students' Council is working to respond to the challenge of restocking baskets faster in order to expand this project.
According to KUCSC president Hadia Fiaz, this initiative is part of a pilot project that was introduced throughout the Thames Valley District School Board. Fiaz also stressed the necessity of implementing this project on King's campus because of its distance from main campus and its resources — namely the Western Pharmacy.
Fiaz says introducing free menstrual products was inspired by concerns from students who expressed their own personal grievances.
Fiaz, who had experienced her own challenges with the inaccessibility of menstrual products, was prompted to implement this project by showing how necessary these products are. These concerns from students speak to the fact that menstrual products are often inaccessible to people when they need them.
Fiaz stated that there is an important equity component that accords with this initiative. Although roughly 26 per cent of the population menstruates, it is heavily stigmatized.
"Such a large portion of the population menstruates and this can be a heavy burden on people if products aren't accessible to them," she said.
Discussions between the KUCSC and King's administration began in December; the long term goal is to implement this initiative throughout Western's campus.
Fiaz also stated that she spoke with the founders of the free menstrual product initiative in London in order to assess how the KUCSC could bring this initiative to their campus.
"This is an important issue to prioritize on campuses," said Fiaz. "Menstrual products are just as necessary as toilet paper."
Fiaz expressed that the response so far has been overwhelmingly positive and that students have shared that they are glad these products are easily available to them.
King's is among several other post-secondary campuses in Canada to have introduced free menstrual products, including Halifax's Mount Saint Vincent University and the University of King's College, as well as the University of Calgary and Carleton University.