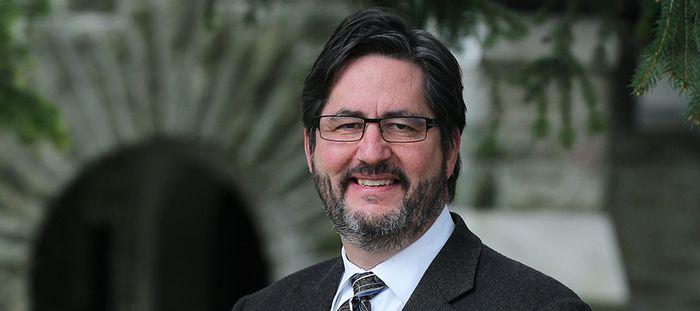 King's University College's principal is leaving — and moving on to the University of Toronto.
King's announced Thursday that principal David Sylvester will not seek a third term. Sylvester has been the principal of the affiliate since 2009. 
"It's important to take on new challenges and commit yourself to something for 10 years, struggle with it, grow with it and then open a new chapter. I think it's really healthy for a president and their institution to work two terms," Sylvester said.
Sylvester will serve as the incoming president and vice-chancellor of the University of St. Michael's College, one of U of T's affiliate colleges, starting on Aug. 1, 2018.
Sylvester said his focus will remain on King's until his term ends. He also emphasized he will be present at the King's convocation in June, an event he described as "really wonderful" thanks to the relationships he has formed with the students over the years.
When asked what he will miss most, Sylvester's immediate answer was:
"Absolutely the students. King's has a long history going back to the '60s of bringing students into the important decisions of an institution," Sylvester said. "I've been very, very fortunate to work with some incredible student leaders and work very closely with the student council."
The KUC board of directors created a principal selection committee on Feb. 28 to start the process of finding Sylvester's successor; the process will include students, faculty, staff, board members and alumni representatives. Sylvester's last day at King's will be July 31.
"My hope is to leave King's in good shape for the next woman or man that will take on the leadership," Sylvester said. "If I were the next principal, I would be very excited because King's is firing on all cylinders."