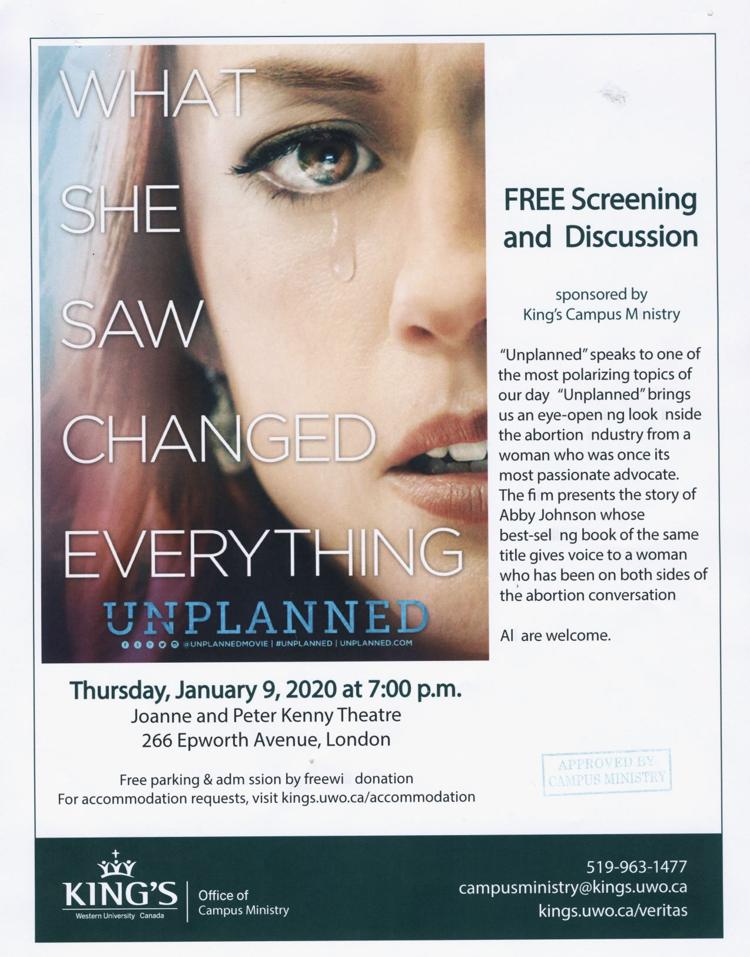 Content warning: paragraph four of this article describes complications to abortion procedures, as they are depicted in the film.
---
The Catholic ministry at King's is showing the anti-abortion film Unplanned on Thursday, after the film brought protests and controversy across Canada with its release this summer.
Unplanned, released in the US this March, is based on the memoir of the same title by Abby Johnson, detailing the author's conversion from a Planned Parenthood clinic director to an anti-abortion advocate.
It depicts several violent abortion scenes, including a five-minute sequence of the protagonist hemorrhaging blood and almost dying after taking a prescribed abortion pill. In another scene, a woman is left bleeding in the hallway of a clinic and drugged so she will lose her memory.
The film was approved in only 56 theatres across Canada, including in London, where it faced protestors.
The ministry of King's University College is showing the film on campus Thursday evening. The ministry, a religious body of Western University's largest affiliate, aims to spark discussion about abortion with the screening.
Reverend Michael Bechard is the ministry's director and a priest in the Diocese of London; while King's has Catholic roots, he said the ministry's goal is not to persuade attendees against abortion, but to have a conversation about it.
"It's part of our values and our mission statement to support life in all its stages, from conception to natural death. And we hope that this will begin to really challenge people to think about how we are responding to the many complex needs in our community," he said.
Bechard is aware that showings in London were protested, and is open to protestors attending Thursday's screening, but hopes that they are respectful.
"We recognize it is a very controversial topic for people," said Bechard. "A university is needing always to be ready to deal with ... putting things out there that are going to generate ideas, powerful emotions and divergent thoughts."
Cineplex faced widespread backlash for showing the movie, prompting CEO Ellis Jacob to release a statement arguing that "a country that censors content, opinions and points of view because they are different from our own is not a country that any of us want to live in."
The movie and its underlying memoir have been harshly criticized in Canada and the US. Many television networks refused to run ads for the film, and major music studios declined to work on its production.
Planned Parenthood also released a statement rebuking the film as "simply false" with "distortions and incorrect depictions about healthcare." 
Robyn Schwarz, the co-founder of Pro-Choice London, called it "a propaganda film from the anti-choice movement."
King's is showing the film as part of The Veritas Series for Faith and Culture, an annual lecture series that is meant to engage the community in difficult topics.
The film will be shown Thursday at 7 p.m. at the Joanne and Peter Kenny Theatre. The event is open to anyone and will conclude with a discussion of the film.
Money raised from the event will be used to help the campus ministry support refugees from the Syrian conflict.