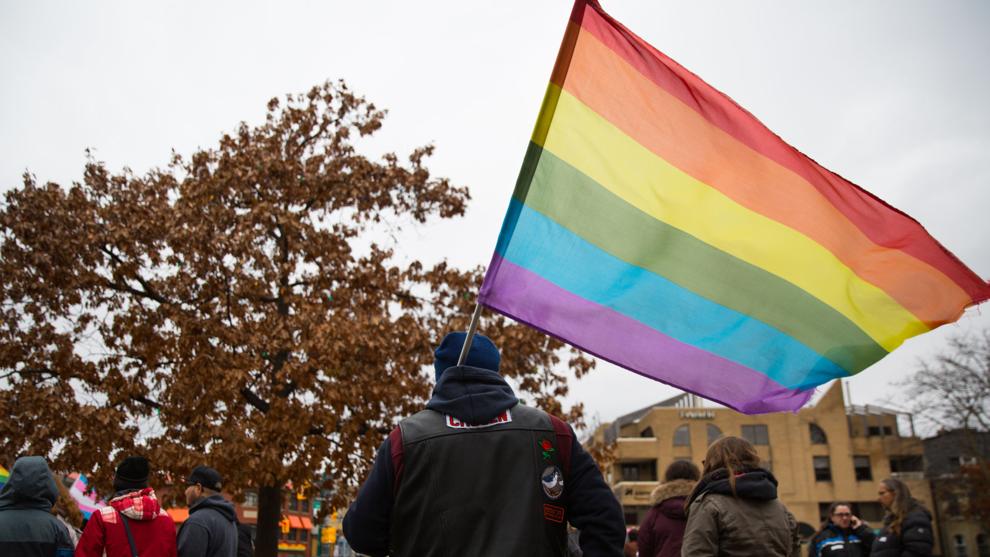 After years of hesitancy, King's University College will fly the Pride flag on campus for the first time on June 1. 
The college will now raise the flag annually to mark the start of Pride month in June and again in July in honour of London's Pride parade.
"It's been a long time coming and I'm very pleased we're here right now," said King's principal David Malloy.
The move comes after years of mounting pressure from the King's University College Students' Council and other community groups for the Catholic affiliate to take a stand on LGBTQ2+ issues.  
"This has been a conversation that's been happening since I was in first-year, and I just graduated, so it's been a long time coming," said former KUCSC president Ben Kitching, who advocated for raising the Pride flag on campus. "It's been met with resistance over the years, but I think what makes this so special is that it didn't face much resistance this time around." 
The King's College Council, one of Kings' main governing bodies, passed the motion to fly the Pride flag with 98 per cent approval in their April 21 meeting. The motion came after the KUCSC also unanimously supported raising the flag. 
The issue of raising the Pride on campus was brought to King's administration in 2019, shortly after the KUCSC released an advocacy paper on LGBTQ2+ inclusion at the college. The paper "urged that the college not only officially endorse the physical and symbolic attributes in support of LGBTQ2+ inclusion but also celebrate them."
King's formed its LGBTQ2S+ Advisory Group shortly after. The group, made of King's students, faculty, staff and administrators, initially recommended King's not fly the Pride flag on campus.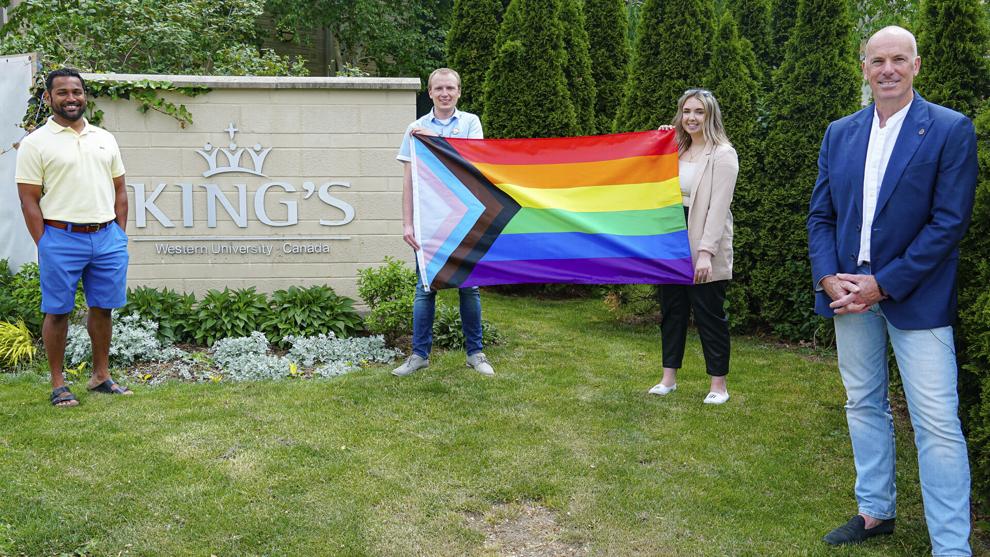 "I think there's been more discussion on campus about this issue [since then]," said Malloy "I think we've just had a bit of a shift in culture about being open to having a conversation at all."
The advisory group later reversed its decision and endorsed King's flying the progress Pride flag — which features colours representing the trans community, people of colour and those living with AIDS — among other recommendations to support the college's LGBTQ2+ community.
It took over two years of advisory group consultations for King's to commit to raising the Pride flag on campus.
In a Letter to the Editor in the Gazette's spring Pride Issue, months before King's announced its decision to raise the flag, Kitching wrote that, as an LGBTQ2+ student, he feared the issue of raising the flag would "continue to be dragged out and no progress will be made in any reasonable timeline."
"This is a complex issue, made more complex because [King's] is a Catholic institution and the Catholic community hasn't always agreed on this issue … it's required patience," said Malloy. "It would have been great if we did this 10 years ago, but I don't think we were ready for it."
In the statement announcing the flag raising, King's assured its decision is still in-line with Catholic values as "the Catholic church teaches that LGBTQ2S+ persons are to be accepted 'with respect, compassion, and sensitivity.'"
"It's a big deal for students on campus to be seen, to be acknowledged. It shows a shift in the colleges' attitude." said Kitching. "It's not 'we're going to tolerate you coming here,' it's 'we're going to acknowledge you and we're going to celebrate you.'"
King's will also continue offering and expanding its and Western University's resources for LGBTQ2+ students.
"I think almost more important than putting up the flag is making sure that our behaviour is consistent with the flag," said Malloy. "And time will tell, but I'm very optimistic."
---
Correction (May 29, 2021, 1:40 p.m.): Kitching quoted to say the motion to raise the Pride flag did not face much resistance this year.