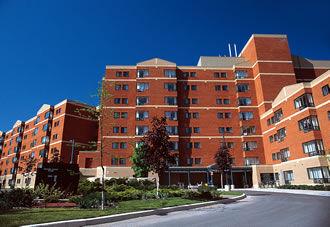 Western will convert Lambton Hall into a first-year residence this fall, as the university expects enrollment out of high-school to grow by 300 students compared to pre-pandemic levels.
Lambton Hall is currently part of Western's University Apartments program, located next to Saugeen-Maitland Hall, and rents two-bedroom apartments to upper-year and graduate students. The building does not have a cafeteria in it, but each suite will come with a full kitchen and purchasing a meal plan will be optional.
The building will establish a residence council and recruit dons and sophs as it transitions into a first-year suit-style residence.
Western opened it's residences at 70 per cent capacity in September and was able to accommodate 3,700 students, including upper-year students, across all residences with social distancing measures in place.
Of 6,007 first-year Western students this fall, almost 4,900 came straight from an Ontario high school, a sharp increase from the 3,800 recent high school graduates who came for the 2019-20 year.
Western's projection means they expect at least 4,100 frosh to attend straight out of highschool next year. The university expects to accommodate 280 students in Lambton Hall in September.
The building is undergoing renovations this summer to convert it into a residence building. Each suit will house two students with separate bedrooms and double beds. The dorms will have a shared living room, bathroom and kitchen.
Students who chose to purchase a meal plan will be expected to use Saugeen's cafeteria.
Western is also not ruling out the option of continuing social distancing in the fall and spreading out students in residence, even as the university prepares to head back to the classroom in-person.
"The unpredictability that comes with new COVID-19 variants and vaccine distribution adds an additional element of uncertainty in planning for this fall," an email to residence leaders said. "We may need to continue our de-densification strategy, only adding further pressure to our residence capacity."
First-years will pay $9,335 each to live in Lambton Hall next year, while Elgin Hall and Essex Hall, Western's two current suit-style first-year residences, expect to charge $10,710 per student for the 2021-22 academic year. Lambton Hall currently rents its apartments for $1,290 a month, or $645 a month per student.
Lambton offers paid-for laundry services on site. The building is wheelchair accessible and offers some modified suites for disabled students.
Upper year students currently living in Lambton Hall will have priority at other university apartments for the fall, including nearby Ausable Hall, Beaver Hall and Bayfield Hall.
Students looking to live in residence must apply and submit their pre-payment by June 3. Though housing said the deadline could shift if public health directives force them to take a different approach.
Update (Feb. 25, 4:54 p.m.): This article was updated with additional information from Western Housing.