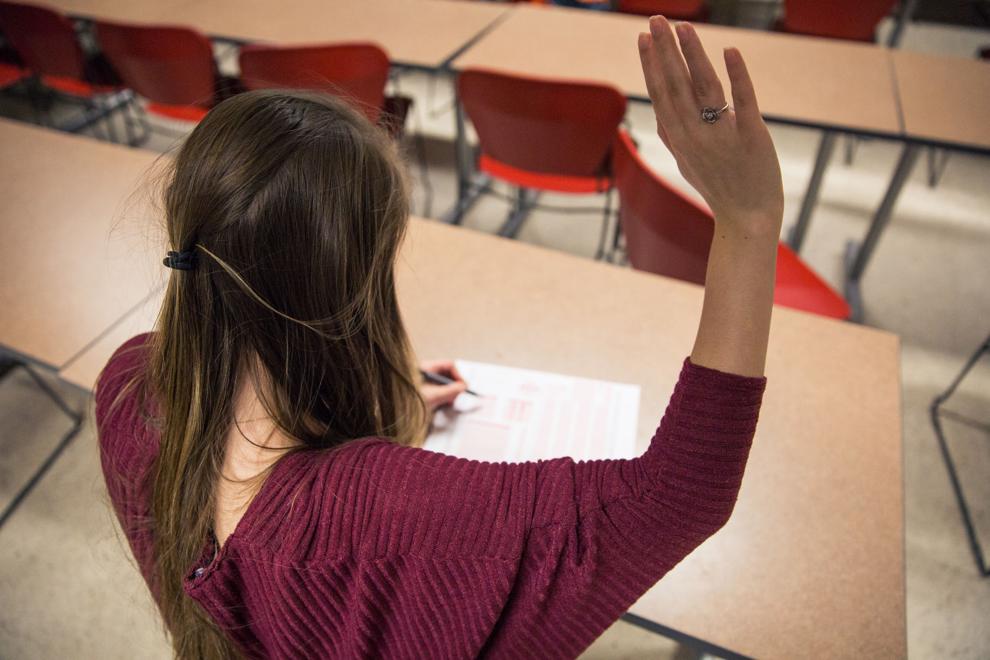 Western commissioned a study over the summer to see how many students could sit in each classroom while following social distancing measures — the study found campus should open less than a quarter of pre-pandemic capacity.
Western University has limited the amount of space on campus to follow social distancing guidelines, both in the study spaces students can choose to use and in classrooms that house the few remaining in-person courses. The report suggests classrooms are down to 22 per cent of their pre-coronavirus capacity, from 18,395 available seats at a time to 4,127. 
While Western's president Alan Shepard announced a move to in-person classes for the upcoming school year, there is no public plan for how the university would schedule and run in-person classes if social distancing continues in the fall.
"It is too early to know what fall classroom capacities will look like. Current capacities were calculated last summer based on the two meter physical distancing requirement at the time," said Matt Mills, director of health, safety and well-being at Western, in a statement.
With 189 total class and exam rooms, the average classroom capacity has decreased from 206 students to 46 with social distancing. The Arts and Humanities gym saw the largest decrease in capacity, going from 1,200 to 109 students.
While all classrooms held 10 or more students previously, 29 classroom capacities have been reduced to less than 10 students under distancing guidelines. However, 13 rooms where previously no classes were held, have been given classroom status, creating 338 additional seats.
Just over a quarter of classes this year have some in-person element, ranging from labs to performances in music courses to fully in-person lectures. Many of these courses adopted a hybrid model, where labs or tutorials take place in small groups on campus while lectures continue online, making social distancing easier.
Shepard has also said he hopes to continue some hybrid courses even when students can return to campus, for example, keeping lectures that usually see several hundred students at once online while tutorials are held in-person.
But Lydia Balogh, a fourth-year biology student explained that this hybrid model can be inconvenient.
"I have an in-person class three days a week for one hour. It can be frustrating to disrupt my routine and take half an hour going there and coming back just for an hour of class. I also have a class right before that one on Wednesday that is online," said Balogh.
Balogh also said collaboration between students can be difficult in-person while social distancing.
"We have to discuss papers from three feet away from each other while we're wearing masks. It can be hard to hear," said Balogh. "Sometimes if we draw a model on a piece of paper, it can be hard to show it to [our peers]."
When her course went online during the provincial lockdown, Balogh said her peers would simply have the same discussions in breakout rooms over Zoom.
Other faculties are also feeling the inconvenience of socially-distanced classes on campus. Naomi Tallur, a first-year Ivey Business School student, explained that students in her year were put in "learning teams" and given space in the Ivey building to meet in groups twice a week.
Despite being given the choice to learn in-person, Tallur said most groups have been meeting virtually.
"I haven't met any of my learning teams in person. There is a consensus that everybody is basically doing group work virtually," said Tallur. "It's a lot more convenient to meet online, you don't need to go all the way to campus for a short call, for example."
In addition to classroom changes, the total capacity for physical examination seating has been reduced by 34 per cent from a total of 6,260 seats at a time pre-coronavirus, to 4,127 with social distancing.
According to Mills, classroom capacity may increase for the upcoming fall term if physical distancing requirements change.
"As vaccinations are rolled out more widely, and with continued mask use, it is possible physical distancing requirements may change," said Mills. "We will continue to follow public health's direction and communicate fall classroom updates as soon as we are able."
Despite the challenges with social distancing, Tallur said the few times she has collaborated with her peers in-person have been valuable.
"I worked in-person with my group once for a project and it was way quicker and easier to communicate. Our ideas flowed better and you are bonding too."
Both Balogh and Tallur hope that a safe return to in-person classes for all students will be possible in the fall.